"The Merchant and The Rogue" Promises Mystery & Adventure #Review
The Merchant and the Rogue Summary
London, 1865
Immigrant Vera Sorokina loves reading Penny Dreadfuls and imagining herself in the tales of adventure, mystery, and romance. Her life feels mundane with the daily work of running the family book and print shop with her father. She's grateful for her shop and the opportunity it gives her to help poverty-stricken Londoners, but she is still lonely. It also gives her father something to do besides long for his life and home in Russia.
Irish transplant Brogan Donnelly is a Penny Dreadful author who has dedicated his life to helping the poor, along with this sister Moirin. His desire to help and serve includes being a member of the secret Dread Penny Society. But when the leaders ask him to resign his membership as part of a secret mission, life becomes even more lonely.
Brogan and Vera's paths cross, and the attraction is both immediate and perhaps unwise. Vera does not believe in ever trusting writers, and Brogan questions whether Vera's shop is all that appears to be. Secret identities, threats from the criminal enterprise of the elusive and violent Mastiff, and the need for Brogan and Vera to learn to trust each other with past secrets combine for an adventurous story.
The Merchant and the Rogue Review
Third in the Dread Penny Society series, Sarah M. Eden has penned another engrossing adventure. The Merchant and the Rogue might be considered three stories in one, as the story of Brogan Donnelly, Dread Penny member, is interspersed with two different Dread Penny novels.
If you read the first two installments in the Dread Penny Society, you previously met Brogan Donnelly, if only briefly. Each book in this series is a stand-alone story, but it is fun to see how the characters are interwoven and how each story builds on its predecessor.
As The Merchant and the Rogue opens, the mysterious Dread Master asks Brogan to resign his position in the Dread Penny Society in order to investigate a matter of possible national security. This request leaves him outside the protection of the society, but Brogan gamely accepts the assignment, knowing that it might permanently cost him his membership—and his friends.
He takes a job at Vera Sorokina's print shop, but knowing she has no trust of writers, he does so under an assumed name. At this point, the story gets really interesting. Additional characters are introduced, the conflicts begin to multiply, and Brogan, aka Ganor O'Donnell, soon finds himself in far deeper than he'd anticipated. Complicate the story with his growing affection for Vera, and the story grows more complex and intriguing as it goes.
A Talent for Complex Storylines
Ms. Eden has a penchant for creating characters and weaving them through complex storylines. The Merchant and the Rogue is no exception. Once again, I found myself up well past my bedtime, anxious to discover how Brogan would extricate himself from this mess, and save the day.
Oh, and also finding out where our Penny Dreadful stories were headed as well. Remember, there are two rather intriguing Penny Dreadfuls incorporated into the pages of this book. While one of them reminds me of an Edgar Allen Poe short story, the other feels like perhaps Ms. Eden could expand it into a novella of its own. You can decide which could be which.
You can find The Lady and the Highwayman here, and The Gentleman and the Thief here.
About the Author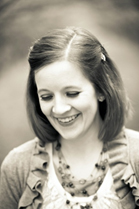 Sarah M. Eden is a USA Today best-selling author of witty and charming historical romances, including 2019's Foreword Reviews INDIE Awards Gold Winner for Romance, The Lady and the Highwayman, and 2020 Holt Medallion finalist, Healing Hearts. She is a two-time "Best of State" Gold Medal winner for fiction and a three-time Whitney Award winner. Combining her obsession with history and her affinity for tender love stories, Sarah loves crafting deep characters and heartfelt romances set against rich historical backdrops. She holds a bachelor's degree in research and happily spends hours perusing the reference shelves of her local library.
Buy the Book
This post contains affiliate links, which means I may earn some money if you click on one and make a purchase. It will not cost you any extra, and I will be grateful for your support. Read the full disclosure here.
The Merchant and the Rogue by Sarah M. Eden is available in Paperback and Kindle editions from Amazon.com.
The Merchant and the Rogue is also available in Paperback and eBook from DeseretBook.com.