Celebrate Relationships with Creative Holiday Greetings
How will you wish your friends, family, and customers a happy holiday this year? Have you thought about it—or are holiday cards just an old-fashioned holdover from the last century?
You can send a printed holiday card by traditional snail mail. It's a time-honored tradition, more than a hundred years old. Sending a creative holiday greeting by mail can be lots of fun–but it's not the only option these days.
You can send an e-greeting for the holidays. It's as simple as sending out a weekly or monthly newsletter if you own a business. If you're sending to friends and family, it's as easy as a group email (pro-tip: put everyone's email address in the BCC field. That way you aren't sharing everyone's email address with the whole world). Neither requires much time, effort or expense to send out—just engage in a little creative well-wishing, plug in the emails of your recipients, and you're done. If you're short on time or funds, this is better than not sending anything at all. It's also a nice way for your business to acknowledge those who may be following you, but aren't yet customers.
This post contains affiliate links, which means I may earn some money if you click on one and make a purchase. It will not cost you any extra, and I will be grateful for your support. Read the full disclosure here.
Send Custom Creative Holiday E-Cards to Stand Out
If your business is a virtual one, and you contact clients through email instead of using snail mail addresses, you can send custom eCards. My favorite eCard supplier is Paperless Post. They have some of the most beautiful and creative eCards I've seen. And like printed cards, you have lots of options, including photo cards. You also have some other creative holiday greetings options, pretty much available only to an eCard. One of their cool features is that they come in an "envelope." Everyone I've sent them to has raved about their cards. You can find them at PaperlessPost.com.
Paperless Post is also a great choice for personal Christmas (and other holiday) greetings. I not only use them for Christmas cards, but also for birthdays, anniversaries, and just because greetings for my friends and family.
eCards are a modern and environmentally friendly alternative to paper. However, you can also order cards from Paperless Post as printed paper cards.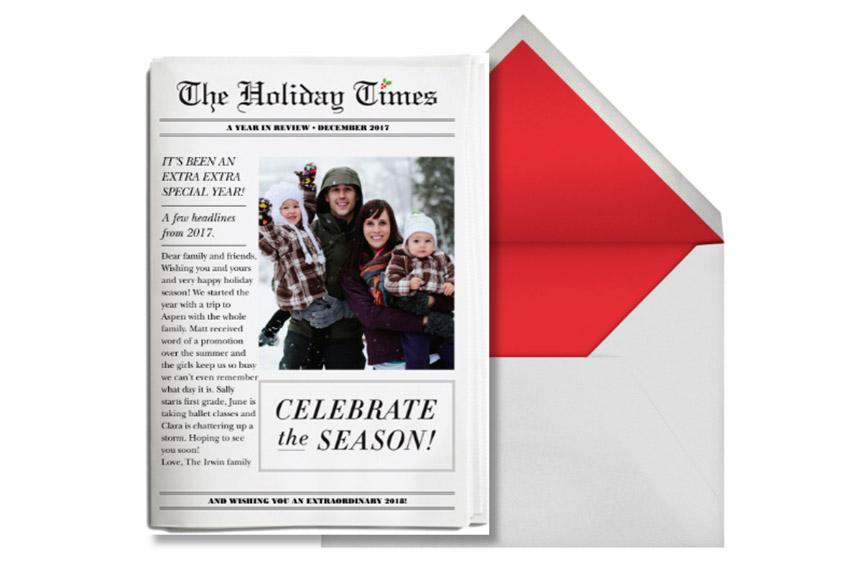 Consider Mailed Cards for a Uniquely Personal Touch
One of the drawbacks of the eCard for some people is that they are difficult to display. If you're one who loves adding your holiday greetings to your holiday décor, a mailed card might be the way to go for you.
From a marketing standpoint, a mailed holiday greeting is not only a nice way to show appreciation for your customers and business associates, it can also serve as a reminder that you are there ready to serve their business needs. It's an easy and effective marketing tool that doesn't need to (and really shouldn't) carry a marketing message.
Holiday cards can range from simple to elaborate in styles for every taste, budget and belief. One great option for your printed holiday cards, especially if you like to design and customize your own is Shutterfly. Designing your own cards gives you the ultimate opportunity for a creative holiday greeting that's uniquely you. If you haven't ordered your holiday cards (or invitations) yet this year, it's not too late.
Tips for Making your Personal Cards Extra Special
Make them personal. Even if you order cards pre-printed with a holiday greeting and your names, you're not likely sending out so many cards that you don't have time for a brief personal note to the people special enough to share a holiday greeting with. Let them know that you really are thinking of them this holiday season.
Get Creative. Let your holiday greetings reflect your personality. Have some fun with it. Whether you're sending family photo cards, or a non-photo card, it doesn't have to be boring. You're not, so let your holiday cards be as much fun as you are.
Be flexible. Is your holiday season crazy this year? It's ok to send out a Thanksgiving card or a New Year's card instead of a Christmas card. The important part for most people is that you took the time to think of them, not that it arrives on a certain date.
6 Things to Consider When Sending Business Holiday Greetings
As you plan and send your holiday greetings, here are six things to consider to get the most out of your efforts.
Personalize where possible. A personalized holiday greeting says you cared enough to spend the time to send a card them personally, as opposed to a mass e-mailed, newsletter-type greeting—which may or may not even get opened. For your best customers, you might even consider a brief personal message in the card. Think about how it makes YOU feel, when you get one.
Avoid making it a marketing campaign. A holiday card that isn't a sales pitch, a coupon or some kind of offer is very often a rarity these days. Make your greeting simply a greeting with an expression of goodwill and appreciation. Your customers will appreciate and remember that there is at least one business who doesn't view the holidays as just another sales opportunity.
Include your company name and information (just the basics, not a full social-media rundown) on your card, even with a personal message, in case your customer needs a memory jogger or wants to share.
Be creative. Let your card reflect your company and what you do. If you are a creative business, consider designing your own card to make a statement and really be memorable.
Choose a card that's in keeping with your company's image—and always something tasteful. Humor is fine, but be careful with it. You want to reinforce your positive image, not leave your recipients scratching their head and wondering what you were thinking or, worse yet, offended.
Plan ahead. Don't wait until the last-minute to order and send out your greetings. For Christmas cards, the third week of December is an ideal delivery window—but there's no reason to limit yourself to Christmas. Thanksgiving cards or New Year's wishes are less common and may garner even more attention from your customers. Just remember, a holiday greeting isn't particularly effective when it's received a week or two after the holiday has passed.
Have you sent any creative holiday greetings to your friends, family, and customers? Did you get any feedback from them? Have you received a holiday greeting from a business you worked with? How did you feel about it? I'd love to hear your feedback with a comment below.