Autumn is here and the leaves are beautiful. I'll bet you've thought more than once that you ought to get out and get some holiday card photos before the leaves are gone and it's not pretty anymore.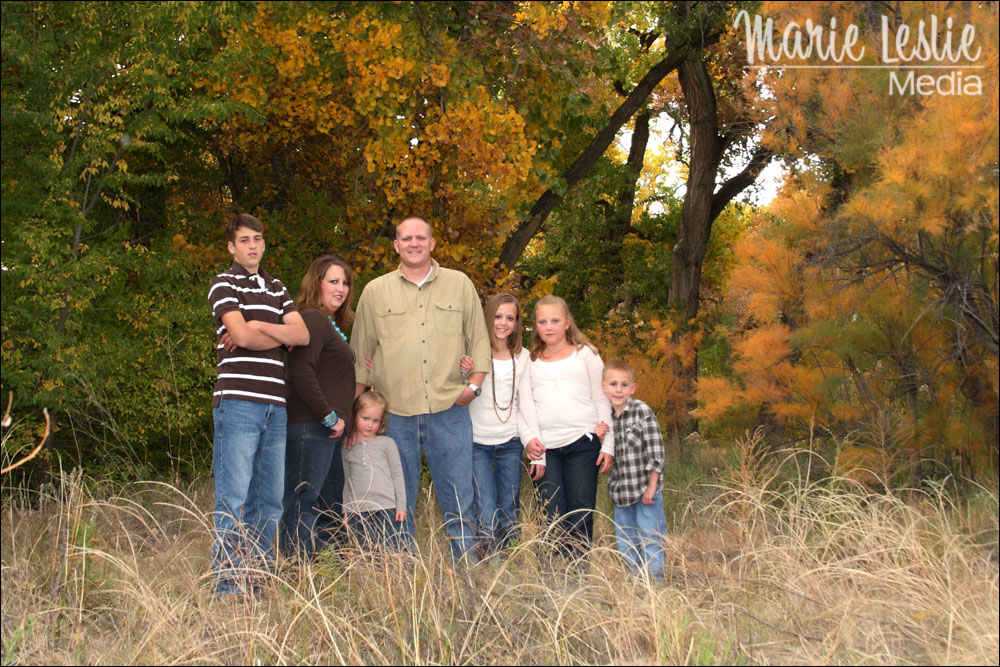 If getting those great family photos are on your mind, but a professional portrait isn't in your budget this year, here are a few tips for making the most of the opportunity.
While professional portraits nearly always produce the best results, we understand that isn't always in the cards.  If you are wanting a portrait of the whole family, bring along a friend to actually take the photographs for you.  Yes, most cameras have self-timers these days, but you'll still get a better result if you have a real live person checking to make sure you don't look stupid before the picture gets snapped.
Choose your location ahead of time and check to see how it looks at the time of day you want to photograph there.  Lighting is one of the most critical elements in photography.  Lighting can make or break your portrait.  When I am making portraits, I try for late afternoon (my favorite) or early morning.  Mid-day light is too bright and too harsh and produces nasty shadows that are very difficult, if not impossible, to correct.
Speaking of correction, it's always better to get it right in the camera.  Some things CAN be fixed afterward, but like the commercial of a few years ago, just because you can doesn't mean you should.
Plan your clothing.  No, you don't need to match; that's entirely up to you and what you want your portraits to look like.  You should still have some degree of coordination, though, especially if you want to hang this up on the wall or send it out in your holiday cards.  Things to avoid: big graphics and text, especially logos; busy patterns, bare midriffs, bare shoulders, bare legs (they're going to look out of context in a fall portrait anyway); white socks or shoes, unless you're wearing white pants (which I also recommend avoiding).  I generally lay out everyone's clothes together ahead of time. If they clash there or something really sticks out, it's going to do the same in the portrait.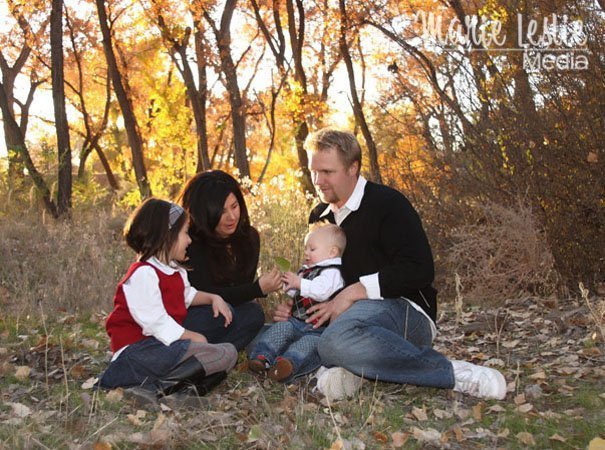 As for those white pants, lighter colors on the bottom will make your bottom half look larger. Enough said?  For your bottom half, we recommend dark pants or skirts, dark socks and dark shoes.  White socks & white tennis are like little neon signs for your feet and they won't make you happy when you see your portraits.  Lighter, brighter colors by your face are ok.  Our eyes are drawn to the lighter colors and you want people to see those beautiful smiling faces (at least your kids'), so keep the lighter colors nearer to your face.  Bold, bright colors are more than acceptable.  The old days of everyone wearing a black shirt and dark pants are gone.  However, if you're photographing a big group, having everyone wear the same color or color family in a solid really do help unify the image.
Bring your pet.  If he or she is part of the family, why not include them?  Of course, you may want to bring along a pet wrangler, just in case they're uncooperative or you don't want Fido in every pose.  Just be sure to bring along a good supply of treats for bribing.  Oh, and make sure they are allowed if you're heading out to a park for your photos.
Bribery?  I'm a firm believer—at least on picture day.  If you have kids, bribery works WAY better than threats for good photos.  As a pro, I can't even count the number of sessions that crashed-and-burned because a parent told Johnny if he didn't smile, he was going to get spanked.  Ummm, yeah, that would definitely make me smile.  Not.  I always encourage families to make it a special day, go out for ice cream or dinner afterward, or plan to take part in your kids' favorite activity.  Let them know that after the photos, you'll go do something really fun.  I also use Smarties candies as a favorite bribe for preschoolers and toddlers.  They don't stain and they usually don't drip and they're small enough not to be a choking hazard.
And finally, remember this is supposed to be fun.  Relax!  No one expects perfectly posed perfect portraits (except maybe YOU).  Lighten up and have fun.  My favorite portrait of my kids is one where they're all laughing and being goofy.  Everyone who knows them and sees it says it is "them".  Take lots of photos (digital is cheap and you only have to keep and print the ones you love), focus on the fun and focus on your family.
And if you'd like more tips for posing and lighting, stop by Marie Leslie Media and check out my Photo Tips album with images and ideas for better photos.
And if you found this helpful, please use the buttons below to tweet or share it with your network.