The Mouse, The Magic & Me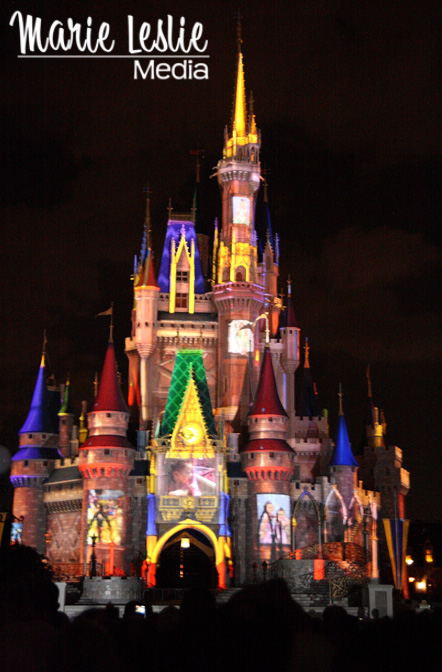 Disney did it again.
Yep. They managed to make me go "wow!" Several times, in fact.
I am child of Disney. I grew up in Southern California and for some years, my grandparents lived in Anaheim.  My parents used to let my sisters and me spend the day at Disney from time to time and regular visits with friends and family were part and parcel of our growing up years.
It really is the Magic Kingdom and the happiest place on earth.
I went to DisneyWorld last week. My daughter insisted that we needed to be in the Magic Kingdom for the Cinderella's Castle fireworks show.  She thought I might enjoy the Castle show even more than the fireworks.  It was a close race since I LOVE fireworks, but I think she was right.  It is still the Magic Kingdom and even though it's been many years since my last visit and I am much older and more jaded than I was back in the day, Disney still found a way to wow me.
What an amazing combination of technology and creativity. If you've never seen it, I believe the Castle show alone is worth the price of admission.  Disney actually projects a movie on the castle; not just on a little screen on the castle, but the entire castle is a screen and creatively used. Beside incorporating photos and videos taken of park guests each day (all by itself that is a bit of marketing genius that will ensure everyone hangs around for the fireworks), the castle is canvas and backdrop for all kinds of creative imagery.  The castle is transformed with light, color and pattern throughout the show, creating film artistry that keeps everyone glued to the "screen."
The photos accompanying today's post are pictures from the show.  They're also bigger than the photos that I usually post, but I wanted you to see this coolness.  All the color here?  It's projected on to the castle as part of the film.  Pretty sweet, no?
As I watched this incredible production unfold, I was repeatedly amazed by the creative–and marketing–genius of Disney's new project.  First, someone had to have come up with the idea of just having a film or a "slide show" on the castle featuring park visitors before the nightly fireworks show.  And then someone undoubtedly felt the need to not be limited by a screen and suggested using the entire castle. And finally, someone had to figure out how to make it work like this.
I didn't hear a single person in the substantial crowd who wasn't impressed with the show.
And then, of course, I had to analyze it.  After thinking through just the inspiration and mechanics that would have come up with an idea like this and make it possible, I began thinking about what it means for marketing and the Disney "mystique." Yes, it's definitely another wow experience. Maybe someone else is already doing it somewhere else, but I certainly haven't seen or heard anything about it.  And if you didn't already know about it, when that film suddenly transformed the already huge and impressive Cinderella castle, you were definitely surprised.  My daughter (who lives and works in the land of the mouse) told me they would have a "castle movie".
It didn't prepare me at all for what I would see.  I would have gone again the next night just to watch it again if I could have fit it into my schedule.  And if I was a parent of young children, I certainly would have availed myself of the opportunity to have more photographs taken by the dozens of Disney photographers stationed throughout the parks because just maybe one of my adorable babies would have appeared on the castle.
But mostly, it reminded most about what I love about Disney–both about the park experience and the business.  They never stop striving to amaze and to delight.  Every detail is attended to, there is no such thing as too creative; there is no such thing as making your customers too happy.  A Disney experience exceeds your expectations, satisfies your senses and yet still manages to leave you hungry for more–another visit and another adventure.
Yes, I am already planning my next trip.
______________________________________________________
If you found this post enjoyable or helpful, please use the buttons below to tweet or share it with your network.