Photography Favorites from the Most Scenic Drive in America
I am all about a great road trip. And, as a photographer, scenery counts. I've made a lot of beautiful and interesting scenic drives over the years, but there is none that compares to California's Pacific Coast Highway.
As much as I love I-70 between I-15 and Denver, especially the part through the Colorado's Rocky Mountains, the Olympic Peninsula of Washington, Yellowstone & the Tetons (I could go on for a long time), Highway 1, also known as the Pacific Coast Highway, wins my vote for the most scenic drive in America.
It's been a few years, but my favorite traveling companion and I drove the most well-known part (and a few miles farther north) this summer. And it was every bit as scenic and beautiful and wonderful as I remembered.
I posted a few weeks ago here from our first day on the road, and here from our day in Carmel-by-the-Sea (love that name!). Here are a few more favorites from our time north of Monterey. As in my other posts, many of these are available for purchase in my art sales gallery by clicking on the photo or caption, or by visiting my California gallery here.
Do you have a favorite road trip? One that might rival my choice for Most Scenic Drive in America? I'd love to hear what it is and possibly make it a future road trip.
On the Road
We started our day heading out of Santa Cruz after sharing a few childhood locales with my husband. I lived in and near Santa Cruz as a child, so I needed a little nostalgia in the morning. Our first stop was just north of Panther Beach, just outside Davenport, California. Had I known about Panther Beach, we probably would have spent a lot more time here. Next trip, I'll be starting at the south end and photographing more of this gorgeous spot.
We stopped because the railroad runs right along these cliffs above the ocean and we wanted to check out the view. It was even better than we thought. Originally, our plan was to hike down to this beach after we spotted it, but the path was super steep and narrow and I am not the world's most coordinated climber, especially loaded down with camera gear and wearing my beach sandals. This is one of several images we loved from this beach. We need to plan a sunset stop here..
We stopped many times to watch surfers, kitesurfers and windsurfers all up and down the coast. If you've never watched these amazing athletes, they are incredible. One of these stops was Bonny Doon Beach, not far north of Panther Beach.
Of course, kitesurfers and windsurfers weren't the only people enjoying the beaches. We also came upon a fisherman trying his luck with some beach fishing. It looked like he was having a pretty good day–and planning for a delicious seafood dinner. Made me wish I'd brought a fishing pole.
The bluffs just above this beach, which is what triggered another beach stop, were covered in a beautiful field of Nile lilies, a sea of purple and white blooms. Being unable to resist the allure of wildflowers, of course I had to stop for photos.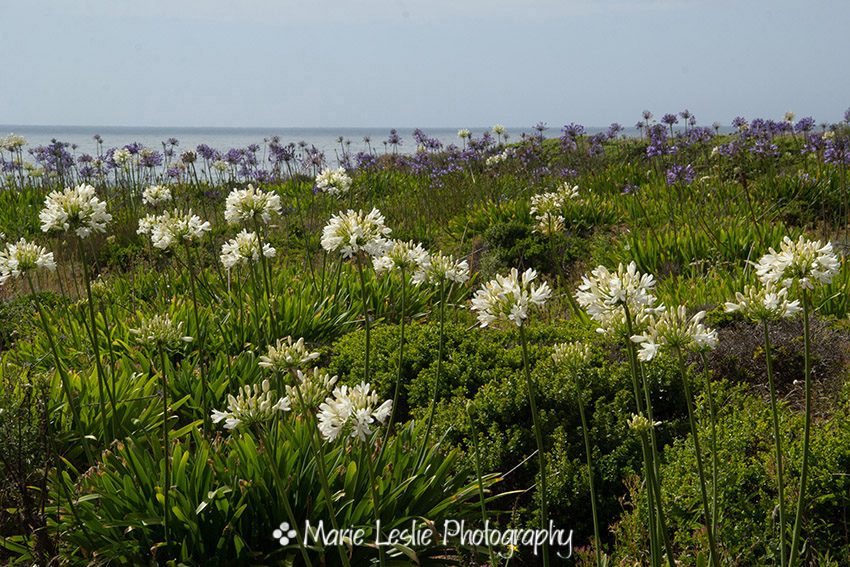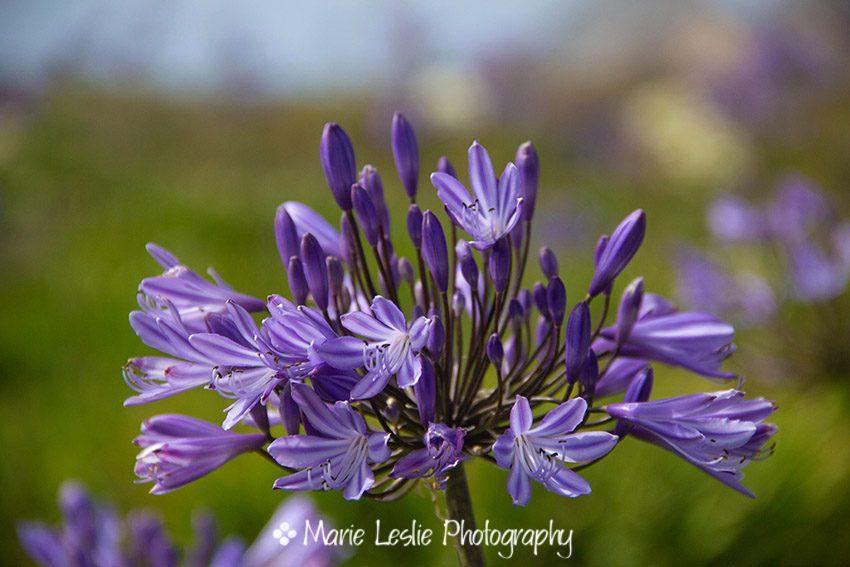 We spent our final days along the coast north of San Francisco. We spent an afternoon at Point Reyes National Seashore (post coming soon). The next day we headed north until we could postpone no more and headed inland and east toward home.
This portion of the PCH is less traveled than south of San Francisco, and we enjoyed the slower pace and quieter beaches. The coast gets even more rugged here, passing through Sonoma Coast State Park and other state parks along the way. This was new travel for my hubby, but a nostalgia day for me, as this is the Pacific Ocean of my early childhood, and I remember it with great fondness.
We traveled first to Bodega Bay, then headed north along the increasingly rural and rugged coastline. We had beautiful sunshine at our first stop, but the fog played peek-a-boo with us for the rest of the day.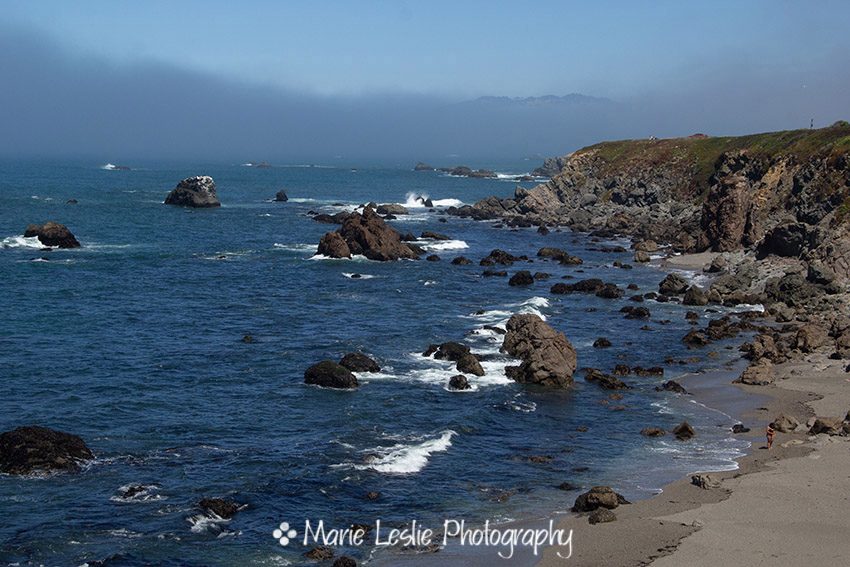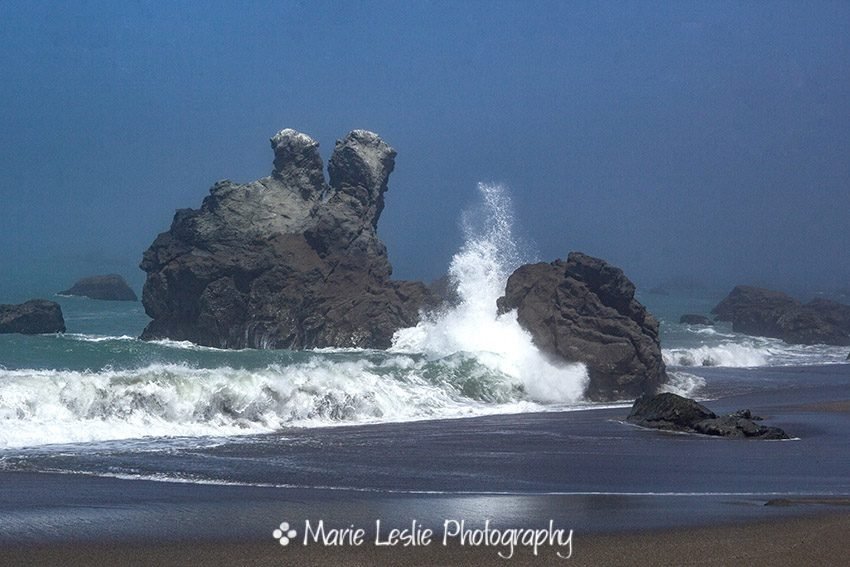 The road gets more narrow here, and we had some interesting moments wondering if we would end up stuck on a tight curve. They made it through–by inches. Made me happy we weren't in a motor home.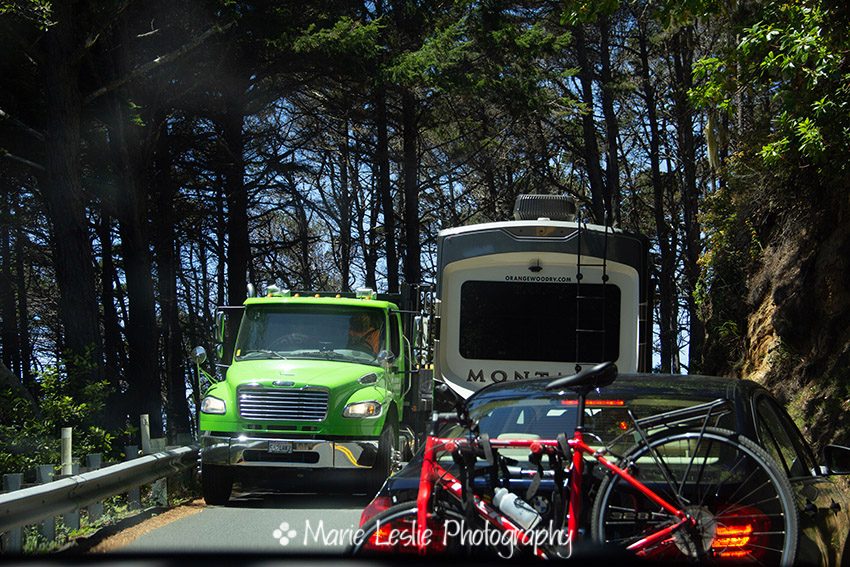 Making our way down to the beaches along this stretch was a bit more of an adventure than in more southerly sections of our most scenic drive. Here, a very narrow trail led through tall wildflowers to the beach. Interestingly, though we were less than 50 yards from the sea, it was sunny on the trail and fogged in by the time we got down to the water.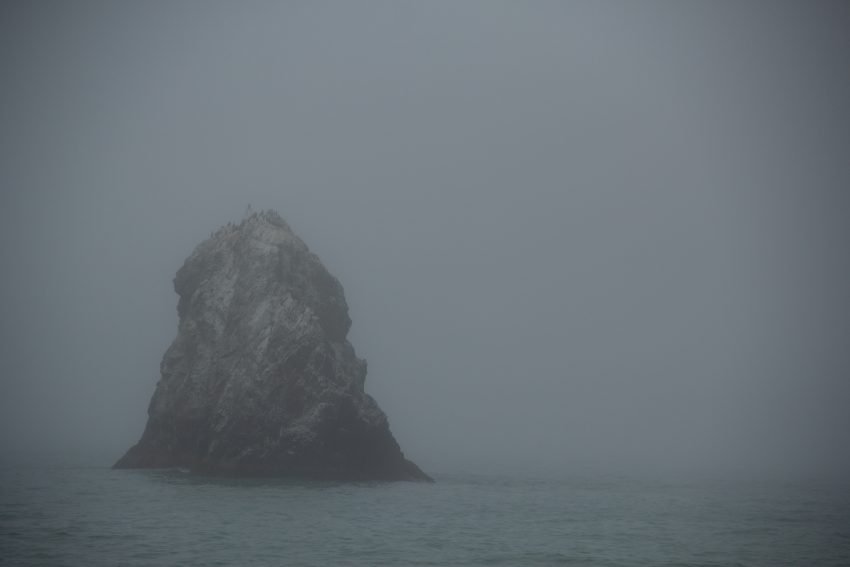 And then it was finally time to head east. Not wanting to retrace our route, we opted to adventure off on one of the occasional roads that headed east up and over the coastal range. Our adventuring was rewarded with this beautiful grove of ferns and redwoods. A perfect cap for our Pacific Coast adventure. Next time, we're starting at Monterey and heading all the way to Oregon (and maybe beyond).
The Pacific Coast Highway is the most scenic drive in America. There is something for every traveler along this road. Whether you like mountains or ocean, big city or rural open space, water sports or wildlife, you can find it all in a road trip up the PCH.