A Simple and Sweet Halloween Treat: Caramel Corn in a Bag
Happy Halloween! We've stocked up on the trick-or-treat candy, carved the pumpkin and sorted out costumes.
Now that the essentials are out of the way, it's time for the really important stuff: Halloween treats for those of us who don't go trick-or-treating.
At our house this year, it's going to be Caramel Popcorn.  But not just any caramel popcorn–caramel popcorn in the microwave.  No, I'm not talking about microwave caramel corn that comes in a box at the grocery store.  This is real, made from scratch caramel corn and it is just about the easiest and tastiest caramel corn I've ever had.
I. love. popcorn.  If I had to choose between the goodies in the trick-or-treat bowl and popcorn, popcorn would win every time.  Even over chocolate. Really.  I'm pretty much a popcorn purist.  Salt and butter makes popcorn perfect.  Until now.  The only reason we don't make this more often is because we keep running out of brown bags.  I have to remember to say "paper" at the grocery store so I can make more caramel corn.  On the other hand, running out of brown bags may not be a bad thing–for my diet.
So you're probably wondering if I'm going to share the secrets of this marvelous treat, which I guarantee will disappear even more quickly than your Halloween ghosts.  Yes.  Here are the instructions.
To make this, you need a microwave oven, a large brown paper grocery sack, about 6 quarts of popped corn (so who decided popcorn should be measured in quarts anyway?), brown sugar, butter, a little corn syrup and baking soda.
First, spray the inside of your grocery sack with non-stick cooking spray and set it aside.
Make your popcorn and dump it in the bag.  I am a huge fan of making popcorn in the microwave these days.  We have lots of popcorn poppers.  I have been on the hunt for the perfect popper even longer than I've been married.  We've had hot-air poppers, stove-top poppers, electric poppers.  Currently, we have an oil popper with a nifty stirring thing in it, we have a popper that looks like it should be at the theater (good thing we have a basement party room now) and we have an awesomely cool microwave popper that I found at the Goodwill that makes popcorn with or without oil (we use it without oil).  In case you're wondering, it works–really well.  We no longer buy any kind of microwave popcorn.  Two batches from the Presto microwave popper are just about perfect for this recipe.  Oh,and just in case, I forgot to mention it, neither Presto nor Orville Redenbacher gave me anything for including them here–they just happen to be a match made in heaven at our house.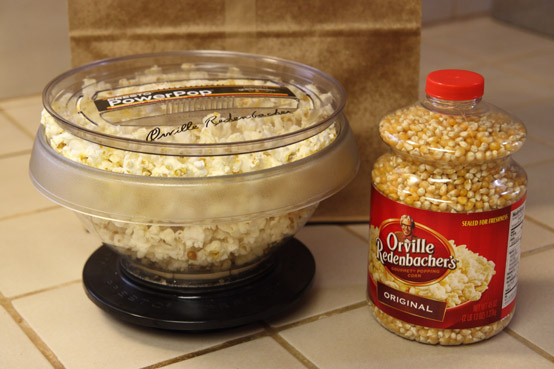 While the popcorn is popping, measure one cup of packed brown sugar, 1/4 cup of light corn syrup, 1/2 teaspoon salt and 1/2 butter or margarine into a microwave-safe covered bowl.  Microwave this for two minutes, stir really well and then microwave for one minute more.  Add 1/2 teaspoon baking powder and stir really well.  It will get kind of foamy.
Pour the caramel mixture into the paper bag and stir with a wooden spoon or large rubber spatula.  Fold the top of the bag over (you did use a full-size grocery sack, right?), shake well and put in the microwave for 1 1/2 minutes on high.  Take the bag out, shake it really well and return it to the microwave for another minute.  Shake it well and then pour it out onto a cookie sheet or foil to cool.  The whole process takes about 20 minutes, start to finish.
And to answer your next question, no, I have never caught the bag on fire in the microwave.  Ever.

Caramel Corn In a Bag
INGREDIENTS
1 large brown grocery bag
4-6 quarts popped corn
1 cup brown sugar
1/2 cup butter
1/4 cup light corn syrup (like Karo)
1/2 teaspoon salt
1/2 teaspoon baking soda
 DIRECTIONS
Spray the inside of a large brown grocery bag with non-stick cooking spray.
Dump the popped corn into the bag. Set aside.
In a one-quart microwavable bowl, combine, born sugar, butter, corn syrup and salt.  Cover and microwave on high for two minutes.  Stir well and return to the microwave for another minute.   Add baking soda (it will be foamy) and stir until well blended.
Pour over popcorn in bag. Shake well.
Fold over the top of the bag loosely and microwave 1 1/2 minutes on High. Shake well; microwave 1 minute on High. Shake well.
Pour onto baking sheet or foil to cool.
___________________________________
So what's the favorite Halloween treat at your house?