Revisit the Magic of Wonderland with "The Lost Wonderland Diaries" #Review
The Lost Wonderland Diaries Synopsis
Something monstrous wants to exit Wonderland and enter the real world.
Lewis Carroll, author of the classic book Alice's Adventures in Wonderland, secretly recorded the true story of his actual travels to Wonderland in four journals which have been lost to the world . . . until now.
Celia and Tyrus discover the legendary Lost Diaries of Wonderland and fall into a portal that pulls them into the same fantasy world as the White Rabbit and the Mad Hatter. However, Wonderland has vastly changed. A darkness has settled over the land, and some of the creatures and characters that Tyrus remembers from the book have been transformed into angry monsters.
Helped by the Cheshire Cat and a new character, Sylvan, a young rabbit, Celia and Tyrus desperately work to solve puzzles and riddles, looking for a way out of Wonderland. But the danger increases when the Queen of Hearts begins hunting them, believing the two young visitors hold the key to opening multiple portals to multiple worlds, and she will stop at nothing to capture them.
Will the crazed creatures of Wonderland escape into the real world? Can Celia and Tyrus stop them and save both worlds? Or will they be trapped in Wonderland forever?
The Lost Wonderland Diaries Review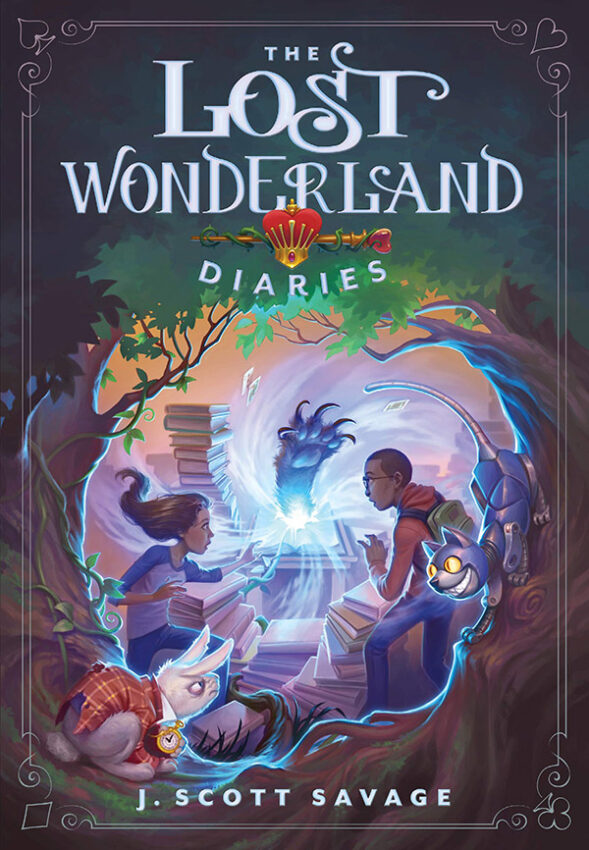 As a fan of Lewis Carroll and his original Alice in Wonderland stories, I started this book with a bit of a critical eye. Reimagining or sequeling a literary classic can be a big challenge. But clearly J. Scott Savage was up to the task. Not only did he do an excellent job of keeping the story and the writing in the style of Lewis Carroll, but he also filled the story with quirky, crazy characters just like the original.
The Lost Wonderland Diaries is full of action and adventure (but of course! It's a J. Scott Savage book—it must be full of adventure!), like a book-long roller coaster with barely time to catch your breath. His imagination and gift for visual imagery suits Wonderland perfectly.
As for our main characters, Celia and Tyrus, they embody well the pain of being a middle-school misfit without being caricatures or over the top. Celia has dyslexia, and often feels inadequate and broken. She's a math genius, though, so she's clearly no slouch. I related well to her character because I have a child with a reading disability somewhat similar to dyslexia but associated with ADHD. And my child is also a math genius (not sure where that came from—I was good, but not that good). I can empathize with that pain after shepherding my own reading-challenged child through school.
But I could also empathize with Tyrus, because when I was in school, I thought there was nothing better in the world to do than read, and the library was heaven on earth. I would have thought a friend with a librarian mom was uber-cool. And I was a middle-school misfit too.
J. Scott Savage always captures that feeling well, and leaves our characters feeling better about themselves as they work through their adventures.
If you're a regular reader here, you know I am a fan of the read-aloud experience, and this book is definitely one for my read-aloud list. And, this could make a pretty cool movie too.
About the Author
J. Scott Savage is the author of both the Mysteries of Cove and the Farworld middle grade fantasy series and the Case File 13 middle grade monster series. He has published 19 books, visited more than 3,000 schools, and taught dozens of writing classes.
Buy the Book
This post contains affiliate links, which means I may earn some money if you click on one and make a purchase. It will not cost you any extra, and I will be grateful for your support. Read the full disclosure here.
You can find The Lost Wonderland Diaries by J. Scott Savage in Hardcover and Kindle editions at Amazon.com
You can find The Lost Wonderland Diaries by J. Scott Savage in Hardcover and eBook editions at DeseretBook.com