Missing Okalee Explores Loss, Life & Family Bonds
Missing Okalee Summary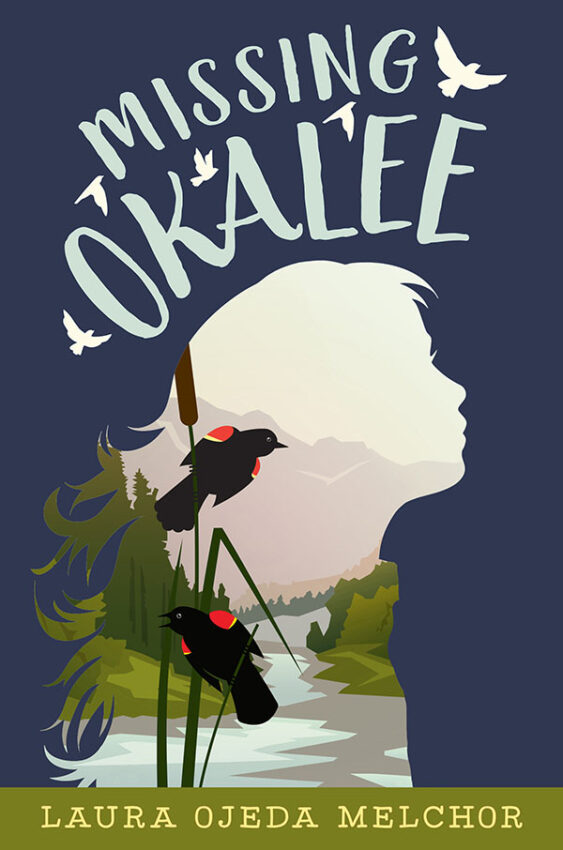 When compared to her nearly perfect little sister, Phoebe Paz Petersen feels she doesn't measure up in her parents' eyes. Okalee is smart and beloved for her sunny disposition. But if Phoebe can get picked for the coveted solo in the school choir, she'll stop being a middle-school nobody and finally get her chance to shine.
The sisters have one very special, secret tradition: River Day. It's a day they hold hands and make their way across the cold, rushing Grayling River to celebrate the first hint of spring. This year's River Day crossing, however, goes horribly wrong, and Phoebe's world is suddenly turned upside down.
Heartbroken and facing life without Okalee, Phoebe is more determined than ever to sing the solo in the school concert. She sees it as her way of speaking to her sister one last time. But Phoebe's so traumatized by what happened, she's lost her beautiful singing voice.
Kat Waters wants the solo for herself and is spreading a terrible rumor about Okalee and River Day. If Phoebe tells the truth, she fears her family will never forgive her. And she fears losing her chance to sing her goodbye to Okalee.
Missing Okalee is an empathy-building novel about the unbreakable bond between sisters and finding the courage to do what's right amid heartbreak and tragedy.
Missing Okalee Review
Laura Ojeda Melchor's debut novel explores the complex bond of siblings and families as well as the unspeakable challenge of dealing with loss.
Ms. Melchor lays the groundwork well for Phoebe's feelings of inadequacy and awkwardness in the opening chapter. Many of us can empathize and recall the pain of middle school and that desire to be "someone." At the same time, she builds the bonds of sisterhood from the very beginning, and we see how close Okalee and Phoebe are.
This makes the ensuing tragedy so much more painful. Ms. Melchor's descriptive writing style helps the reader to feel as well as "see" the scenes following Okalee's death. She takes us on the journey of Phoebe's loss and grief, as well as that of her family, all the while keeping us wondering how, where, and if they will survive this loss.
I also love that this book skillfully interweaves small-town dynamics and diverse cultures throughout the story without feeling the need to point them out as if they were something other than the norm. Phoebe and Okalee have a Cuban mother and American father, and have friends with similar families.
Not only in dealing with loss, but in so many other ways this book is an excellent opportunity to help middle-grade readers build their skills of empathy, compassion, and integrity. The author's website promises lesson plans to come, a definite bonus for helping teachers and parents in discussing this book.
This story also explores how what we think we see isn't always the whole and real story. And it demonstrates the potential consequences of jumping to conclusions. One of the underlying themes is how secrets and lies can be damaging, and how important it is for us to learn to both speak and to listen with compassion and with openness.
Missing Okalee is a middle-grades novel, and a good one to add to your family or classroom reading list. For children who are particularly sensitive, you may want to read this with them and discuss it as you go. This story provides so many opportunities for teaching and discussion.
I encourage parents to read it either before, or along with children so they can be prepared to help with those discussion.
About the Author
Laura Ojeda Melchor is from Montana and grew up in a Spanish-speaking home that celebrated her family's Cuban culture. She is a self-described bookworm who graduated with an MFA in Writing for Children and Young Adults from Vermont College of Fine Arts. She lives in Alaska with her husband and son. Find Laura online at lauraojedamelchor.com
Buy the Book
This post contains affiliate links, which means I may earn some money if you click on one and make a purchase. It will not cost you any extra, and I will be grateful for your support. Read the full disclosure here.
Missing Okalee by Laura Ojeda Melchor is available at Amazon.com.
Missing Okalee by Laura Ojeda Melchor is available at DeseretBook.com