21 Principles: Divine Truths to Help You Live by the Spirit–Review and Giveaway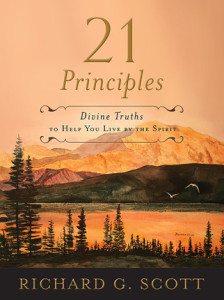 Do you wish you had greater access to the spirit? Do you wish to have more guidance from the spirit to improve your life and keep you focused on what's most important?
I know I do. That's why I was so excited to receive this new book by Richard G. Scott "21 Principles: Divine Truths to Help You Live by the Spirit." Not only do I love the subject matter, but I love the format of the book. The layout is ideal for use as a study guide.
I tend to be topical student of the gospel. Rather than read and study the scriptures chapter by chapter and verse by verse, I jump around a lot, focusing on whatever subject matter has piqued my interest at any given time. I might hear something in a Sunday talk, or have a thought jump out at me while I am reading a church magazine or preparing a lesson. Or someone might bring something up in a conversation or blog post that has me wanting to know more. Elder Scott's book fits perfectly into my study style.
The book contains 21 short chapters (imagine that!), each focusing on one principle. The entire book is just over 100 pages long. The first time I read this book, I read it through cover to cover, just to see what it was about—and so I could write about it. As I've started reading it again, I've chosen selected principles that I feel like I need to improve upon in my life and re-read those as a starting point for my study of those principles.
Each principle is illustrated by personal experiences from Elder Scott's life, as well as scriptural reference, examples from the Savior's teachings and from the lives of our prophets. The language is clear, straightforward and simple. He concludes each chapter with simple counsel and instruction on how we might better incorporate these principles personally.
One that caught my attention was Principle #4: "I have learned that our mind can strengthen an impression of the Holy Ghost or sadly, can totally destroy it by casting it out as something unimportant or the product of our own imagination."
I am a champion second-guesser.  I have often talked myself out of really good ideas and, I am sure, important impressions of the Holy Ghost because I doubted myself. This will be the first principle I will be working on.  Perhaps I will even blog about my progress from time to time.
I don't plan to make my journey through the 21 Principles on my own, though. Deseret Book was kind enough to supply me with an extra copy of Elder Scott's book, which I am excited to share with one of my readers. This giveaway will be open through the end of May 31 and you can enter by following the instructions below.
If you don't want to wait, though, you can order it from Deseret Book by clicking here. It's available in hardcover, ebook and hardcover/ebook combo editions.
a Rafflecopter giveaway