7 Tips to Create Stunning Sunflower Photos This Summer
One of the beauties of summer in Colorado are the sunflower fields. Sunflowers are a popular farm crop here in the Centennial State. And about early August, you can see vast fields of sunflowers dotting the eastern plains. Once the fields are fully grown, a creative outing to make some stunning sunflower photos is a photographic must-do.
Early one Sunday morning, we headed out to the eastern plains in search of sunflowers. And our efforts were not in vain. Not only did we find sunflowers, but we found a field all to ourselves.
While the sunflowers are beautiful and so fun to photograph, you must remember that all sunflower fields are on private property, and are someone's livelihood. And since they own that crop, its survival is pretty important to them. Don't be a jerk and ruin it for other photographers.
All of my photographs were taken from the roadside. It isn't necessary to walk into the fields to make great images.
And here are a few tips to help you create those stunning sunflower photos.
Sunflower Photography Tips
Early and late in the day are the best times for photography. If you can, scout out your preferred location ahead of time. Remember that sunflowers do follow the sun, so you don't want to end up on the east side of a field at sunset when the sunflowers will not be facing you.

I've found that early tends to be less crowded and congested, which is why we went out just after sunrise.
Take the right gear. Wide angle and macro lenses work best for photographing flowers. I've rarely if ever had the need of a telephoto when photographing flowers. A lens hood to protect from unplanned sun flare is always a good idea. A small reflector can also be helpful if you either need to add some light into a shadowed bloom—or provide a little quick shade for one too sunny. You may or may not need a tripod, depending on time of day and your creative vision. I always bring mine, just in case.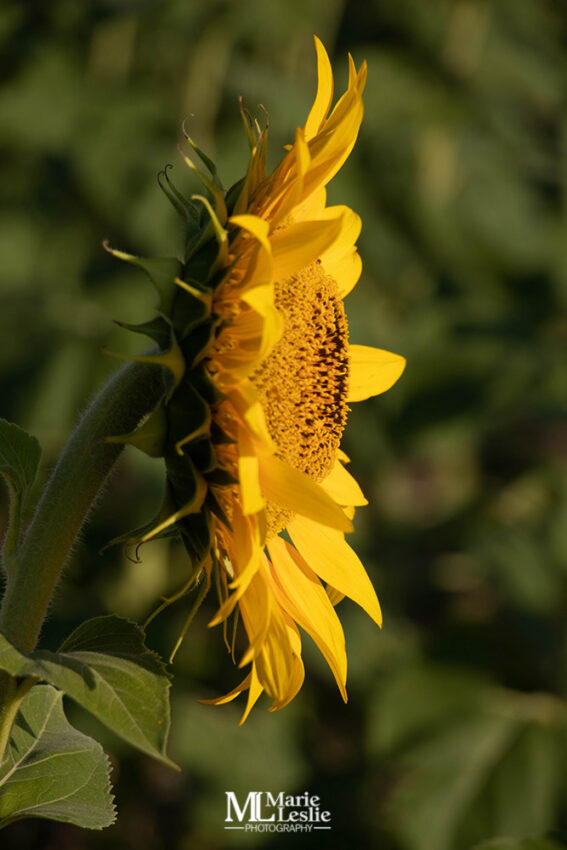 Create your images in RAW, and with the largest file setting, whenever you have the option. The RAW setting on your camera gives you the most flexibility for post-processing, and generally yield the best image files.
Experiment with depth-of-field, selective focus, and lighting. Backlighting the leaves and blossoms can give your photographs a different perspective. A close up of a single blossom can be more powerful when photographed with a wide aperture, making it the only flower in focus. Or an image of the entire field with farm buildings in the background may work best with a small aperture.
Try different angles. You don't need to shoot everything from eye level or above. Shooting low into the sky can make a great contrast to the brilliant yellow flowers, especially early or late in the day. Try lying on the ground and shooting up for a creative view. And don't limit yourself to photographing just the faces. Photograph some from the side or the back.
Photograph sunflowers at different stages of development. From unopened buds, to drying and droopy heads.
Be willing to get creative and experiment in your post processing. Most great photographic art is not "straight out of the camera." The best photographers know that image editing software can be used wisely and creatively to enhance good photography.
By the Way . . .
Unless otherwise posted, sunflower—and other—fields are private property, and you do not have an inherent right to enter that property. You can photograph from the roadside and still get stunning sunflower photos without entering the fields. And never take a sunflower home with you. Here's what you need to know before you head out.
If you are looking for a field where you can make portraits or do commercial photography shoots, there are fields here open to the public for portrait photography and family outings. It just takes a little research to find them.
With a little effort, and a little forethought you can create some stunning sunflower photos, and enjoy some time in the Colorado sunshine. Happy photographing!