Pasta Primavera for the end of Spring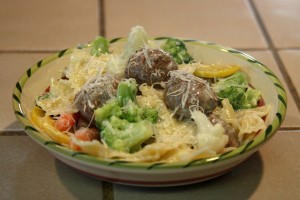 It feels like summer, but technically it's still spring, so Pasta Primavera with Meatballs is on tonight's menu.
This is one of our family favorites. It tastes delicious, is fancy enough for company and easy enough for even the busiest of days.
It's a very adaptable recipe as well. When we've been out of the bowties, we've used other pasta and when we've been out of Normandy vegetables, we've used whatever mixed vegetables looked good at the moment. I've also been known to stretch it quickly by adding another cup of water and throwing in a whole one-pound box of pasta.
As for the meatballs, you can make your own, but I'm pretty partial to the Italian meatballs at Costco (I tried their turkey meatballs and they just didn't taste as good–my family gave them a thumbs-down).  We serve this up with a quick green salad and some garlic bread if I'm not in a hurry and it's a quick and delicious meal that will have your family lining up for seconds.
And to make it really easy for you, here's the downloadable recipe card. Just click on the download link below the image.
[wpdm_file id=8]