A Baker's Dozen of Holiday Cookbooks for a Delicious Holiday
It's the holiday season, and holiday food is one of my favorite parts of the holidays. In case you're thinking it's not quite the holidays yet, it is. I know this because today is my birthday and in my world, that sets us firmly in the holiday season.
I come from a family of foodies, including a mom who is an amazing cook. I love to cook and bake and try new recipes.
I am also a collector of cookbooks, especially international and vintage cookbooks. I have more than 100 cookbooks in my collection (after trying unsuccessfully to thin it to one bookcase), and I read them like most people read novels.
So, in honor of the holiday season and because in our family, many of our traditions revolve around cooking together, I've rounded up a baker's dozen fun and creative holiday cookbooks for you (and me) to enjoy this season.
You can find out more about each of these holiday cookbooks by clicking on its title for an affiliate purchase link.
And if you have a favorite holiday cookbook I should add to my collection, be sure and let me know in the comment section below.
This post contains affiliate links, which means I may earn some money if you click on one and make a purchase. It will not cost you any extra, and I will be grateful for your support. Read the full disclosure here.
International Holiday Cookbooks
I love to try my hand at baking and cooking from different cultures. Trying recipes from the cultures of my family's history helps me feel connected to them—and it's just fun.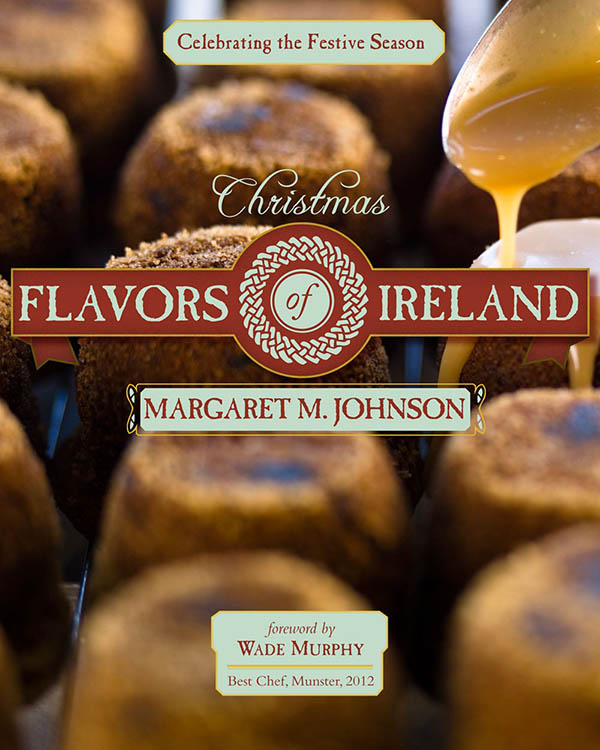 by Margaret M. Johnson
It's no secret that I am a fan of all things Irish. According to AncestryDNA, I'm more than 50% Irish, which isn't surprising since four of my great-grandparents were born on the Emerald Isle.
I've been to Ireland once–so far–and fell in love with the country, the people and the food. So, naturally, I include Irish specialties in my holiday celebrations. This cookbook includes more than 100 traditional and modern Irish holiday recipes from warming soups and crisp potatoes, wonderful puddings and dazzling desserts Christmas Flavors of Ireland will awaken your senses to the festive, fun-filled season in Ireland.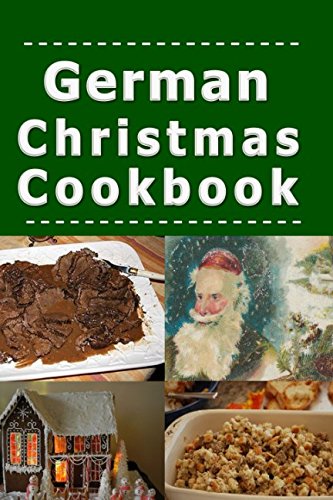 by Laura Sommers
I can't honor one side of my heritage without paying homage to the other. Three of my other four great-grandparents were immigrants from Germany, and my husband has German ancestors as well. In addition, he spent two years in Germany, so German cooking earns a regular spot on our family's menu. This holiday cookbook includes 70 different German holiday recipes, which will definitely put you in a traditional Christmas mood.
by Bronte Aurell
Another entry into the Christmas celebrations of my heritage.Some of my German great-grandparents lived on the Danish border and so we share a Danish heritage. My husband's family comes from Denmark, so we incorporate a few delicious Scandinavian traditions into our holidays as well. Their Christmas treats are definitely festive—after all, what else do you do but cook in the land of perpetual winter?
by Lizzie Kamenetzky
What foodie doesn't love the Great British Bake Off? I love this show any time of year, and no matter which side of the pond they're baking on. This volume contains more than 100 recipes, and not just dessert, with no judges except your dinner guests to comment on your efforts. As the review says, this book is the "perfect Christmas companion."
Specialty Holiday Cookbooks
The holidays aren't just about cooking for our heritage. At our house, it's also about cooking for our friends and guests. I've had gluten-free friends since long before Celiac was a well-known medical condition, and I like to be sure I have good things for them to eat when we get together to celebrate. I also have an increasing number of vegan friends, and I always hate for my guests to feel second-best. So I've found a few holiday cookbooks to add to my library that help me honor all of my different friends.
by Isa Chandra Moskowitz
While I am definitely not a vegan (I'm not even vegetarian), I do enjoy a variety of dishes and think we could all benefit from incorporating more non-meat dishes into our diets. This festive cookbook by Isa Chandra Moskowitz, a well-known cookbook author, makes vegan easy, appetizing and fun. This cookbook not only covers Christmas, but also holidays and celebrations throughout the year.
by Jeanne Sauvage
Gluten-free cooking isn't known for its tasty treats and baked goods, but I am counting on this cookbook to help me change things. With 60 different dessert recipes, and tips on how to work with wheat-free ingredients, even novice gluten-free bakers should be able to enjoy the delights of the season. Ms. Sauvage's cookbook even includes a gingerbread house recipe.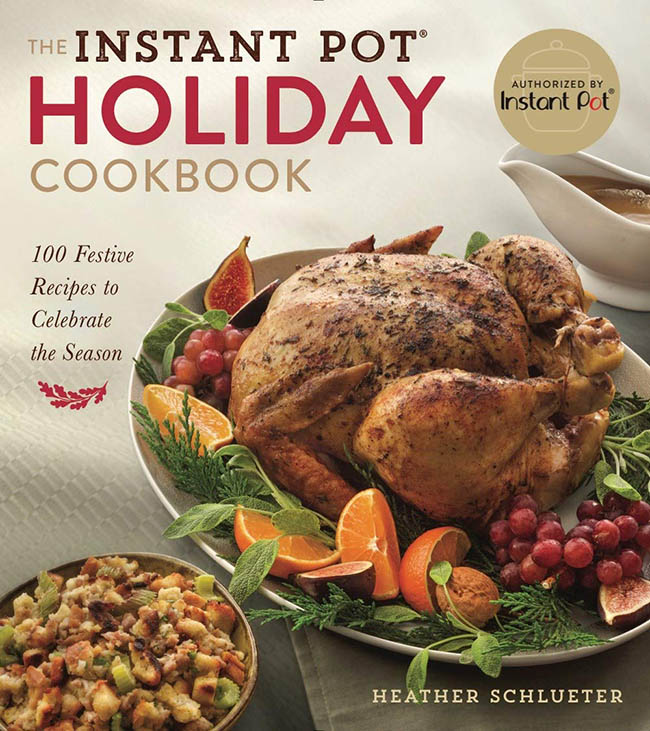 by Heather Schlueter
I joined the ranks of Instant Pot aficionados this past Christmas when Santa left me this Instant Pot under my tree. It took me a while to start using it, but now it's a regular contributor to dinnertime.
These handy electric pressure cookers aren't just for dinner. Once I discovered desserts and other things, of course, I needed holiday cookbooks for it. This one includes 100 recipes covering everything from appetizers and drinks to main dishes and desserts. Fast and festive. That's a reason to celebrate!
Holiday Cookbooks for fun & Entertaining
This last group of cookbooks is on my list because I love cookies and treats and holiday parties. These books are full of everything you need for festive food and festive fun.
By Six Sisters' Stuff
I reviewed this cookbook a couple of years ago, and it's still just as fun. In keeping with the 12 days theme, the Six Sisters give us 12 Family Traditions, 12 Homemade Gifts, 12 Christmas Cookie Recipes, 12 Christmas Decorating Projects, 12 Neighbor Gift Ideas, 12 Ways to Make Christmas a Breeze, 12 Quick and East Dinners for Busy Families, 12 Christmas Party Themes, 12 Days of Christmas for Your True Love, 12 Spectacular Christmas Treats, 12 Days of Giving Back, and 12 Christmas Brunch Recipes.
Fun stuff for every family—and directions clear and simple enough for every member of the family to take part and enjoy.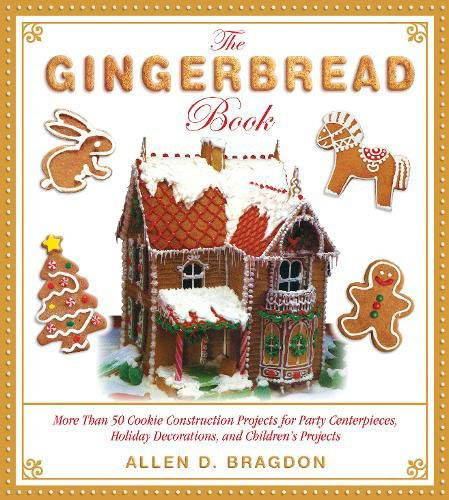 by Allen D. Bragdon
What's more holiday than gingerbread houses? This cookbook has more than just Christmas houses; it includes gingerbread creations for Easter, Halloween and other fun projects. Whether you're new to gingerbread building, or an expert architect, you'll find inspiration and instructions to keep you creative for endless holidays here. By the way, we learned a long time ago that a Christmas gingerbread house can be a great way to use up some of that leftover Halloween candy.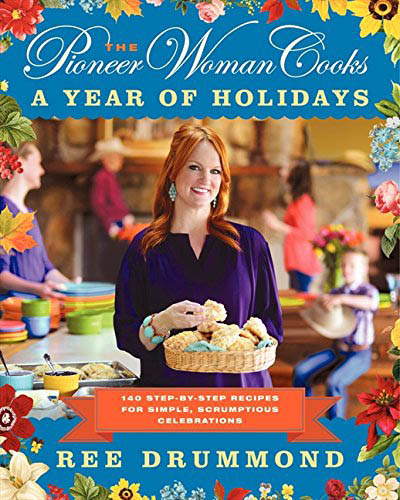 by Ree Drummond
Ree Drummond is the Food Network's queen of entertaining. And The Pioneer Woman Cooks gives us a whole year's worth of holiday entertaining. Menus for breakfasts, lunches and dinners, party planning ideas, decorations and stories to entertain you while you plan.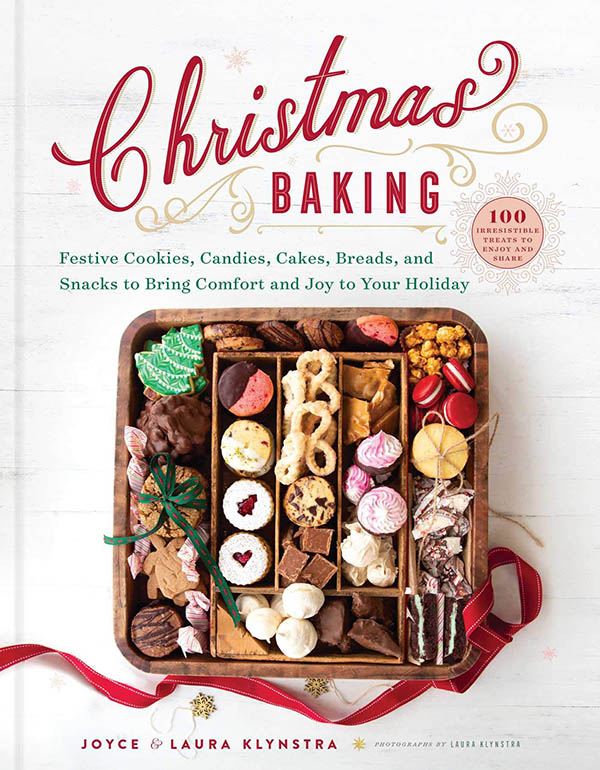 by Joyce and Laura Klynstra
Of all the baking and cooking I do at Christmas, cookies are still my favorites. And this new collection brings together more than100 Christmas-inspired recipes, each beautifully photographed with easy-to-follow instructions, from holiday classics like Dark Chocolate Crinkles and Decorated Sugar Cookies to international treats like Krakelingen, Linzer Cookies, and Alfajores. Many favorites will spark fond baking memories, and new flavors will create fresh family traditions.
Christmas Baking contains perfect recipes for holiday gatherings, gift-giving, cookie swaps, and Christmas morning. Written by a mother and daughter team and tested in home kitchens, these treats will bring comfort, joy, and a dash of nostalgia to your holiday.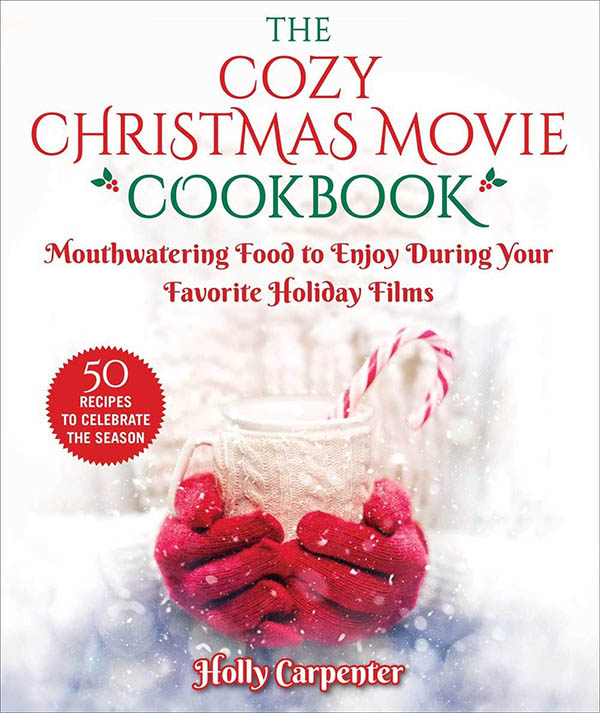 by Holly Carpenter
While I bake and cook and make candy for the holidays, I nearly always have a Christmas movie on in the background (or sometimes music, but mostly movies). So how could I pass up a cookbook themed around all the best holiday movies. How much easier could planning a holiday movie night be than with the inspired recipes from this cookbook. I only wish I'd thought of this first.
The Cozy Christmas Movie Cookbook​: Mouthwatering Food to Enjoy During Your Favorite Holiday Films brings you 100 recipes inspired by America's most adored Christmas films, from Northpole to The Christmas Train, A Royal Christmas,and many more! Each recipe includes a recommended film to watch.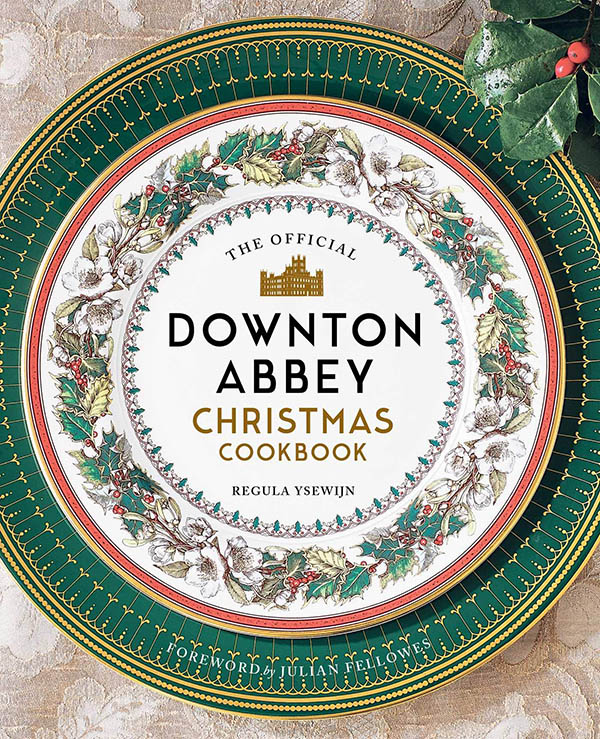 by Regula Ysewijn
This elegant coffee table cookbook highlights the luxe and elegance of the Christmas at Downton Abbey and features a collection of traditional British holiday recipes, from appetizers to desserts, that were popular during the Edwardian period.
Take a seat at the Christmas table of Downton Abbey, the historic British estate at the heart of the popular PBS series. Downton fans will appreciate this enticing collection of classic British holiday recipes from the Edwardian era, evocative narratives about Christmas traditions, and seasonal anecdotes from the award-winning series. Colorful photographs of finished dishes, fan-favorite moments from the Christmas episodes, and excerpts of character quotes bring the spirit of the holidays to life.
---
---
---
Do you have any favorite holiday cookbooks? I'm always on the hunt to add to my collection. And bonus points if you've authored a cookbook. I'd love to hear from you.