Celebrate 25 years of Kneaders Bakery & Café with Their New Cookbook
Publisher's Summary
From artisan breads, savory soups and sandwiches to delectable desserts, a close-knit family has perfected the art of baking and serving their community over the course of twenty-five years. In Kneaders: A Celebration of Our Recipes and Memories, Colleen Worthington shares cherished recipes from the beloved bakery and café she launched in 1998.
This is a book for all seasons and every palette. Filled with impressive recipes that have been refined for over two decades, they are easy to make and ones that readers will cherish for years. The Kneaders Cookbook releases in bookstores on October 3rd.
Kneaders Bakery & Café Cookbook Review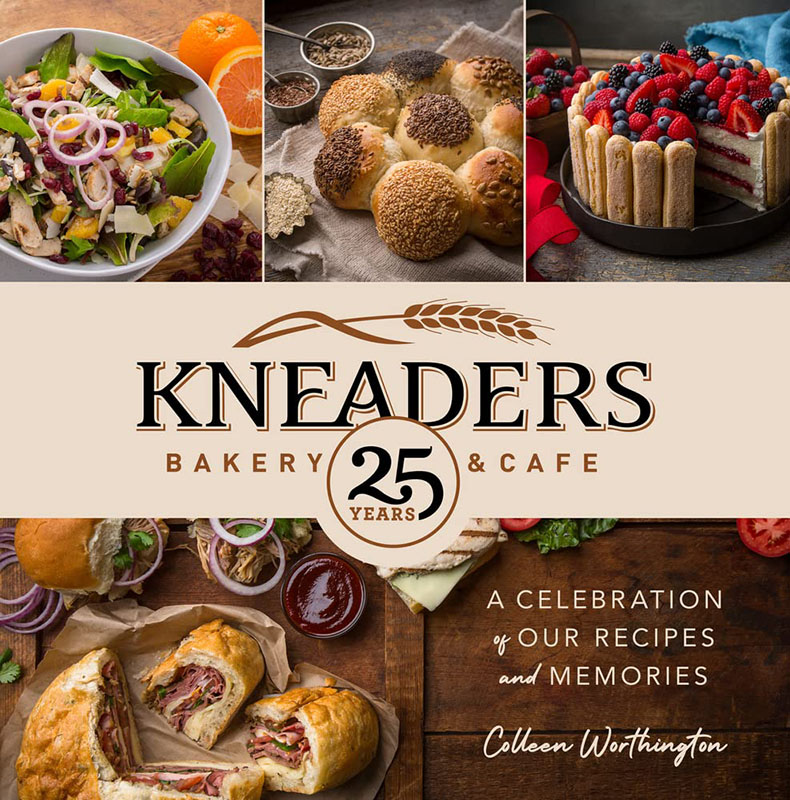 I am a cookbook junkie. I love a good cookbook. And since I've spent the summer in the land of Kneaders, this was a natural fit for me.
It's a big beautiful hardcover cookbook, with lots of mouthwatering food photography. Yum! While you can find some of the recipes on Kneaders blog, it's nice to have them all collected (plus more) in one enjoyable volume.
The large colorful photographs make it difficult to choose which of the more than 100 recipes I should make first, but it might be the Vanilla Fresh Fruit Cake on page 230. Or maybe I'll make the Hot Cross Buns on page 152. Or I could make. . . Well, you get the idea.
If you love Kneaders or you love cooking, you want this book. So does the cookbook lover in your life. It would make a perfect holiday or birthday, or please-bake-me-something gift for your favorite cook.
This post contains affiliate links, which means I may earn some money if you click on one and make a purchase. It will not cost you any extra, and I will be grateful for your support. Read the full disclosure here.
Buy the Book
Buy The Kneaders Bakery & Café Cookbook at Amazon.com
About The Author
More than twenty-five years ago, Colleen Worthington rolled up her sleeves and built a baking empire out of her own kitchen, which provided a place for her kids to learn hard work, dedication, and creativity. Together with her husband, Gary, the Worthingtons pursued their interest in scratch-made artisan breads by training at both the American Institute of Baking and San Francisco Baking Institute.
They worked closely with Lehi Roller Mills to develop an exclusive flour mixture and located an ideal, traditional Italian hearth-stone oven. Their first bakery opened in Orem, Utah, in 1997, where they served European hearth breads. Within a few months, they expanded to offer a variety of sandwiches, soups, salads, and pastries. The café also sells a variety of home and seasonal décor.
What began in Colleen Worthington's kitchen a little more than twenty-five years ago has grown into a successful family-owned bakery and café business with time-tested, delicious recipes gathered in this one-of-a-kind cookbook.
I received a copy of this book in exchange for my honest review and opinion.