Come to the dark side. . .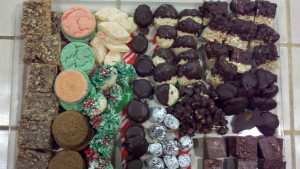 . . . we have cookies.  And, boy, do we have cookies.
I love to bake and Christmas is about the most fun time there is for making wonderful, delicious cookies.
After all, how can you leave cookies and milk for Santa without cookies?  This is my favorite Christmas cookie recipe.  The basic recipe may sound and taste very familiar, but I have no idea who thought up the coconut and sprinkles.  We have been making these for Christmas since I was a little girl.  The buttery,nutty taste combined with the sweetness of the frosting and coconut is just the perfect Christmas treat.
Enjoy!
Christmas Sandies
1 cup butter, softened

1/3 cup granulated sugar

2 t. vanilla

2 cups flour

1 cup finely ground pecans (I grind mine in the blender)

1 can vanilla frosting

1 bag coconut

Colored sprinkles

Red & Green Food Color
Beat butter for 30 seconds; add granulated sugar and beat till fluffy.  Add vanilla and 2 t. water.  Beat well.  Stir in flour and pecans.  Shape into "snakes" about 3/4-1″ in diameter (length doesn't matter).  Chill about 45-60 minutes or until firm.
Slice "snakes" into 1/2″ slices.  Place on ungreased cookie sheet.  Bake in a 325 oven for 20 minutes.
Remove gently to cooling rack until completely cool.  These are a delicate cookie, so treat them with care.
Divide coconut into two containers and color one green and one red.
When cookies are completely cooled, frost cookies with vanilla frosting, dip into red or green colored coconut and colored sprinkles.
Try not to eat them all in one sitting.
I'm not really sure whether these next cookies qualify as a cookie or a confection, but for my hubby it's not Christmas without them.  Another great recipe, courtesy of my mom; these are buttery and rich and too-die-for good.  And best of all, they are easy as pie (ok, I've made pie before.  They are a lot easier than pie).
Praline Bars
24 whole graham crackers

1 cup butter

1 cup brown sugar

1 cup coarsely chopped pecans
Arrange crackers on ungreased, foiled jelly-roll pan.
Combine sugar and butter in saucepan and heat to boiling point, stirring constantly.  Boil 2 minutes.
Stir in pecans and spoon over crackers.  Bake for 8 minutes at 350.  While still warm cut into squares.