Double Chocolate Brownies–National Chocolate Day
It's National Chocolate Day.  Really.
Friday was National Mincemeat Day and tomorrow is National Oatmeal Day.
Which holiday would YOU rather celebrate?  (In case you're wondering how I came to be such a fount of food information, blame Facebook.  Or Google.  Or just check out this nifty website.)  There's pretty much a food holiday for every day of the year.  But as you can see from the above, some are yummier than others.
So, in the spirit of the holiday, because I'm all about celebrating holidays, we've decided to celebrate by  making yummy chocolate things.
To be perfectly honest, I like to cook with chocolate more than I like to eat chocolate (but don't tell anyone–it's a secret).  Brownies are one of the few exceptions where baked goods are concerned.  I'm not a fan of chocolate ice cream and I really don't care for chocolate cake, but I LOVE a good brownie.
This recipe is a family staple.  I learned to make these many, many years ago from my mother.  But I'm not good at leaving well enough alone so I made just a wee alteration or two–the biggest of which is adding chopped-up chocolate candy bars to the recipe.  You can use any kind you want.  We usually use plain chocolate bars, preferably dark–and it's usually whatever I've been able to find on sale.  Today, I had a 4.4-ounce Hershey Bar in my pantry, but that's not enough extra chocolate to make me happy, so I rummaged up a couple of regular size bars leftover from S'more season.  You can use chocolate chips if you want, but chocolate bars melt better and make for deliciously gooey brownies.
____________________________________________________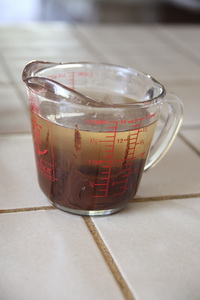 So, on to the kitchen.  First, melt 6 ounces of unsweetened baking chocolate and 1 cup of shortening together.  It takes about 2-3 minutes in the microwave on full power.
I use Crisco and only Crisco.  It has no trans-fats and it makes the best cookies.  You can use butter if it makes you happier.  I never have but I'm told it works fine.  Then, set it aside to cool. It's important to let it cool almost back to room temperature so you don't cook your eggs by adding hot shortening/chocolate to them.
While the chocolate is cooling, beat six eggs on high speed with your electric mixer.  Continue beating until they are frothy and lemony in color.  Then, gradually add three cups of sugar while continuing to beat.  Here you can see one of my adorable cooks-in-training, demonstrating how we do it.
After the sugar, add three teaspoons of vanilla and the chocolate/shortening mixture and blend well.  Next add two cups of flour, three teaspoons of baking powder and 1 teaspoon of salt. Note–if you are at high altitude, like we are, only add two teaspoons of baking powder or you'll have a mess on your oven floor.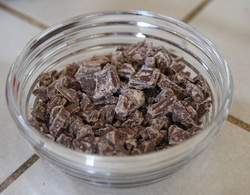 Chop the chocolate bars coarsely.  You can either do it with a kitchen knife or, if you're lazy like I am the Food Chopper works really well for this.  I picked up mine at Goodwill for $1.  Also, chop about 1 cup of nuts coarsely–or more, if you like nuts like I do.
Stir in the nuts and chocolate pieces and spread it all in a greased 1/2 sheet baking pan.
Do NOT put it in a single 9 x 13 pan as it will not cook properly.  If you have to cook it in a smaller pan, divide it in half between the two pans.  Bake it in a 350-degree oven for 20 minutes.  Remove from oven and cool long enough on a cooling rack so you don't burn your mouth.
While the brownies are baking, have your adorable cooks-in-training help with the clean-up.
Top finished brownies with a scoop of ice cream and some chocolate syrup and prepare your taste buds for nirvana.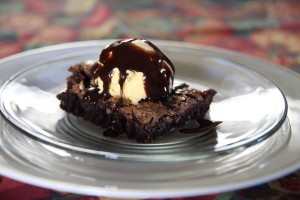 Happy Chocolate Day!
Here's the recipe, all in one place, just to make it easy for you.
Double Chocolate Brownies
Ingredients
6 ounces unsweetened baking chocolate

1 cup shortening (or butter–the original recipe, which is older than I am, called for shortening and I have never felt the need to change it–just make sure if you use shortening, it's Crisco. )

6 eggs

3 cups sugar

3 teaspoons vanilla

2 cups flour

3 teaspoons baking powder (1.5  teaspoons at high elevations)

1 teaspoon salt

1 cup chopped nuts

4-8 ounce chocolate bar, coarsely chopped
Directions
Melt baking chocolate and shortening together in a microwave-safe bowl.  set aside to cool.  Beat six eggs on high speed with an electric mixer until they are frothy and lemon-colored.  Gradually add sugar, mixing well.  Blend in vanilla and cooled chocolate-shortening mixture.  Mix in flour, salt and baking powder.  Stir in chopped nuts and chocolate bar.
Spread in a greased half-sheet baking pan.  Bake at 350 for 20 minutes.  Do NOT overbake.  Cool on a cooling rack and cut into squares.  How many brownies this makes is entirely dependent on your self-discipline in cutting them into squares. 
Note: You can cut this recipe in half and bake it for the same time and temperature in a 9 x 13 pan.