The Stories of the Old Testament Should Be "Written on Our Hearts"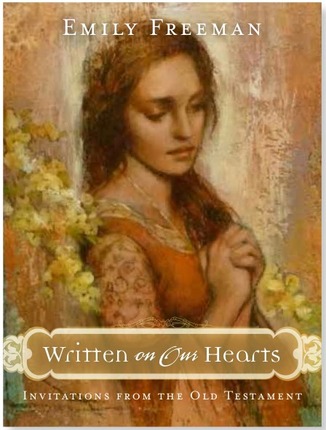 Right out of the gate, I must confess I am not a student of the Old Testament. That's not to say I am not familiar with it. I read it all the way through—once—when I was in high school because I needed to read it in its entirety to get credit in my last year of seminary.
Since then, I have read and studied various parts of the Old Testament. I have my favorite stories: Ruth and Naomi, Esther, and Noah, among others. Isaiah remains largely a mystery though I've read it many times over the years.
So, when I was invited to read and review Emily Freeman's new book, Written on Our Hearts hoping that it might help enlighten me and help me better understand the Old Testament.
Written On Our Hearts Review
It did, but it wasn't what I expected—in a good way. Written On Our Hearts "is not a commentary or an intensive doctrinal study." Instead Emily shares the stories of the Old Testament, along with her thoughts and observations from reading each story. And for each story, she gives us questions to ponder and to help us liken these stories to our own lives. And I have found that any time I can find a bit of myself in the scriptures, they are instantly more meaningful to me.
Once I realized how the book is written, I began flipping through, randomly reading her stories according to what caught my eye—and my heart. I loved "A Brother Born for Adversity." What a lovely example of brotherhood and to tie the stories of your family to scriptures. What a faith-building experience, and such a reminder that the scriptures are personal for each of us.
This is a book that, like the scriptures, can be read over and over, each time finding new insights and new inspiration to fit our particular situation at that time.
Emily begins each scripture story with a personal story, showing us how the stories of the Old Testament really are our stories and we need to learn to see our own lives in the scriptures. This is the beauty of Written On Our Hearts. Not only is the Old Testament clearly written on Emily Freeman's heart, but she beautifully illustrates the way that we can have it written on ours as well.
Buy the Book
This post contains affiliate links, which means I may earn some money if you click on one and make a purchase. It will not cost you any extra, and I will be grateful for your support. Read the full disclosure here.
Written On Our Hearts: Invitations from the Old Testament is available through Amazon.com
Written On Our Hearts: Invitations from the Old Testament is available through DeseretBook.com