The Tuttle Twins and the Miraculous Pencil #BookReview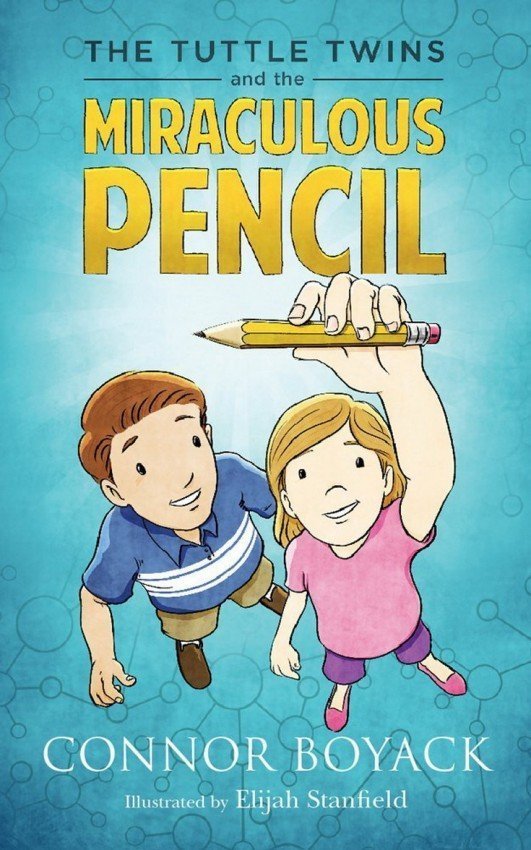 The Tuttle Twins and the Miraculous Pencil is an engaging and educational children's book about economics and the free market. As the story opens the Tuttle twins are embarking on a much-anticipated school field trip to a factory that produces school supplies, most notably pencils. At first, they are not excited to learn how such an ordinary item as a pencil is made, but they soon learn it is a much more complex and involved process than it appeared to be.
As they enter the factory the Tuttle twins and their classmates meet a factory worker, Carl, who gives them each a pencil and teaches them about all the different people involved in the manufacture of pencils, from growing and harvesting timber, to the growing of the castor plants that color the paint.
The children learn a great lesson about how people around the world work together in spontaneous order without ever really realizing their interconnectedness.
Connor Boyack has written a charming and easily understood lesson about basic economics that is enhanced by Elijah Stanfield's colorful illustrations. I even learned something new from reading this book. I don't think I will ever look at a pencil in quite the same way again.
While the book is educational, the story flows well and the language is neither stuffy nor condescending. Unlike many educational children's stories, the feel of this one is that it's a story first–and that it helps the readers learn is a bonus. As an additional aid for either classroom or homeschool instruction, the book includes a glossary and discussion questions for continuing the economics lesson. In addition, there are links for a workbook, as well as a supplemental animated video which illustrates the original 1946 essay which inspired this Tuttle twins adventure.
This is the second Tuttle twins book by Connor Boyack. The Tuttle twins books are designed to teach children about political and economic principles in a fun and understandable way. And this book achieves that goal admirably.
About the Author and Illustrator
The Tuttle Twins and the Miraculous Pencil is written by Connor Boyack and illustrated by Elijah Stanfield. Connor Boyack is president of Libertas Institute, a public policy think tank in Utah. He is the author of several books on politics and religion, along with hundreds of columns and articles championing individual liberty. His work has been featured on international, national, and local TV, radio, and other forms of media.
Elijah Stanfield is owner of Red House Motion Imaging, a media production company in Washington. A longtime student of Austrian economics, history, and the classical liberal philosophy, Elijah has dedicated much of his time and energy to promoting the ideas of free markets and individual liberty. Some of his more notable works include producing eight videos in support of Ron Paul's 2012 presidential candidacy. He currently resides in Richland, Washington, with his wife April and their five children.
Buy the Book
This post contains affiliate links, which means I may earn some money if you click on one and make a purchase. It will not cost you any extra, and I will be grateful for your support. Read the full disclosure here.
Buy The Tuttle Twins and the Miraculous Pencil at Amazon.com