Are You "Stuck" in "The Waiting Place?"
This post contains affiliate links, which means I may earn some money if you click on one and make a purchase. It will not cost you any extra, and I will be grateful for your support. Read the full disclosure here.
The last few weeks have been a pretty wild ride here on Planet Earth. For many, our lives have been turned upside down, and for nearly all of us, we are in the middle of significant lifestyle disruptions. I originally wrote this post a few years ago, in one of my down times, but it was time for an update, so here are.
And now, as we try not to put our lives on hold while we navigate this new normal, it feels a bit like we've wandered into the Waiting Place (from Oh, the Places You'll Go! if you're not familiar with the Dr. Seuss classic).
It's certainly not like I don't have things to do. In addition to running my business, and a pile of home projects I hope to finish before summer, I now have additional "mom" support roles, helping my young adult children navigate the upside-downing of their lives as well. With furloughs, layoffs, shifting to online college, needing to delay move and career plans, it really is starting to feel a little stalled in some ways.
This is new territory for all of us. I don't know about you, but no one in my circle has ever had to live through a global pandemic, and certainly not on this scale. And this has made me think.
I don't want to hang out in the waiting place. I want to make sure I am still moving forward with my life, even if the pace is slowed and forward doesn't quite look like it did a couple of months ago.
What are some ways we can avoid the slump that we could easily slide into right now? Here are a few things I've come up with. I'd love to hear how you're keeping out of the waiting place in your life.
Express Gratitude
Often when I realize I am in the Waiting Place, I find that I have failed to have an "attitude of gratitude" in my life. I forget to be thankful for all the blessings in my life and focus on my challenges instead. I realize right now for many of us, finding the things to be grateful for may take some extra effort. The worries, the concerns, and the challenges might be huge right now, and pretty daunting.
But I have learned that when I make the effort, and I focus on what's going right in my life, when I begin again to count my blessings and focus on the good things in my life, almost immediately, I can feel the fog begin to lift. This one thing alone can go a long way toward moving me forward and out of a slump.
Do Something Different
I am such a creature of habit. I find I've gotten pretty predictable in my daily routine. This all by itself can send me to the Waiting Place. Just changing the first thing I do in the morning, rearranging my daily schedule or just getting away from my work and my chores for a little bit–even walking the dog–helps pull me out of my slump. Instead of getting up first thing in the morning and knocking out a blog post or two or throwing in a load of laundry, maybe I need to whip up a batch of bread dough, go outside and see if I can photograph some early birds or early-blooming flowers or even go for an early morning bike ride. Just something different. I know this might be a challenge now, given all the stay-at-home orders, but try and find one thing in your day you can change, whether it's a morning walk, meditation, learning a new skill, or whatever is on your mind.
Get Some Exercise
If you're like me and you spend a good chunk of your day in front of the monitors (I have two on my computer–but my son has four!), it's easy to get sedentary and lazy. A little exercise not only gets your circulation going and your heart pumping, but it can clear the cobwebs from your mind. You may not be able to head to the gym, but there are plenty of exercise videos for a home workout, and in many places, you can still get out for a walk or bike ride.
Even if it's just running up and down the stairs or hosting your own living room dance party, getting the blood pumping, and engaging in some intentional movement can go a long way toward beating the slump.
Connect with Someone
"Social distancing" is the buzzword of the day. But social distancing can be lonely, especially if you live alone, or you are used to being with other people, whether in the office, at church, at networking events, or with friends or family. This applies to both introverts and extroverts. Yes, even introverts need social connection.
Reach out to someone. Texting is ok. Interacting on social media is ok. But do something different in your connection. Pick up the phone and call someone. If they're willing, try a video chat. There are many apps you can use to have a virtual face-to-face right now, and most of them won't cost you a cent. Don't let yourself become isolated–and don't let the people around you mistake social distancing for social isolation. Now, more than ever, we need each other.
Have Some Fun
We adults, we get way too wrapped up in all the stuff we HAVE to do. Good thing for me, I have kids. They are more than willing to remind me that I need to make time for fun. Fun is every bit as important as work. We all know that "all work and no play makes [me a dull mom]." It also doesn't do much for my motivation and my creativity. Break out a board game to play with your family. Find a new recipe and try it with your family. Choose a new skill to learn as a family or with a buddy. Downtime that's fun time is good for both your physical and mental health.
Grant Yourself Some Grace
Life is hard right now. This unexpected shift in our daily routines, and for some, our whole lives would be achallenge under the best of circumstances. But with so many worries, and with some degree of social isolation, it's definitely a game changer. There is no "business as usual" right now. Recognize that it's ok to feel sad, or confused, or angry, or whatever. Allow yourself to feel those feelings. Just don't let them move in and take over.
It's also ok if you're not your usual hyper-productive self. Is the house a little messier than usual? Are the kids getting more TV time than you'd like? Is school-at-home harder than you ever imagined (especially if you're working from home at the same time)? Is your diet less than Weight-Watchers worthy? Are your perfectly laid plans in a state of disarray? It's ok. Don't beat yourself up over it. Grant yourself some grace. Cut yourself a little—or a whole lot—of slack. Adjustment isn't going to happen over time, so recognize that it may take you and your family some time to figure this all out, and the world won't come to an end if life is a little messier than it was before.
Eat Chocolate
Scientists tell us that dark chocolate does all kinds of good things for our moods. And who am I to argue with such pleasant science? It stimulates endorphins, contains sertonin, lowers blood pressure and helps to relax us. Sounds like a recipe for getting out the Waiting Place to me. In fact, I think I'll go and make some brownies right now.
I'm feeling better already.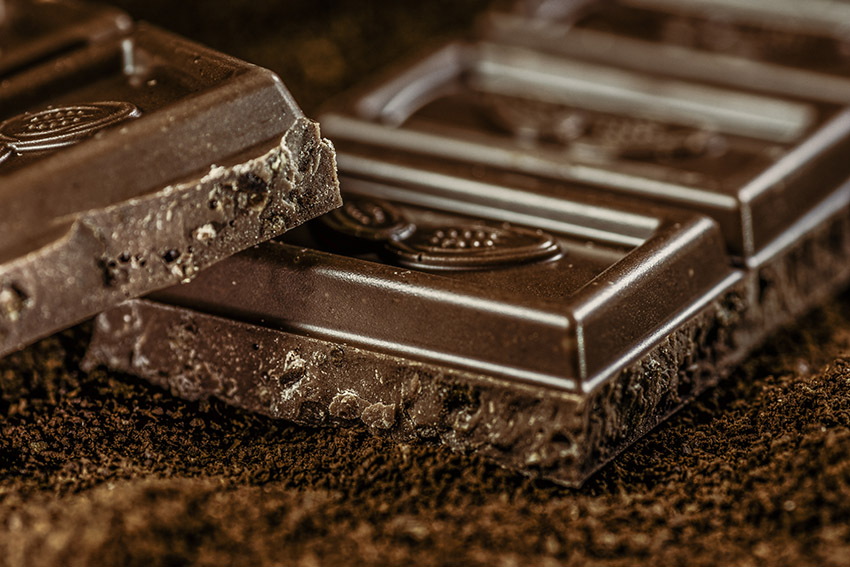 _________________________________________________________________________
How are you managing through this "waiting place?" What have you found that is helping you to keep from falling into a slump and helping to keep your spirits up?