Navigate the Challenges of Adolescence with "Paul, Big, and Small"
Paul, Big and Small is David Glen Robb's debut novel for YA readers.
Paul, Big, and Small Review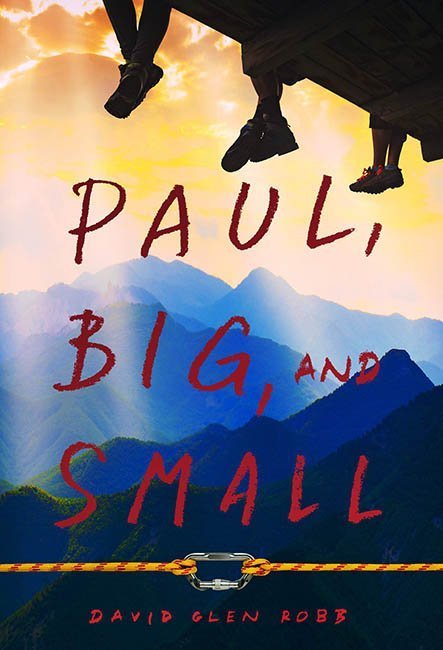 I wasn't sure what to expect when I started this book, but I found it hard to put down once I started. David Glen Robb clearly has a handle on the social challenges of adolescence. He takes a varied cast of characters and illustrates how they are all dealing with different yet similar challenges.
This is not a typical teen, coming-of-age story. It deals with hard topics that every adolescent faces in some form: bullying, mental illness, serious illnesses, parental loss, non-traditional family structures, awkward social relationships, and physical differences. While it does deal with tough topics, it does so in a gentle and non-forced way, so you don't feel like your'e being "taught lessons" as you read.
One of the things I really liked is that Mr. Robb skillfully shows how everyone has a story that we don't know. Everyone is dealing with something. And, especially when you're an adolescent, we don't always know how to deal with that "something" in healthy and appropriate ways. In this story, much of that not knowing comes out in bullying, being bullied, being insecure, feeling anxious, acting out. Just like it does in real life.
The author also does an excellent job with character development and growth, in a natural way. While I would love to have seen more of the thoughts and challenges of some of the other characters, overall he portrays them well.
There are some hard things in this book, but the message and the ending are positive and uplifting. Paul, Big, and Small is an excellent book for reading together and discussing with middle-graders and up.
As the back cover of my ARC says, it is about the turbulent, emotional lives of young adults who are struggling with life's challenges openly and sometimes in secret. They learn to overcome them by speaking the hard truths, learning from the unique gifts of others, adapting to inevitable changes, and finding the power for standing up for what's right.
Reading this book, either as a family or as a class, and then discussing it, would be a good start to open a dialogue to help adolescents navigate what might be the most difficult phase of life.
Paul, Big, and Small by David Glen Robb is definitely on my recommended reading list and I will be looking forward to more from this author.
Summary
Paul Adams has always been short, but he's an excellent rock climber. And his small size means he can hide from the bullies that prowl the halls of his high school.
Top on his list of "People to Avoid" are Conor, from his Language Arts class, Hunter, who hangs around the climbing gym, and Lily Small, who happens to be the tallest girl in school. But he might be able to be friends with a new kid from Hawaii who insists that everyone call him "Big." He's got a way of bringing everyone into his circle and finding the beauty in even the worst of situations.
When the three of them—Paul, Big, and Small—are assigned to the same group project, they form an unlikely friendship. And Paul realizes that maybe Lily isn't so bad after all. He might even actually like her. And maybe even more than like her.
Paul and Lily team up for a rock-climbing competition, but when Lily is diagnosed with leukemia, Paul ends up with Conor on his team. And when Paul learns that Conor is dealing with bullies of his own—as well as some deep emotional pain—he realizes that the bullying in his school has got to stop.
Buy the Book
This post contains affiliate links, which means I may earn some money if you click on one and make a purchase. It will not cost you any extra, and I will be grateful for your support. Read the full disclosure here.
Paul, Big, and Small is available from Amazon.com
Paul, Big, and Small is available from DeseretBook.com.