"Her Quiet Revolution" is the Story of A Pioneering Doctor #Review
Based on the life of a pioneer woman who overcame tremendous odds, Her Quiet Revolution tells the true story of Martha Hughes Cannon: Wife. Mother. Physician. Senator. Suffragist. Polygamist.
Her Quiet Revolution Summary
When her baby sister and her father die on the pioneer trail to Salt Lake City, Mattie is determined to become a healer. But her chosen road isn't an easy one as she faces roadblocks common to Victorian women. Fighting gender bias, geographic location, and mountains of self-doubt, Mattie pushes herself to become more than the world would have her be, only to have everything she's accomplished called into question when she meets the love of her life: Angus Cannon, a prominent Mormon leader and a polygamist.
From the American Frontier to European coasts, Martha's path takes her on a life journey that is almost stranger than fiction as she learns to navigate a world run by men. But heartache isn't far behind and she learns that knowing who you are and being willing to stand up for what you believe in is what truly defines you.
Her Quiet Revolution is the story on one woman's determination to change her world, and the path she left behind for others to follow.
Her Quiet Revolution Review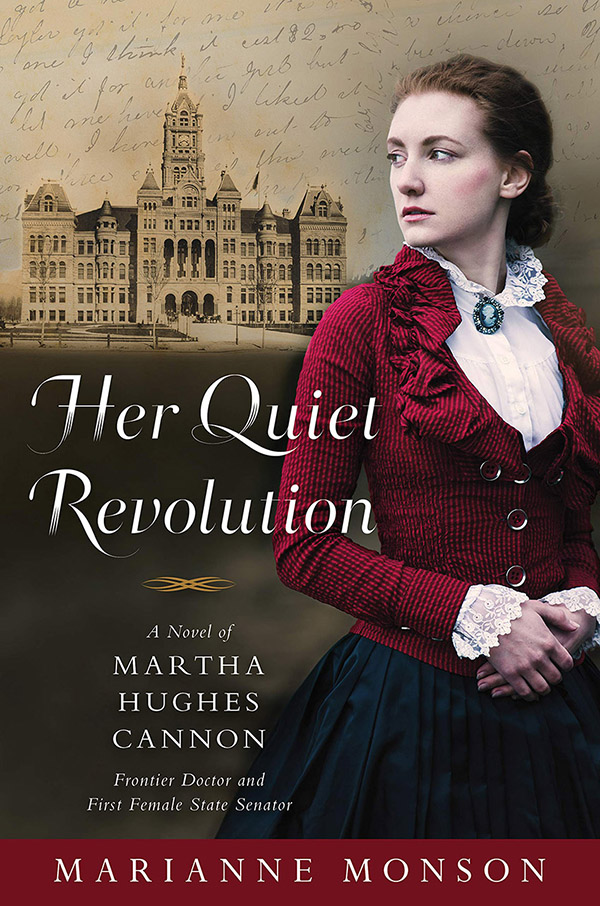 It's no secret that biographies and autobiographies are my favorite literary genres. I love reading stories of people's lives: how they lived, how they overcame their challenges to find success. I find their stories both interesting and inspiring. And even though Her Quiet Revolution by Marianne Monson is a fictionalized account of the life of Martha Hughes Cannon, I found it no less inspiring than a documentary biography.
I am not unacquainted with the history of the early settlers of the Utah Territory. Though I've never lived there, some are my ancestors. So some of the underlying, and somewhat unspoken issues of the story are familiar to me. I know that more than few women were encouraged to seek medical training in the territory. Martha Hughes Cannon was certainly a standout among them. She persisted against some steep odds, including needing to fund her own education, choosing to go to medical school instead of marrying, and then to seek advanced training following that.
While in her advanced medical studies, she also took oratory training, something that would serve her well throughout her career.
I enjoy the fictionalized biography format, as it's often easier to read than a documentary biography. I felt like I came to know Martha Cannon as a person and not just a historical figure through this story. I had not known of her political accomplishments, and found those as impressive as her medical career.
The book is enhanced by Ms. Monson's notes at the end of the book on each chapter, clarifying areas where she compressed timelines, left out parts of Ms. Cannon's life, and made literary changes to keep the story flowing. These notes would help anyone who wants a more historically accurate timeline of events, and would love to see them in more books of this genre. She also includes a recommended reading list for readers wanting to know more about both Martha Hughes Cannon, and about some of the topics covered in the book.
As with many biographical stories, this book left me with some questions about different historical aspects that I now feel the need to research. In addition to some points of Utah history I'd like to know more about, I am also interested learning about the World's Congress of Representative Women held at the Chicago World's Fair in 1893.
If you are looking for an uplifting and inspiring story of courage, perseverance, and tenacity, Her Quiet Revolution gets my vote.
Buy the Book
This post contains affiliate links, which means I may earn some money if you click on one and make a purchase. It will not cost you any extra, and I will be grateful for your support. Read the full disclosure here.
Her Quiet Revolution by Marianne Monson is available from Amazon.com.
Her Quiet Revolution is also available from Deseret Book.
If you'd like to learn more about Martha Hughes Cannon, she was featured in a special on PBS. You can see a clip of Martha Hughes Cannon here.