Enjoy Delicious Healthy Eats from Six Sisters' Stuff
Healthy Eats from Six Sisters' stuff Summary
Healthy Eats from Six Sisters' Stuff is a great new cookbook designed to help end the dilemma of creating daily meals that are both healthy and convenient.
Popular bloggers and cookbook authors Six Sisters' Stuff have gathered more than 100 of their most-requested healthy recipes that combine their fast-and-easy cooking style with fresh ingredients for delicious and family-friendly meals. Whether you are serving a full three-course meal, grabbing a quick afternoon snack, or need to take a dish to a potluck, there is a recipe here that will fit your lifestyle and busy schedule as well as satisfy your taste buds.
With each recipe coming in at under 500 calories, this cookbook offers a great place to start for people who are looking to lose weight, who would like to prepare meals using more natural foods, or who are simply working to maintain a more balanced lifestyle.
With Healthy Eats with Six Sisters' Stuff, it's never been easier to provide healthy snacks and meals for on-the-go families.
Healthy Eats from Six Sisters' stuff Review
I've long been a fan of Six Sisters' Stuff, especially their cookbooks. I think this is my sixth cookbook from the sisters. You can find all my previous Six Sisters' reviews here.  These recipes are not only tasty, but they're easy-to-make, healthy meals. A hidden bonus here: these are easily tweak-able recipes for those of us who can never leave tasty enough alone.
Anyway, as a scratch cook, Healthy Eats from Six Sisters' Stuff might be my favorite of their cookbooks so far. These recipes are made from fresh foods (or frozen). And all with healthy ingredients, combined into dishes that are within the ability of nearly any cook. And they are under 500 calories. This book contains breakfast, lunch, dinner, sides, desserts, and snacks. So you could easily use it as a starting point for a healthier eating plan. And with an added bonus of being easy and uncomplicated.
I was happy to see some of my favorite dishes in healthier versions like Hearty Breakfast Cookies, Teriyaki Pork Stir-Fry, and Chicken Cordon Bleu. I've also found a number of new recipes to try. At our house, we love salads, and we love salmon, so those recipes will be incorporated into this month's menus.
And would it be bad for me to admit, as a serial recipe tweaker, that I have enjoyed taking a few recipes out of this cookbook and putting my own spin on them? Their recipes are written so clearly and simply. And that makes it easy to create your own twists on what you already know will be delicious.
If you're ready to change up your menu a bit, and eat healthier without sacrificing flavor and convenience, check out Healthy Eats with Six Sisters' Stuff. If you have some cooks-in-training at your house, these recipes are simple enough for beginning cooks to learn on. And you'll be training those new cooks to fix and to enjoy delicious healthy meals.
About the Authors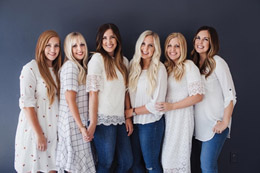 The Six Sisters—Camille, Kristen, Elyse, Stephanie, Lauren, and Kendra—started their blog in 2011. It started as a way to keep in touch after they moved out of their house and started lives and families on their own. In just a few years, their blog has become one of the top blog sites for women, with millions of visitors each month enjoying the Sisters' family stories, recipes, and tips for running a home. The sisters live in California, Texas, and Utah.
You can find them on the web at SixSistersStuff.com
Buy the Book
This post contains affiliate links, which means I may earn some money if you click on one and make a purchase. It will not cost you any extra, and I will be grateful for your support. Read the full disclosure here.
Healthy Eats with Six Sisters' Stuff is available in paperback from Amazon.com.
Healthy Eats with Six Sisters' Stuff is available from DeseretBook.com