Add "Twice the Dream" to Your Must-See Movie List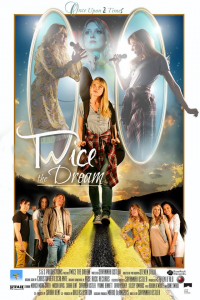 Twice The Dream is an inspiring family drama about two sisters following their musical dreams together. Just as the sisters begin to discover their wings and take flight, a sudden family tragedy strikes. In the aftermath of tragedy, they discover that their dreams were the only thing that held the family together.
Samantha Ostler makes her feature film directorial debut in this movie she also wrote. This has been a labor of love, and a long one at that, since Ms. Ostler began writing this story when she was only 14.
Ms. Ostler says, "Growing up, I realized that there weren't a lot of inspiring, feel-good coming of age movies. Movies that I really wanted to see at that age, stories that I could relate to. It was always such an under served market. (For the record, these types of moves aren't only limited to that age group, because I still want to see these kinds of movies. They are for the young at heart."
When asked what she learned in the process, she responded, "one of the most important things that I have learned would have to be to just trust myself and the stories that you want to tell. Along the way, a lot of people will try to discourage you- and that's just life. Just because someone else doesn't particularly get your vision, doesn't mean that it's not good. If you have a story that you want to tell, then you need to tell it. Don't let anyone else tell you otherwise."
Meet Samantha Ostler in this video clip.
Twice the Dream is currently in post-production and will be in theaters in 2019. Keep up with the latest on Twice the Dream through their Facebook page and Instagram.
And to thank you for checking out this post and Twice the Dream, they are sponsoring a $50 Amazon Gift Card giveaway. Enter below for your chance to win. And don't forget to add Twice the Dream to your must-see movie list.