"Live Life Deliciously" is a Kitchen Essential #Review
Live Life Deliciously Summary
In Tara Teaspoon's debut cookbook, she shares more than 120 delicious showstopping recipes designed to gather people together around food. This cookbook includes such delights as easy weeknight Rice Bowls with Carrot-ginger Dressing to a mouthwatering Cherry Crostata.And it features delicious and leisurely weekend brunches of Burrata with Grilled Peaches and Orange Zest Chimichurri. Tara explains how to put together and master special go-to dishes with global flavors to increase your repertoire and create your own signature menus.
Tara's takes on classic recipes plus her innovative entertaining ideas and helpful tips are designed to encourage cooks to enjoy their time in the kitchen and incorporate new flavors, ingredients, and comforting-but-elevated meal ideas into their everyday cooking.
Live Life Deliciously with Tara Teaspoon shows foodies, both serious and casual, how to present food as an interesting and beautiful culinary experience with dishes that taste as delicious as they look.
Advance Praise for Live Life Deliciously
"Tara's passion for cooking and entertaining paired with her exceptional professional experience make for a cookbook adventure that no kitchen should be without." —Kelsey Nixon, author of Kitchen Confidence
"Tara has been teaching people how to create joy in the kitchen for as long as I've known her. Live Life Deliciously brings her style of modern yet comfortingly familiar recipes right to your hands. Both serious and casual cooks will find success and cooking joy by following her simple but impressive takes on classics and flavorful creations." —Susan Spungen, author of Open Kitchen: Inspired Food for Casual Gatherings and founding food editor of Martha Stewart Living
Live Life Deliciously Review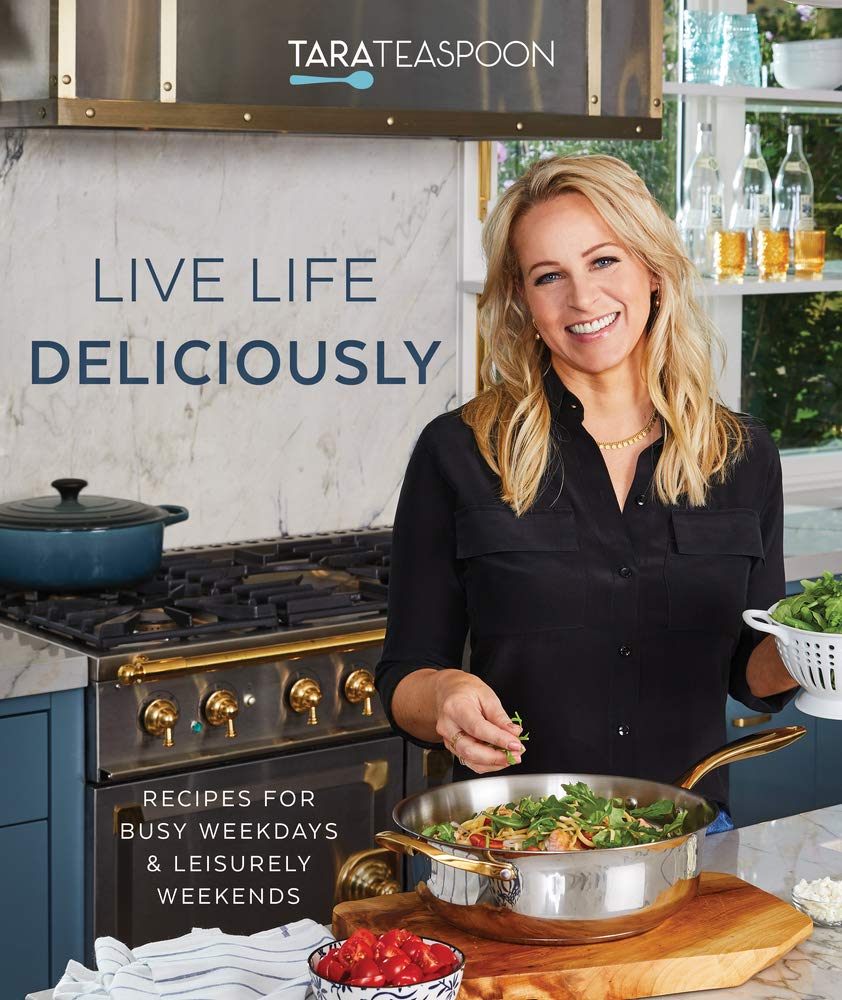 I LOVE this cookbook. Admittedly, I read cookbooks like most people read novels. I also cook from some of them. We've tested several recipes from Live Life Deliciously, and bookmarked several more for future menus.
This book features interesting recipes made with easily found ingredients. The recipes vary from quick and simple, to more involved recipes that would be great for weekend family culinary exploration.
She starts off the book with a recommended list of pantry staples. I was gratified to find the only thing not in my pantry was the apricot jam, which will be added to my list when I have a recipe that calls for it. These recipes are delicious, and they are healthy and created with whole real foods. This is a bonus at my house where we are making intentional efforts to eat healthier meals and get back to our–mostly–scratch-cooking roots.
A Culinary Trip Around the World
The book includes everything from appetizers and snacks to beautiful desserts. It's like a trip around the world for your palette. It includes recipes with Spanish, Cuban, Thai, Italian, and distinctly American roots. Our first recipe was the French Bistro Mushroom Burgers with Brie and Onions. Not only were they a hit at our house, but dinner wasn't over before my family asked to have them again (we are burger lovers). I was going to take a picture before we started dinner, but well, they were too delicious to wait for. Sorry, not sorry.
We followed up with the Mile-High Buttermilk Biscuits. I have grown unhappy with my go-to biscuit recipe. This recipe is a light and fluffy replacement. And the Spanish Tortilla with Mushrooms and Bacon was the perfect thing for a leisurely Sunday morning. I am not new to Spanish Tortilla. My brother-in-law is a chef from Spain, but I've never been quite able to duplicate his recipe. Now I don't have to.
I highly recommend adding this cookbook to your kitchen (and this from a woman who owns more than a hundred cookbooks—really!) I am already looking forward to Tara's next cookbook.
About the Author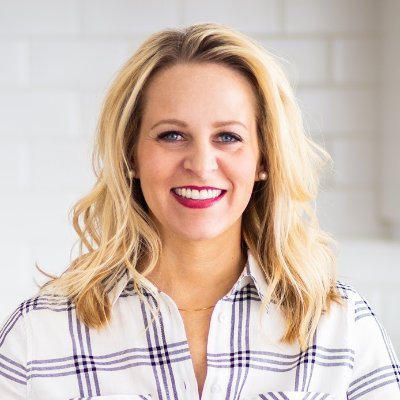 Tara has spent more than twenty years in the food publishing industry creating recipes and articles, and food styling for various magazines, books, television, and advertising.
Most recently she has been the food and entertaining director of Ladies' Home Journal magazine. Prior to working at the Journal, Tara was a food editor at Martha Stewart Living, Kids, and Weddings magazines. She has appeared on the Martha Stewart television show, The Today Show, and on The Food Network as a show judge and contestant.
You can find more of Tara Teaspoon online at tarateaspoon.com
Buy the Book
This post contains affiliate links, which means I may earn some money if you click on one and make a purchase. It will not cost you any extra, and I will be grateful for your support. Read the full disclosure here.
You can purchase Live Life Deliciously: Recipes For Busy Weekdays & Leisurely Weekends by Tara Teaspoon from Amazon.com.
You can purchase Live Life Deliciously: Recipes For Busy Weekdays & Leisurely Weekends by Tara Teaspoon through Deseret Book online.