An Entertaining Visit to "Lakeshire Park" #Review
Lakeshire Park Synopsis
Brighton, England 1820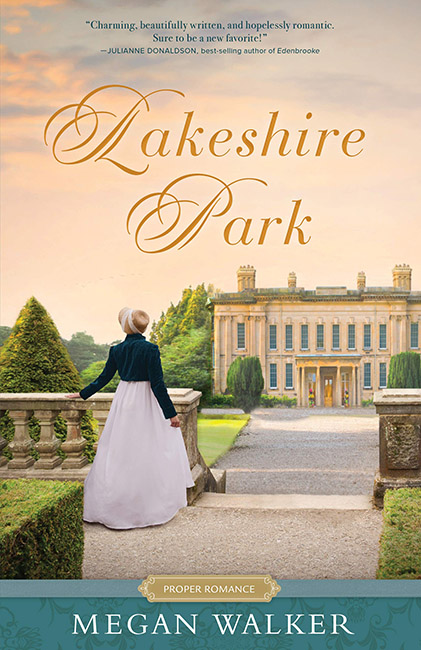 Amelia Moore wants only one thing–to secure the future happiness of her younger sister, Clara. With their stepfather's looming death, the two sisters will soon be on their own–without family, a home, or a penny to their names. When an invitation arrives to join a house party at Lakeshire Park, Amelia grasps at the chance. If she can encourage a match between Clara and their host, Sir Ronald, then at least her sister will be taken care of.
Little does she know that another guest, the arrogant and overconfident Mr. Peter Wood, is after the same goal for his own sister. Amelia and Peter begin a rivalry that Amelia has no choice but to win. But competing against Peter–and eventually playing by his rules–makes Amelia vulnerable to losing the only thing she has left to claim: her heart.
Lakeshire Park Review
This Proper Romance debut from Megan Walker is entertaining and captivating, with enough twists in the story to keep it moving and keep you reading.
The story starts out with our heroines in dire straits, and just as Amelia thinks she has it sorted out, someone throws a wrench in the works. Megan develops her lead characters well, while keeping enough detail in the secondary characters to make them feel like more than just filler. She also adds just enough humor to keep it from being a sappy romance. And, as always, with the Proper Romance series, it is a clean read with nothing to make you squirm or blush.
If you're looking for a few hours of escape, something to take your mind off everyday life, Lakeshire Park is a perfect book for you.
Author Bio
Megan Walker was raised on a berry farm in Poplar Bluff, Missouri, where her imagination took her to times past and worlds away. While earning her degree in Early Childhood Education, she married her one true love and started a family. But her imaginings of Regency England wouldn't leave her alone, so she picked up a pen. And the rest is history. She lives in St. Louis, Missouri, with her husband and three children.
Buy the Book
This post contains affiliate links, which means I may earn some money if you click on one and make a purchase. It will not cost you any extra, and I will be grateful for your support. Read the full disclosure here.
Lakeshire Park by Megan Walker is available from Amazon.com in Paperback and Kindle editions.
It is also available at DeseretBook.com in Paperback and eBook editions.