Forever and Forever–Book Review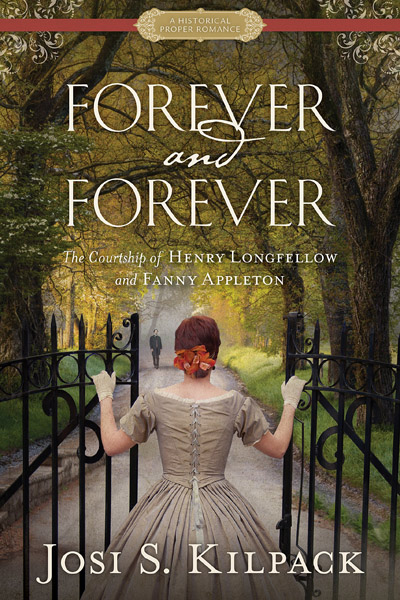 Forever and Forever is the story of Henry Longfellow and Fanny Appleton. Yes, that Henry Longfellow—the American poet. The full title is actually Forever and Forever: The Courtship of Henry Longfellow and Fanny Appleton. This is not a biography, but rather a well-researched novel based on real people and real events. And Josi S. Kilpack does it well.
Henry and Fanny first meet in Europe. Fanny is traveling with her father, her siblings and her dying cousin through Europe, in hopes that the change of environment will not only lift their spirits but improve his cousin's health. Henry Longfellow set out on a tour of Europe a year earlier with his wife and other traveling companions in an effort to improve his credibility as a writer and to strengthen his chances of being appointed a professor at Harvard College. Sadly, his wife passed away while traveling and he is mourning her loss.
The Appleton family befriends Henry, and begins to realize he has feelings for Fanny. His attentions are confusing to young Fanny, however, as it doesn't fit with her ideas of everlasting love. In addition, Henry is a decade older than Fanny, and this bothers her as well.
Finding Fanny not only physically attractive but also intellectually so, Henry continues to pursue Fanny following their return to Boston, much to Fanny's dismay. The story follows their courtship—or lack thereof—over a period of years, until its happy resolution.
Even knowing how the story would end (remember, it's based on real people), I found myself drawn in to the story, wanting to see how it would play out. The main characters in the story are very well-developed and three-dimensional people. The emotions in the story feel genuine and I found myself developing empathy for both Henry and Fanny. I also admit, like most of my favorite reads, I wished the story went on—so I could find out what happened next.
In addition to being a well-written and engaging book, Ms. Kilpack has also included a biographical timeline of the relationship and lives of Henry and Fanny. In addition, she includes chapter notes from her research which detail and further explain many of the scenes from the book.
If you enjoy history, biography, clean romance or just an enjoyable read, this book should be on your reading list.
Buy the Book
This post contains affiliate links, which means I may earn some money if you click on one and make a purchase. It will not cost you any extra, and I will be grateful for your support. Read the full disclosure here.
You can buy Forever and Forever by Josi S. Kilpack at Amazon.com.