Enjoy the "Best of Mothers" this Mother's Day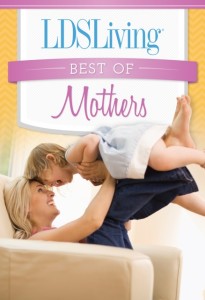 Need a little lift this Mother's Day? Want to give mom a great gift but you have no budget? LDS Living is offering this wonderful ebook full of the best articles on Motherhood from LDS Living.
And the best part?
It's absolutely free until Mother's Day.
With a great selection of articles ranging from humor to inspiration to pieces on some of motherhood's contemporary issues, this book is a great way to show mom you care and how much you appreciate all she's done for you. And it will give her something to do while you are cooking her a lovely Mother's Day dinner.
You can download this book by clicking here. If mom has a Kindle or other e-reader, you can have it delivered right to her. If she's like me and hasn't been lucky enough to have her kids gift her with a Kindle (hint, hint), Deseret Book also has free e-reader apps for both Android and iPhone.
So now you have no excuse. I don't want to hear from your mom telling me how you forgot her on Mother's Day. This is way better than burnt breakfast. She'll certainly enjoy it longer and there will be no mess for either of you to clean up.
So, what are you waiting for? Go get this for your mom now. Just click here. Yes, it really is that easy.
Happy Mother's Day.