Monkey Bread–or pull-apart bread–as many people call it, is a popular dish at our house.  We make it in two versions, a cinnamon-sugar version for breakfast and a cheese-garlic-herb version for dinner.
This is an incredibly easy recipe.  Pretty much foolproof.
Start with a batch of basic bread dough.  I use the dinner roll recipe from the Better Homes & Gardens Cookbook.  You can make your dough from scratch or use frozen bread dough.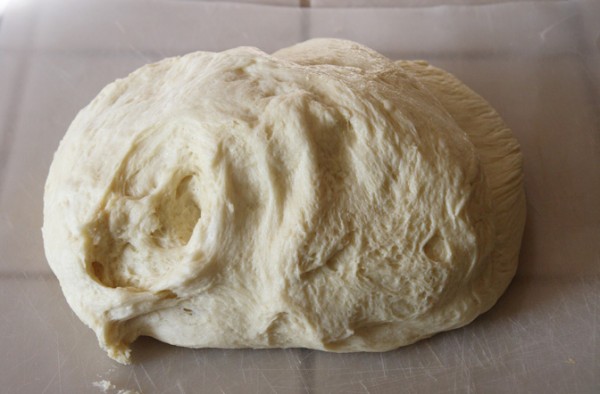 Next, you'll need a pan.  My preference is for an angel food cake pan, though I've also used a bundt pan and a pair of 9″ round cake pans.  Grease your pans.
Melt a stick of butter in the microwave.  In another bowl, combine about 3/4- 1 cup of grated parmesan cheese (you can use either fresh or the kind in the can), 2 tablespoons of crushed dried parsley flakes (I really just crush them up in my hand) and 1 teaspoon of garlic powder.
Form the dough into walnut-size balls–they don't need to be perfectly round.  Dip each dough into the butter and then into the cheese/garlic mixture and drop into the pan.  Just drop them in loosely.  Don't pack them in tight.  Continue this until they're all done.
Cover with a towel and let rise about 30-45 minutes or so or until doubled in size, more or less.
Bake at 350 for about 20-25 minutes until the top is golden brown.
Cool slightly (long enough so you don't burn your fingers or your tongue) and then dig in!
If you use an angel food pan, it makes it really easy to remove.  Just run a knife around the bottom and the middle and it easily removes to a serving plate.
___________________________________________________________________
If you want to make these for breakfast, just substitute 3/4 cup of sugar and 1 tablespoon of cinnamon, mixed well, for the cheese/garlic/herb mixture.  Everything else is the same, but cinnamon-sugar seems to take a little longer to cook.
Guess what we're having for breakfast this morning.