Caramels, Turtles & Fudge, Oh My!
Christmas is only a few days away and that definitely means it's time to indulge your sweet tooth.  After all, how are those visions of sugarplums going to dance in your head if you don't have any?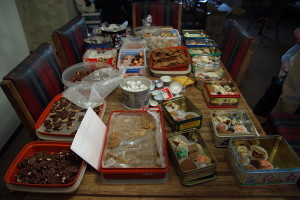 I planned to post these recipes a few days ago, but we were out of town for a family wedding and I just didn't get all the blogging done before I left.
So without further ado, here are my recipes for three of the most heavenly Christmas candies on the planet.
Vanilla Nut Caramels

1 cup butter
1-16 ounce package light brown sugar (2 ¼ cups packed)
1 cup light corn syrup
1 14-ounce can (1 ¼ cups) sweetened condensed milk (NOT evaporated)
1 teaspoon vanilla
1 c. coarsely chopped pecans or walnuts
Generously butter a 9 x 13 pan (I strongly recommend using a metal pan); set aside.
In a heavy 3-quart saucepan melt the 1 cup butter.  Add sugar and dash of salt; stir thoroughly.  Stir in corn syrup.  Gradually add condensed milk; stir constantly.  Cook over medium heat, stirring occasionally, to 245, for 15 to 20 minutes (mixture should boil gently over entire surface).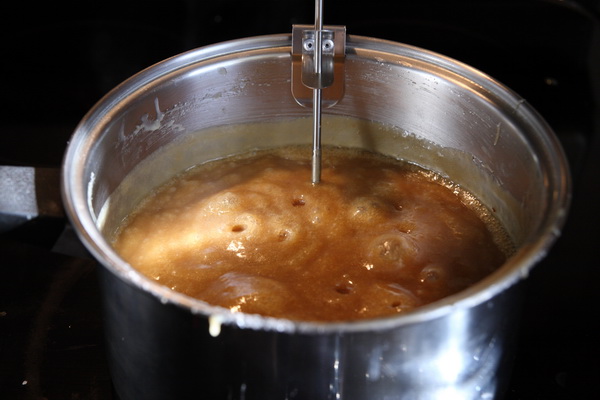 Remove from heat; stir in vanilla and nuts.  Pour into buttered pan and let cool completely–this WILL take some time.  When cool, cut into squares with a wet, sharp knife.  I find the best way to cut caramel is to flip the entire thing out onto a cutting mat.  You need to run a knife around the edge of the pan first and then flip the whole thing over.  It usually takes a few good thumps on the bottom of the pan, but if you've buttered it well (yes, you can use Pam–just be generous), it will pop out onto the mat.  This is one of the reasons I recommend a metal pan.  Glass pans don't "thump" well.
Makes about 2 ½ pounds of rich, delicious, chewy, buttery, caramel.
Important note:  subtract 1 degree from the cooking temperature for every 500 feet over sea level.  We are at 5400 feet and we cook ours to 234 f
or a soft but chewy caramel.
__________________________________________
Turtles
1 batch caramel (from above—omit nuts)
1 large bag pecan halves
3-4 bags milk chocolate chips
Arrange pecans singly about 1-2″ apart on well-greased baking sheets.  Prepare a batch of caramel according to the recipe above.  I cook my caramel for turtles about 1-2 degrees lower than regular caramel, but not any lower than that.  When caramel is done cooking and cooled enough that it has begun to thicken (put is still pourable), pour small spoonful of caramel over each pecan, just enough to cover it.  Allow to set up completely–you may need to refrigerate them.  Cold turtles are MUCH easier to dip than warm, soft ones.
Melt chocolate by whatever method makes you happy.  Start with two bags and add more as needed.  We melt our chocolate in a bowl in the microwave on 50% power, for about 2-3 minutes.  Remove and stir well.  If it is still lumpy, put it back in for another 1 minute at a time, always at half-power.  If chocolate is still too thick after melting, add Crisco (I NEVER use any other brand) shortening a tablespoon at a time, stirring well, until it is dipping consistency.  It should be smooth, but not runny.
Do NOT substitute margarine.  Products with water will cause your chocolate to seize and you will not be able to use it for dipping, though you can probably salvage it for something else.  Some recipes suggest adding paraffin to your chocolate to make a smooth, shiny finish.  I personally think this is a crime against chocolate.  I want to taste chocolate, not wax.
Dip pecan-covered caramels in chocolate and arrange on waxed-paper covered cookie sheets to set.  Makes about 100-120 turtles.
__________________________________________
Fudge
3 cups chocolate chips
1 cup butter
2 t. vanilla
1-10 oz. pkg. mini marshmallows (or 4 cups)
2 cups coarsely chopped nuts (optional)
1 can evaporated (not condensed) milk
4 ½ cups sugar

Place 1st five ingredients in a very large heat-proof mixing bowl.  Butter large jelly roll pan (10 x 15 or so–I use half-sheet baking pans.  If you don't have a large enough pan, use 2  9 x 13 pans) and set aside.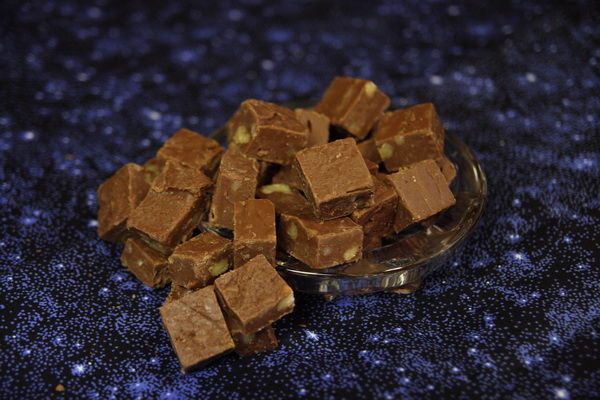 Combine milk and sugar in a 3-quart saucepan.  Cook, stirring constantly, until it begins to boil  Boil for 11 minutes, stirring constantly.  Pour over ingredients in mixing bowl.  Beat well until marshmallows and chocolate are melted and mixture is smooth.  Spread into greased pan.  Chill until firm.  Cut into 1-inch squares.  Makes about 5 pounds.
__________________________________________
Please note:  the author of this blog claims absolutely no responsibility for Christmas weight gain.  You're on your own for that one.
Happy indulging!