Ok.  So these are really called truffles, but in my opinion they aren't really true truffles.  They're much too easy for that.  But they're much too yummy not to eat at Christmas (or any other time).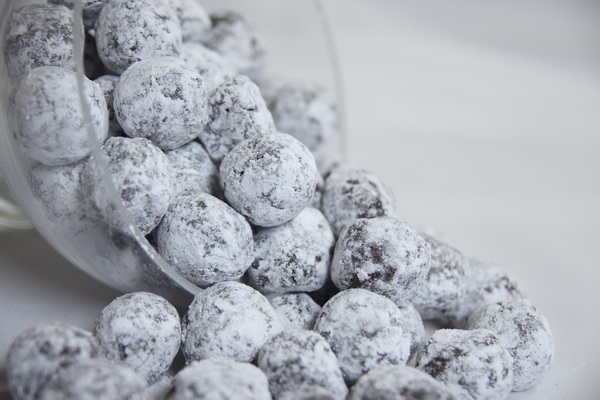 These are so easy you probably even have time to whip up a batch today.
One of the things I like best about my truffle ball recipe, besides the fact that it's even easier than Rice Krispy Treats, is that it is so versatile.  You can easily change the flavor by either changing the type of baking chips you use or by changing the flavoring you've added.  I'll start with the basic recipe and then I'll share a couple of our favorite variations.
Truffle Balls
1 10-12 ounce bag baking chips (semi-sweet, milk chocolate, mint chocolate, white, peanut butter–you get the idea)
1 can sweetened condensed milk (not evaporated)
1/2-1 teaspoon extract (vanilla, peppermint, orange, raspberry–whatever flavor you want your chocolate to be)
Melt the condensed milk and baking chips in the microwave at 50% power (in a microwave-safe bowl–duh–I shouldn't even have to tell you that), stirring every 1-2 minutes until chips are completely melted and mixture is smooth.  Stir in the extract and mix well so it is distributed throughout.
Cover bowl and place in refrigerator until mixture is completely cooled and beginning to harden.  If you refrigerate it too long, you may have to microwave it at half-power for 30-60 seconds unless you have some amazingly strong kitchen tools.
Scoop mixture out and roll into small balls.  We like to make ours on the small side–maybe 1/2-3/4″ in diameter.  Roll in powdered sugar, colored sugars, finely chopped nuts or colored sprinkles.  As a note, we've found that colored sprinkles are very pretty but just don't stick all that well.  You're welcome to try whatever strikes your fancy.
I use my cookie scoop to scoop out the truffle balls–and then I slice them in half and have the kids roll them into a ball.  If you don't have a heavy-duty industrial cookie scoop, I recommend using a sturdy spoon.  My cookie scoop looks like this, but I can't say this is the one.  I've had mine forever and it really is heavy duty.  I've been given a couple others over the years and killed them pretty quickly.
This year, we decided to try something different.  I love peppermint and chocolate, so we decided to make peppermint patties.  We made the truffle balls according to the recipe with white chips but instead of rolling them in sugar or other coatings, we flattened them slightly–they ended up being about 1″ in diameter.  Then we refrigerated them until they were firm and dipped them in melted dark chocolate (I'm a dark chocolate fan).  They were the BEST peppermint patties we've ever made.  Smooth and creamy, very pepperminty–I put in a full teaspoon of peppermint extract–and just right with the semi-sweet chocolate.
Some of our other favorites have been dark chocolate and raspberry, dark chocolate and orange and milk chocolate and cherry.
Maybe next year I'll try something with peanut butter or butterscotch chips.  Hmmmm. . .
Once again, I am not responsible for your holiday weight gain.  It's not my fault if they just taste so good that you have to eat them all.
Merry Christmas!