12 Perfect Cookbooks for Book Lovers in Your Life
Are you a book lover—and a foodie? I am, so finding cookbooks that connect with my favorite books is a double treat. I collect cookbooks, especially vintage or unusual titles. These 12 cookbooks for book lovers all have a literary connection, making them perfect additions for my collection.
Each of these cookbooks is either tied to a book series, as with The Little House Cookbook, Goldy's Kitchen, and Jan Karon's Mitford Cookbook & Kitchen Reader. Or they are associated with a beloved author like Roald Dahl and Louisa May Alcott, and Lucy Maud Montgomery. And a couple include either favorite recipes of well-known authors, or recipes inspired by stories.
Whatever your literary/foodie delight you're sure to find it among these cookbooks for book lovers.
And Here are My Favorite Cookbooks for Book Lovers
This post contains affiliate links, which means I may earn some money if you click on one and make a purchase. It will not cost you any extra, and I will be grateful for your support. Read the full disclosure here.
by Shaunda Kennedy Wenger and Janet Jensen
Wake up to a perfect breakfast with Mrs. Dalby's Buttermilk Scones, courtesy of James Herriot's All Things Bright and Beautiful and Ichabod's Slapjacks, as featured in Washington Irving's The Legend of Sleepy Hollow. After relishing appetizers and entrees, there are some dazzling desserts, including Carrot Pudding inspired by Charles Dickens's A Christmas Carol; and C.S. Lewis's Turkish Delight from The Lion, The Witch, and the Wardrobe.
Sprinkled throughout with marvelous anecdotes about writers and writing, The Book Lover's Cookbook is a culinary and literary delight, a browser's cornucopia of reading pleasure, and a true inspiration in the kitchen.
Buy it here: The Book Lover's Cookbook: Recipes Inspired by Celebrated Works of Literature, and the Passages That Feature Them 
---
By editor Kate White, and contributors Harlan Coben, Gillian Flynn, Mary Higgins Clark, and Brad Meltzer
Hard-boiled breakfasts, thrilling entrees, cozy desserts, and more—this illustrated cookbook features more than 100 recipes from legendary mystery authors.
Whether you're planning a sinister dinner party or whipping up some comfort food perfect for a day of writing, you'll find plenty to savor in this cunning collection. Full-color photography is featured throughout, along with mischievous sidebars revealing the links between food and foul play.
Buy it here: The Mystery Writers of America Cookbook: Wickedly Good Meals and Desserts to Die For 
---
by Kate Macdonald and L.M. Montgomery
Have you ever wanted to sneak a sip of Diana Barry's Favorite Raspberry Cordial or try a slice of Anne Shirley's Liniment Cake (without the liniment!)? Now you can, with the delightful teatime snacks, mains, desserts, and more created by Kate Macdonald, L.M. Montgomery's granddaughter.
From Poetical Egg Salad Sandwiches and Marilla's Plum Pudding with Caramel Pudding Sauce(without the mouse!) to Gilbert's Hurry-Up Dinner, the recipes included here are mentioned throughout the books in the Anne of Green Gables series, along with recipes from L.M. Montgomery's own kitchen. With a lovely grosgrain ribbon, full-color photography, whimsical illustrations, and quotes and anecdotes, this cookbook is the ideal gift for all "kindred spirits" and lovers of Avonlea.
Buy it here: The Anne of Green Gables Cookbook: Charming Recipes from Anne and Her Friends in Avonlea 
---
by Roald Dahl
This book is a mixture of anecdotes covering Roald Dahl's family, his childhood, and his happiness at home with Liccy, his wife, and their numerous children, grandchildren and friends. For this extensive family, there is no more enjoyable way of relaxing than sharing good food and wine. The meals they enjoy together round the old pine farmhouse table at Gipsey House are either fine examples of national dishes of their heritage – Norwegian, French, British, etc – or favourite recipes that have delighted three generations of discerning eaters.
Buy it here: Roald Dahl's Cookbook
---
by P. L. Travers; illustrated by Mary Shepard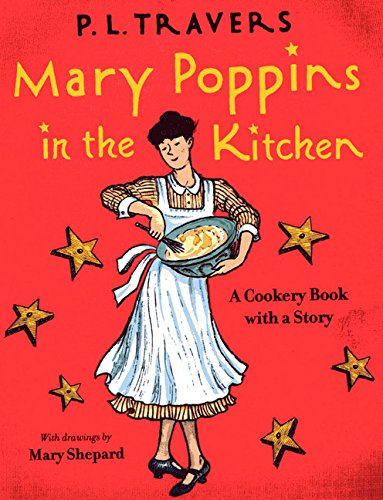 Get a unique glimpse at the famous Poppins cast as the spit-spot English nanny and the Banks children take over the kitchen for a week. With the help of familiar visitors like the Bird Woman, Admiral Boom, and Mr. and Mrs. Turvy, Mary Poppins teaches her irrepressible young charges the basics of cooking, from A to Z. And young readers can re-create the week's menus by following the thirty different recipes. Kitchen adventures were never so much fun!
In full color, this enchanting edition will delight both old and new fans of the inimitable Mary Poppins.
Buy it here: Mary Poppins in the Kitchen: A Cookery Book with a Story 
---
by Barbara M Walker; illustrated by Garth Williams
A gorgeous new hardcover edition of the award-winning cookbook, featuring full-color photographs, classic illustrations, and more than 100 of the recipes that Laura Ingalls Wilder chronicled in her classic Little House books.
With this visually stunning cookbook, you can learn how to make classic frontier dishes like corn dodgers, mincemeat pie, cracklin's, and pulled molasses candy in your own modern kitchen.
The book also includes excerpts from the beloved Little House series, fascinating and thoroughly researched historical context, and details about the cooking methods that pioneers like Ma Ingalls used, as well as illustrations by beloved artist Garth Williams and full-color photographs by Kathryn Elsesser. Food and prop styling by Ellen Jackson.
Buy it here: The Little House Cookbook: New Full-Color Edition: Frontier Foods from Laura Ingalls Wilder's Classic Stories
---
by Joanne Fluke
A delight for fans of Fluke's "New York Times"-bestselling series and for foodies everywhere, this beautifully packaged volume combines the most mouthwatering Hannah Swensen recipes along with new recipes and charming vignettes featuring favorite Lake Eden characters.
It's a picture postcard December in Minnesota, and Main Street is brimming with festive holiday decorations. Best of all, it's time for the annual Holiday Cookie Exchange at the Community Center—catered by none other than The Cookie Jar! Gathered together for the delicious event, the Swensen clan and their friends share their favorite juicy tales of Lake Eden—and their favorite scrumptious cookie and luncheon recipes.
Now you can bring the irresistible flavors of The Cookie Jar into your very own kitchen!
Buy it here: Joanne Fluke's Lake Eden Cookbook: Hannah Swensen's Recipes from the Cookie Jar 
---
by Roald Dahl, Felicity Dahl, Josie Fison; illustrated by Quentin Blake; photographed by Jan Baldwin
Who but Roald Dahl could think up such mouthwatering and deliciously disgusting foods as Lickable Wallpaper, Stink Bugs Eggs, and Eatable Pillows? Now there's a practical guide to making these and other delicacies featured in Charlie and the Chocolate Factory, James and the Giant Peach, and Roald Dahl's other books, with easy, step-by-step recipes that range from the delectable to the truly revolting. Quentin Blake's illustrations combine with full-color photographs of the luscious results to perfectly capture Roald Dahls wicked sense of fun.
Buy it here: Roald Dahl's Revolting Recipes
---
by Diane Mott Davidson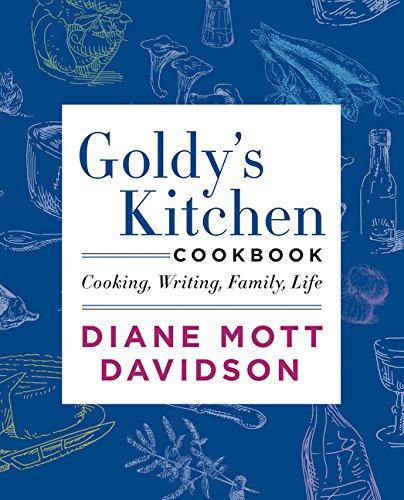 The beloved New York Times bestselling culinary mystery writer delivers a cookbook packed with more than 160 mouthwatering recipes and charming anecdotes about her writing and cooking life.
I could not possibly make a list of cookbooks for book lovers without including my favorite culinary mystery author. Besides, they are set in my beloved Colorado.
Diane Mott Davidson is the author of seventeen bestselling mysteries featuring caterer/sleuth Goldy Schulz, a woman who "took the lemon that life had given her and made not just lemonade but Lemon Chicken, Lemon Bars, Lemon Cookies and Lemon Meringue Pie." Each Goldy novel includes recipes for scrumptious dishes from the adored character's kitchen. Now, Davidson has collected these treasured recipes and some brand-new dishes in one volume for the first time.
Part memoir, part writing manual, part cookbook, Goldy's Kitchen Cookbook combines the author's gift for storytelling with her skills in the kitchen. She introduces the recipes with stories about how she came to create them, anecdotes from her experiences as a writer and home cook and includes her joy at receiving a fan letter from the legendary French Chef herself, Julia Child.
Full of irresistible food, Goldy's Kitchen Cookbook is a must-have book for Davidson fans, food lovers, and cooks everywhere.
Buy it here: Goldy's Kitchen Cookbook: Cooking, Writing, Family, Life
---
by Jan Karon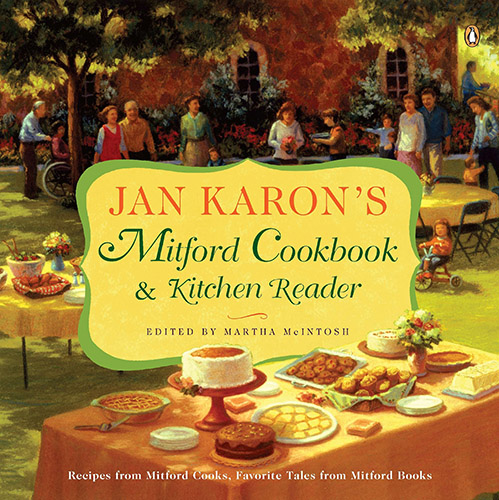 A collection of beautiful anecdotes, delicious recipes, and memorable scenes from the Mitford books by #1 New York Times bestselling author Jan Karon.
Millions of readers have discovered the delights of a trip to Mitford, and they've all found themselves hankering for mouthwatering dishes like Father Tim's Rector's Meatloaf and Esther Bolick's outrageously delicious Orange Marmalade Cake. Now, Jan Karon makes it easy to satisfy all these cravings and many more.
Along with 150 fabulous recipes are Jan's personal reminiscences, dozens fo beloved scenes from each of the Mitford books, jokes, cooking tips, blessings, and a wonderful story never before published in the novels. For readers and cooks alike, Jan Karon's Mitford Cookbook & Kitchen Reader is a veritable feast.
Buy it here: Jan Karon's Mitford Cookbook and Kitchen Reader 
---
by Kate Young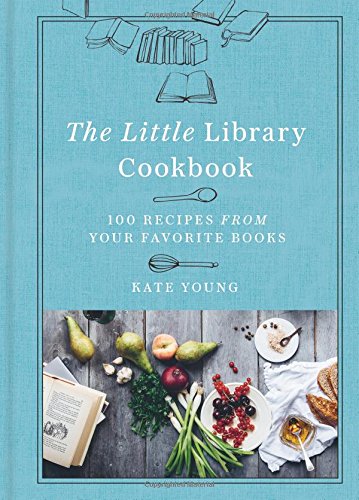 This enchanting collection of over 100 literary-themed recipes will delight book lovers.
Would you like to taste Paddington Bear's marmalade? Or a clam chowder from Moby Dick? Drawing from her popular food blog, The Little Library Café, Kate Young has created more than 100 recipes inspired by beloved works of fiction—classics and contemporary bestsellers alike, including stories for all ages. The appealing cookbook offers delectable dishes to serve for breakfast, family dinners, holiday meals, midnight feasts, and parties and celebrations. You'll learn how to prepare the afternoon tea served at Manderley and decadent tarts the Queen of Hearts would love—all while reading food-related excerpts from your favorite books.
Buy it here: The Little Library Cookbook: 100 Recipes from Your Favorite Books 
---
by Wini Moranville and Louisa May Alcott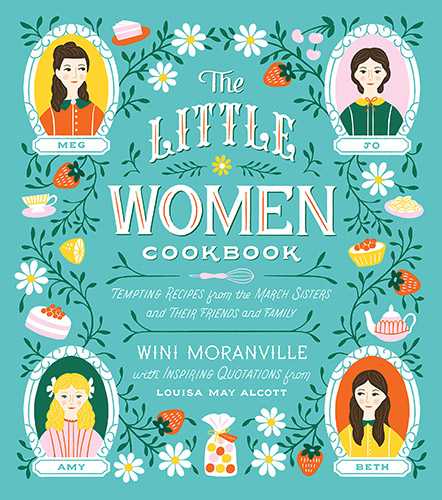 Experience the exciting and heartwarming world of the March sisters and Little Women right in your own kitchen.
Here is the first cookbook to celebrate the scrumptious and comforting foods that play a prominent role in Louisa May Alcott's classic novel Little Women. If your family includes a Little Women fan, or if you yourself are one, you can keep the magic and wonder of the beloved tale alive for years to come. Do you wonder what makes the characters so excited to make—and eat!—sweets and desserts like the exotically named Blancmange or the mysterious Bonbons with Mottoes, along with favorites like Apple Turnovers, Plum Pudding, and Gingerbread Cake? Find out for yourself with over 50 easy-to-make recipes for these delectable treats and more, all updated for the modern kitchen.
Featuring full-color photos, evocative illustrations, fun and uplifting quotes from the novel, and anecdotes about Louisa May Alcott, this is a book that any Little Women fan will love to have.
Buy it here: The Little Women Cookbook: Tempting Recipes from the March Sisters and Their Friends and Family