Keepsake Christmas Stories from the Tabernacle Choir #Review
Keepsake Christmas Stories Review
For fans of the Tabernacle Choir, and for fans of Christmas, Keepsake Christmas Stories is a beautiful addition to your holiday library. This lovely gift book recounts a baker's dozen of most loved stories from the Choir's annual Christmas concerts. It is beautifully laid out on heavy paper and includes photographs of both the choir and guest storytellers.
While some stories are well-known like "The Little Match Girl" and "The Gift of the Magi," others are less familiar, but no less moving.
You can watch one of my favorite stories below. It is the story of Hal Halvorsen, better known to many as "The Berlin Candy Bomber." And yes, I still tear up every time I hear it.
This book retells those stories. As a bonus, you can watch and listen to most of the stories at this link: https://tabchoir.org/keepsakechristmas
Some of these stories have been published as picture books over the years. The Little Match Girl is one I've added to my library. And some have never been heard outside of the Christmas concert.
I happily added this book to my Christmas library in exchange for my honest review. Whether you're a music lover, or a Christmas lover, or both (like me), you'll be happy to add it to your Christmas library too. And it would make a perfect Christmas gift for any music lovers in your life as well.
About Keepsake Christmas Stories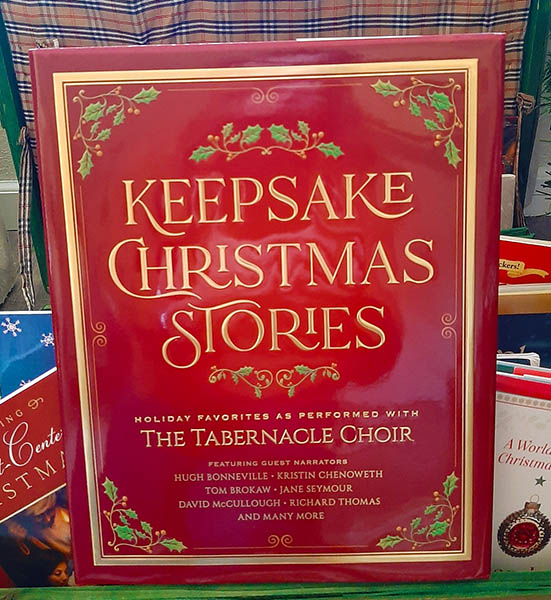 This commemorative collector's edition celebrates twenty years of the Tabernacle Choir and Orchestra at Temple Square's beloved Christmas show. The show is an annual tradition enjoyed by millions, both live on stage and through its PBS broadcast. And it has earned numerous Grammy and Emmy® awards and nominations. Each year distinguished special guests, including Jane Seymour, Tom Brokaw, Kristen Chenoweth, and Hugh Bonneville are invited to participate.
These holiday story adaptions range from The Gift of the Magi to the story behind the writing of the hymn, "It Is Well with My Soul" to the inspiring tale of "The Candy Bomber"—an unlikely American WWII hero who dropped candy from his airplane to the children of Germany.
This coffee table edition is the perfect holiday keepsake for all ages and features photographs of the stage productions alongside the stories. It also includes a weblink to hear the stories from every performance.
Buy the Book
This post contains affiliate links, which means I may earn some money if you click on one and make a purchase. It will not cost you any extra, and I will be grateful for your support. Read the full disclosure here.
Keepsake Christmas Stories: Holiday Favorites as Performed with The Tabernacle Choir is available from Amazon.com.
Keepsake Christmas Stories: Holiday Favorites as Performed with The Tabernacle Choir is also available from DeseretBook.com