Longing for Home Volume II Continues the Hope Springs Saga
Longing for Home Summary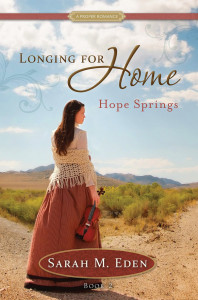 Hope Springs has become increasingly divided in their hostilities between the Irish immigrants and the American farmers. Katie has given up her dream of returning to Ireland and has decided to stay in Hope Springs where she begins to feel she can be part of a community and a family.
Unfortunately, the tensions between the Red Road and the Irish Road have continued to escalate and the story opens with the savage beating of one of the Irish, who just happens to be the brother of Tavish, one of Katie's suitors.
When the family goes to buy medicine to relieve his pain, the Red Road shopkeeper, Mr. Johnson, has raised the "Irish price" beyond the family's ability to pay. Katie decides to take some of her hard-earned savings and buy the needed medicine for them. Not only has Mr. Johnson raised the prices on medicine for the Irish, but for everything else the Irish need as well.
With winter rapidly approaching, there is no opportunity for the Irish to acquire supplies from some other means and there is concern that the Irish Road families will not survive the winter. This creates a situation of great distress to Katie.
In an effort to help sustain her countrymen, Katie offers to work in Mr. Johnson's store for free IF he will keep the Irish and Red Road prices the same. It is a challenging job for Katie, who is not well treated by Mr. Johnson, though an unexpected incident offers hope that they might come to know each other as more than distrusted and hated rivals.
In addition to Katie's concerns over her fellow countrymen, she is torn by her two suitors, Joseph Archer, the man who originally brought her to Hope Springs to care for his children not realizing she was Irish, and Tavish, a charming Irishman who makes her laugh. Knowing she will eventually need to choose between the two men, Katie's struggle with the decision is one of the main themes of the story.
Despite Katie's sacrifice in working at the town store, tensions continue to escalate on both fronts throughout the story and the feud soon approaches a near war. Katie is forced to leave her at the store and Joseph begins to wonder if he can bring an end to the feud and bring the townspeople together before lives are lost. Katie and her fellow Hope Springs residents on both sides begin to wonder if any of them will survive the winter—and the feud—which comes to a head in a way that impacts the entire town.
Longing for Home: Hope Springs is the latest installment in Shadow Mountain's new romance novel line. From their website, A Proper Romance "allows readers to enjoy romance at its very best—and at its cleanest—portraying everything they love about a passionate, romantic novel, without busting corsets or bed scenes."
The second installment of Sarah M. Eden's Longing for Home series is as engaging as the first–you can read my review of Volume I here.
Buy the Book
This post contains affiliate links, which means I may earn some money if you click on one and make a purchase. It will not cost you any extra, and I will be grateful for your support. Read the full disclosure here.
You can purchase your own copy of Longing for Home: Hope Springs at Amazon.com in either paperback or ebook format.