"Just Let Go" Movie Explores Justice, Mercy & Forgiveness
Imagine losing your family in an instant to a teen-aged drunken driver. Now imagine what you would do next. Could you forgive that drunken driver?  Or not? What direction would it take the rest of your life?
Based on the true story of a family in Salt Lake City, Just Let Go explores the wreckage and aftermath of a tragic drunk-driving accident that cost Chris Williams his wife and three of his five children.
The film explores Williams' struggle not only to come to terms with the accident and the havoc it wreaked on his life and his family, but also his struggle with consequences imposed on the youthful driver who caused the accident.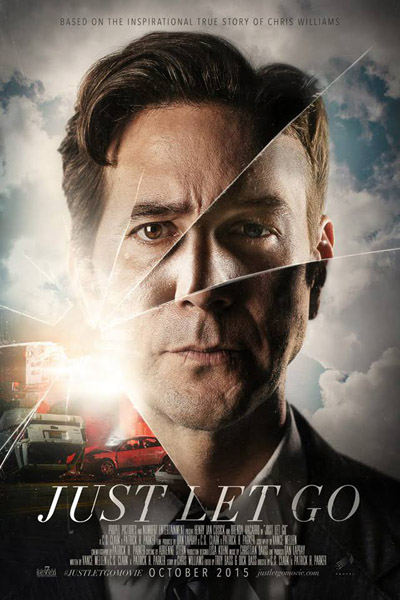 The driver was a young man only a few months shy of his 18th birthday at the time of the accident. Williams' attorney, the district attorney and his family and friends encouraged him to fight for the young man to be charged as an adult, which could mean spending thirty years in prison. The alternative is the juvenile justice system which would mean a release at 21 and the possibility of a sealed record. The story is largely driven by this conflict between justice and mercy and how Williams, played by actor Henry Ian Cusick, comes to terms with his ultimate decision.
The film moves slowly in the beginning with a series of flashbacks to both the accident, and to earlier, happier days, that continues throughout the film. For my action-movie loving family, it was a bit slow to hold their attention, but as the story developed, I found it more and more compelling.
While Williams wrestles with the more emotional costs of the accident, his mother, played by actress Brenda Vaccaro, voices the wrestle to deal with the economic realities and the demand for justice felt by so many others.
For me, one of the most compelling scenes came when Williams' oldest surviving son confronts him about the accident and about the decisions Williams made that his son is struggling to understand. The other most moving seen—and a definite surprise twist—came as he agrees to meet with the youthful offender after sentencing.
Just Let Go makes no attempt to hide its Christian message, but I admit to being slightly personally disappointed that Williams religion (he was a bishop in the Church of Jesus Christ of Latter-day Saints at the time of the accident) was obscured in favor of a more non-denominational leaning. I also understand that such a change was likely a commercial necessity though it should not have been.
Just Let Go is an uplifting film with some strong and important lessons. This is a movie that would be good for families to watch together—and to discuss its messages as a family.
Just Let Go is available on Blu-Ray and DVD from Amazon.com.
A copy of this movie was provided to me for review and my opinions are always just mine.