Tasty Pizza Muffins Make a Neat Pizza Treat
Pizza is a staple food at our house. It's the one food that gets eaten for breakfast, lunch, dinner and snack time. We eat it at home and we eat it on the go.
Sometimes, though, on-the-go can be messy. We've seen many ideas for less messy pizza, but none quite caught my eye—or my family's taste buds—like the idea of a pizza muffin. Months ago I had seen a Pinterest with a "pizza cupcake" and then ignored it—until one of my kids needed food for a party at school and wanted pizza. Despite the fact that it comes in those nifty cardboard boxes, pizza just really isn't that easy to tote around school all day and it's kind of hard to fit pizza boxes in a backpack. And then I remembered the pizza cupcakes from Pinterest.
I figured I could come up with a pizza muffin—cupcakes are sweet and have frosting, so this is definitely not a cupcake (yes, I'm a word nerd). I am a scratch cook, so I made my own pizza dough. It tastes better and goes farther than store-bought biscuits—but you can use them if that's your thing.
Pizza muffins are great for quick dinners, packing in a school lunch or taking on a picnic or to a potluck. You can also add any filling you would normally add to a pizza; we've made pepperoni, sausage and mushroom, Hawaiian and veggie—so far. They also freeze well–IF you have any left after dinner.
How to Make Pizza Muffins
Preheat oven to 375.
Lightly grease muffin tins with non-stick cooking spray.
Make a batch of pizza dough (see the recipe below). Divide the dough into 24 roughly equal-size pieces.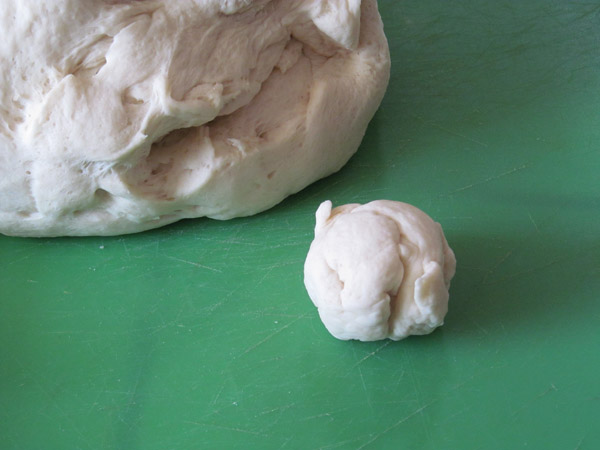 Flatten each piece into a circle about 1/8″ thick. Press the dough into each muffin cup, fitting it along the bottom and up the sides. If my dough extends too far above the top of the cup, I just snip it off with a pair of scissors.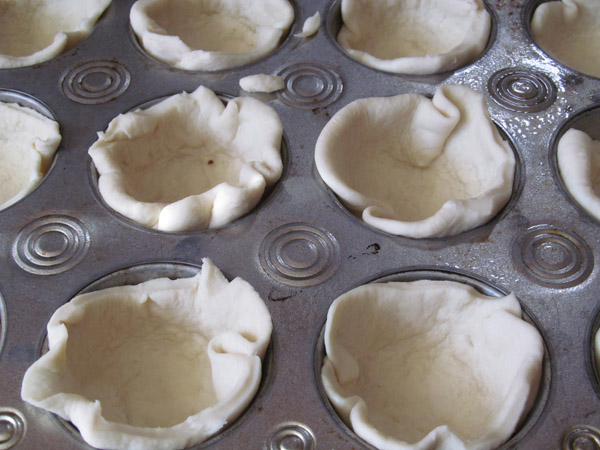 Spread about one tablespoon of pizza sauce on the bottom and up the sides of each dough cup to taste–meaning, if you like your pizza saucy, add more. If you're like me and don't like it drippy, a tablespoon will be plenty.  Add pizza toppings nearly to the top of each cup. I usually chop the pizza toppings fairly small. They fit better in the cup that way and the finished muffins are easier to eat.
Top with about a tablespoon of mozzarella and then sprinkle parmesan on top. Again, if you're a cheese lover, add more. There's no real right on wrong on pizza muffins. That's one of the things that makes them so great.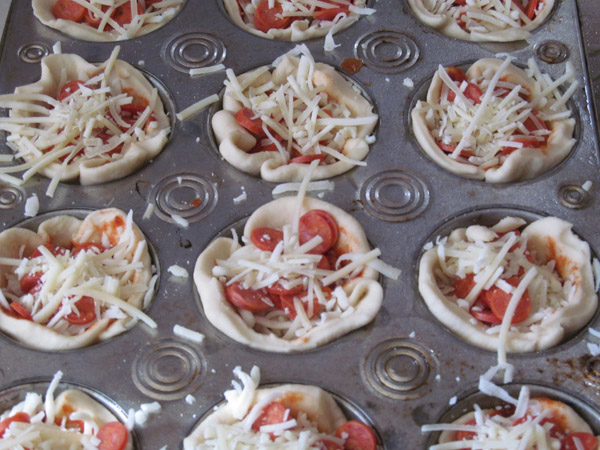 Pop your pizza muffins into the preheated 375 degree oven and bake for 18-20 minutes. When done, they should pop out of the pans pretty easily. If not, just run a table knife around the edge to loosen them. Cool on a cooling rack for a few minutes before eating. Yum-o!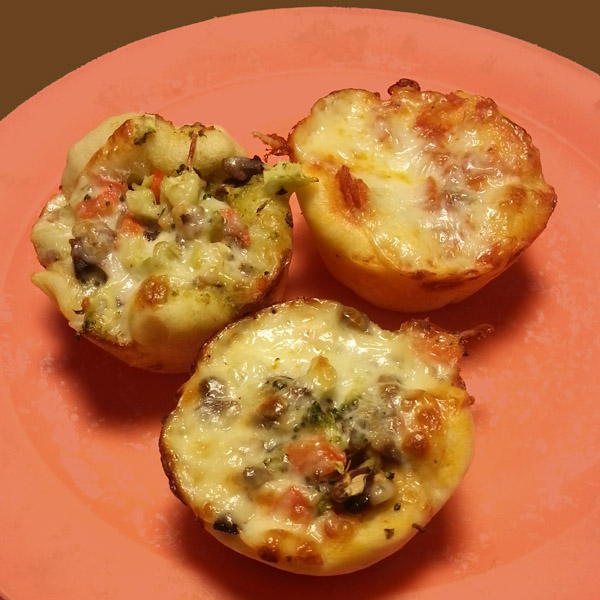 And for your convenience, here are my dough and pizza muffin recipes all in one easy place.
Pizza Dough (Bread maker Recipe)
Makes enough for 2  12-14" pizzas or 2 dozen pizza muffins.
Ingredients
2 teaspoons active dry yeast
4 cups bread flour
1-½ teaspoon salt
½ teaspoon garlic powder
¾ teaspoon  granulated sugar
2- ½  Tablespoons olive oil
1- ¼  cups water
Directions
All ingredients should be at room temperature, unless otherwise noted.
Add the ingredients to your bread maker in the order listed above.
Press the SELECT button for DOUGH. On my bread maker it's ready in 90 minutes. Yes, you can make it by hand or in a regular mixer. I've just never tried it.
If you decide to use ready-made dough or biscuits, just start here.
Pizza Muffins
Ingredients
Pizza Dough
1 – 1 ½ cups shredded mozzarella cheese
¼ – ½ cup grated Parmesan cheese
1 ½ cups pizza sauce
Pizza toppings of your choice:
Pepperoni, sausage, ham, Canadian bacon, mushrooms, pineapple, broccoli, onions, bell pepper, artichokes, tomatoes, whatever you like on a pizza
We've found toppings tend to work best when diced or chopped into small pieces.
Directions
Preheat oven to 375.
Lightly grease muffin tins with non-stick cooking spray.
Divide bread dough into 24 pieces. Flatten each piece into a 1/8" thick circle.
Press dough circles into bottom and sides of each muffin cup.
Spread bottom and sides of dough with about 1 tbsp. pizza sauce to taste
Add about 1-1 ½ tbsp of pizza toppings to each muffin (this is why chopped works better).
Cover with about 1 tbsp. of mozzarella. You can use more or less depending on your level of cheesiness.
Top with grated Parmesan.
Bake at 375 for about 18-20 minutes.
Cool on wire rack until cool enough to handle. Enjoy!
If you're going to use these for lunches, let them cool completely, package up in individual lunch baggies and refrigerate or freeze until ready to pop in a lunch sack.
Let me know in the comments how this works for you—and if you try any great new fillings—or if you have any filling ideas, please share!