Homemade Potato Chips & Other Delights of New Year's Eve
It's New Year's Eve and that means everyone at our house gets to pick their favorite fun foods to add to our evening menu.  It's the one night of the year when there are no rules here.  I buy soda (which pretty much only happens for New Year's Eve because I'm not a soda drinker and I figure my kids don't need it, either), we pick up our favorite finger foods and I make homemade potato chips.  I only make these once a year, probably because I'd like to preserve the illusion that they're just too much work to make any time.  They really aren't, but it is time consuming to fry them up.
This year's menu includes Sweet & Sour Meatballs (yes, there's a ridiculously easy recipe), Mozzarella Sticks, Salame Rolls, veggies and dip, homemade potato chips, and Cream Puffs for dessert–thank you, Costco (you didn't think I was silly enough to make these on my own, did you?)
Yes, we do LOVE Costco.  I've been a member since long before it was even called Costco.  But there's still time for you to run out and pick up the goodies there for your New Year's Eve Celebration tonight.
This is the other thing that just isn't worth spending the time to make at home.  Another Costco goodie.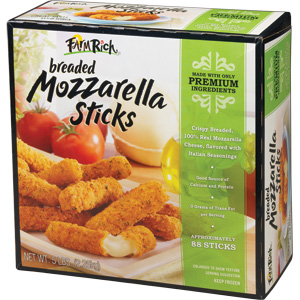 Sweet & Sour Meatballs
First, since I am not a glutton for punishment, I buy my meatballs at Costco (I told you this was easy–and you should have seen this one coming).  The Costco bag has about six pounds of meatballs in it–they now have turkey meatballs, so you can be even healthier.  I still like the Italian ones better, but the turkey ones are good when they're slow cooked in sweet & sour sauce.  I generally figure on about a pound of meatballs per batch of sauce.
Sauce
1 cup pineapple juice (I drain a can of pineapple and then add water as needed to get to a cup)
Juice of one small orange
1/3 cup water
1/4 cup cider vinegar (I just like cider vinegar better for most things–but you can use white vinegar here and still get a good result)
1 tablespoon soy sauce
1/3 cup packed brown sugar
3 tablespoons cornstarch
1/4 teaspoon garlic powder
1 medium bell pepper, cut in cubes
1 small red onion (or other sweet onion), cut in cubes
1 cup pineapple
Mix all the sauce ingredients together.  Put meatballs in a slow cooker (aka Crock Pot–it's a registered trademark, so we won't use it generically), pour sauce over them, mix to coat and heat on low for 2-3 hours or until meatballs are heated through.  If you're in a hurry, you can also bake them in the oven in a covered casserole dish at 350 for about 30 minutes.
_________________________
And, now for our Family Favorite–
Homemade Potato Chips
All you need for this one is potatoes, cooking oil, salt and ice water.
A couple of important notes.  This involves deep frying.  Deep frying can be hazardous, so note that once you begin cooking, you are committed to the kitchen.  DO NOT LEAVE A HOT DEEP FRYER UNATTENDED.  Did I say that loud enough?  I've seen oil fires before (though not in my own kitchen).  They are scary and dangerous.  This is also not an activity for your young children to help with–at least not the frying part.  Please put them to work somewhere else while you fry.
Peanut oil is really recommended for frying, but I just can't bring myself to pay that much for a bottle of cooking oil, so we generally use canola.
My deep fryer takes about 2 quarts cooking oil.  After filling the fryer, I save the bottle for disposing of the used oil.  If you don't have a deep fryer, you can make these using a large pot on the stove top. This is the fryer I use and it has cut my chip frying time in half.
First, select your potatoes.  I plan on about one potato per person, plus a couple extra thrown in for good measure.  This year, since my family bought a bag of potatoes at Costco, they are definitely only getting one per person.  These potatoes are HUGE.
We use russets and scrub them well.  You can peel them if you want. I don't.  Next, slice them thin.  I use a Presto Chip Shot.  This is the coolest little slicer on the planet.  I have no idea if they are still on the market, but I found one at the Goodwill–brand new in the box.  We prefer the ripple chips, but either flat or ripple will work.  Thin slicing is the key here.  I also have a hand mandoline that I've used in the past.
After slicing the potatoes, soak them in well-salted ice water for a couple of hours.  I usually add 1/4-1/2 cup salt to a large bowl and dissolve it in a couple of cups of water.  Then, after adding the potatoes to the bowl, I add enough water to cover them, stir well to make sure the salt is distributed and throw in a couple handfuls of ice cubes.  When you are ready to begin frying the potatoes, drain and rinse.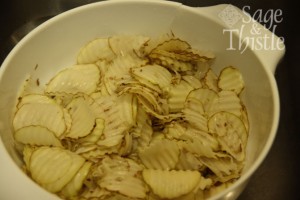 Take a couple of handfuls of potatoes at a time and blot the excess water off using a large, clean towel.  I use flour sack dishtowels for this.  Water makes oil splatter.  The better blotted your potatoes are, the safer your deep frying experience will be.  Heat the oil in your deep fryer to about 400 degrees before adding potatoes.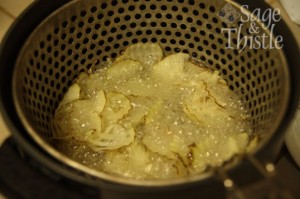 Put about an inch of loosely packed potato slices in your fryer basket and gently lower into the deep fryer.  Do not overfill your basket or you will run the risk of causing the oil to boil over and start a kitchen fire.  If you're doing this on the stove and don't have a fryer basket, you can use a metal slotted spoon.  I do use metal tongs to gently stir my potatoes occasionally while they're frying so they don't stick together.  It takes about five minutes per batch if the oil is hot and the basket is not overfilled.
When the potatoes are a nice shade of golden brown, lift and drain the basket.  Empty the potatoes either onto paper toweling or a cooling rack placed over a baking pan to drain and cool.  Salt or season lightly to taste.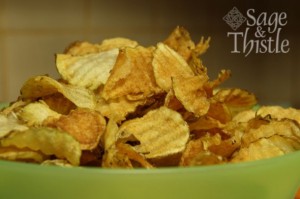 Serve with your favorite foods or dip (my kids are quite partial to onion dip–you know the sour cream and Lipton's Onion Soup one.
So, what are you serving at your house this New Year's Eve?
Happy New Year!