Easy Italian for Busy Nights
I think it's time for a little food break here.  It's been a slow-cooker week at our house.  Too many things going on, too much stress for complicated meals that take lots of time. And it's cold enough that we want warm and hearty meals.
This recipe is a family favorite.  We adapted it slightly from a little recipe booklet.  I'd love to give credit to the original source, but I can't remember the name of the check-out-stand recipe book it came from.  If you know it, tell me and I'll give them credit.  I can make this for the five of us and it does just great with no leftovers.  I have been known to double it, though (except for the sausage) and it will still nicely fit in my large oval Crock-Pot and cook in the same amount of time.
Ravioli with Sausage and Peppers
1 25-opunce bag frozen Cheese Ravioli
1 26-ounce jar or can of Spaghetti Sauce (we usually use Hunts or DelMonte–it's our food storage back-up–and we like chunky or zesty)
1 lb. of smoked sausage (or Kielbasa), sliced thin
12-16-ounce bag of frozen peppers and onions (or 1 fresh bell pepper and 1 medium onion, sliced)
1/4 cup fresh grated Parmesan
Combine the first four ingredients in your slow cooker and cook on high for 3-4 hours or low for 4-5 hours.  Spoon into serving bowls and top with Parmesan.
Yes.  It's that easy.  And, it's that good.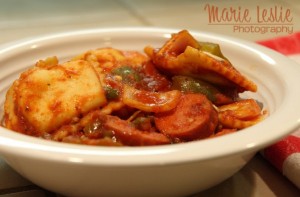 By the way, if you decide to use fresh onion, I recommend sauteing it lightly, just until the onion begins to become transparent.