"Silent Souls Weeping" Offers Hope & Help to Destigmatize Mental Health Issues -#Review
Silent Souls Weeping Review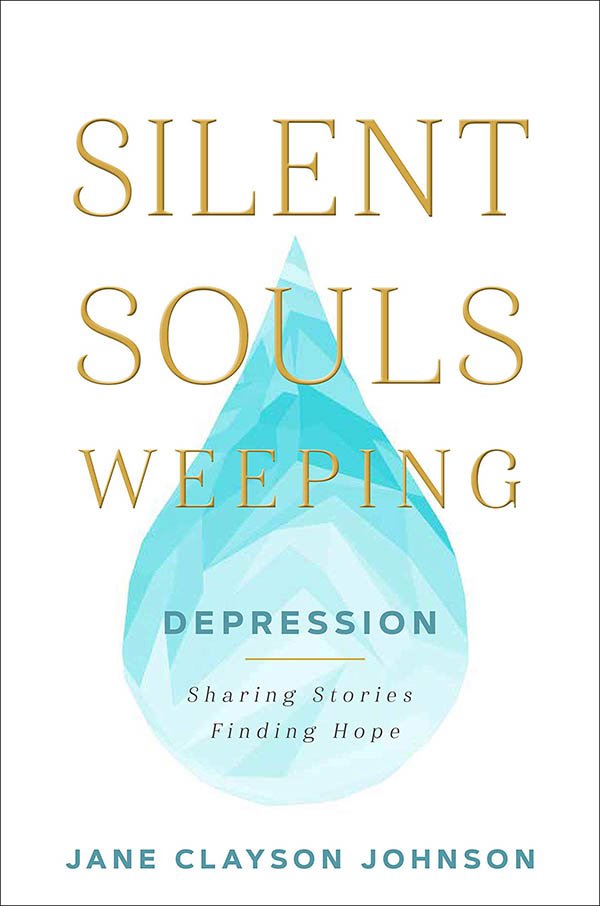 Silent Souls Weeping: Depression-Sharing Stories, Finding Hope by Jane Clayson Johnson was an eye-opening and enlightening book. I am not unfamiliar with mental-health issues. Personally, I suffered a bout of severe, frightening, and crippling post-partum depression in a time when it was largely unrecognized. I am also a recovering perfectionist, and it has taken me years to recognize and then learn to manage anxiety. In my estimation, I've been personally fortunate. I also parent now adult children who have and still do live with various mental health challenges.
I learned so much more reading this book. Not only to recognize where I might need work, but also how to better listen and support those around me (especially my children) in their challenges.
Health care in our country is a mess (that's not a political statement. It's a fact.). Mental health care is even worse. To this day, I do not understand why there is a distinction. My brain is firmly attached to the rest of me. It is not separate from my body, so why do we treat mental health issues like they are some thing separate from us?
This became practice in the last 100-150 years or so when some doctor whose name escapes me decided to declare them separate. And while we recognize that much of what we knew of health care in that era is wrong or outdated, our society persists with this misconception.
Ms. Johnson does an excellent job of interviewing and sharing so many personal experiences, and of telling the stories of those who have felt (and some who still do) stigmatized and shamed by their medical conditions. This is a discussion we need to have more of.
Mental Illness is Not a Character Flaw
We do not shame those with diabetes, asthma and other chronic conditions. We do not ask for these illnesses, and we must learn to manage them (because few, if any, are ever cured) through a combination of medication and therapy.
Depression, anxiety, schizophrenia and other similar health conditions are no different.
They are rarely "curable."
They are not caused by anything the sufferer has done (as in it is NOT their fault). We learn to manage them through a combination of medication and therapy.
I especially appreciated that she also discusses the spiritual implications of mental illnesses. There are additional challenges to one's faith, and difficulties that are perhaps often unrecognized as part of these illnesses. As a Christian, these are additional factors I need to understand to support my friends of faith.
I read Silent Souls Weeping on the recommendation of a friend who is a leader in our church's women's organization. After reading it, I pass on that recommendation, not only to those in leadership positions, but to every person who lives with mental health issues. I also recommend it to anyone who knows someone with mental health issues, and who wants to understand and support them. FYI, that's everyone. Because we all know someone who lives with these challenges. And they need our love, our support and our understanding.
Silent Souls Weeping Summary
Through the power of story, nationally recognized journalist Jane Clayson Johnson shines a light on the desperate, dark, and lonely reality faced by those who struggle with clinical depression. Both hopeful and heart-wrenching, Silent Souls Weeping examines the stigma and isolation associated with depression. And it explores the dangers of perfectionistic tendencies and suicidal ideation.
Ms. Johnson starts with an open and frank exploration of her own experience with clinical depression. And then she goes on to share stories gathered from interviews with more than 150 men, women, and teens. They are all members of The Church of Jesus Christ of Latter-day Saints who have suffered from depression.
Within these stories is a plea to change the dialogue surrounding depression, particularly among Latter-day Saints, who face unique struggles as they try to fit a disease manifest through sorrow into a religion centered on a "plan of happiness."
"The worst part of depression," writes the author "is the profound isolation it engenders, not just from the Spirit but from family, friends, and community."
Sharing our stories is the first step toward ending that isolation. This important book opens the door for a new level of honesty and helpfulness, both for those who suffer from depression and for their family members, friends, and Church leaders.
Buy the Book
This post contains affiliate links, which means I may earn some money if you click on one and make a purchase. It will not cost you any extra, and I will be grateful for your support. Read the full disclosure here.
Silent Souls Weeping: Depression-Sharing Stories, Finding Hope by Jane Clayson Johnson is available in hardcover and Kindle editions from Amazon.com.
To learn more about Jane Clayson Johnson and her journey writing this book, check out this insightful interview.