Eat Your Favorite Restaurant Meals at Home with Copycat Cooking With Six Sisters' Stuff
Copycat Cooking with Six Sisters' Stuff Summary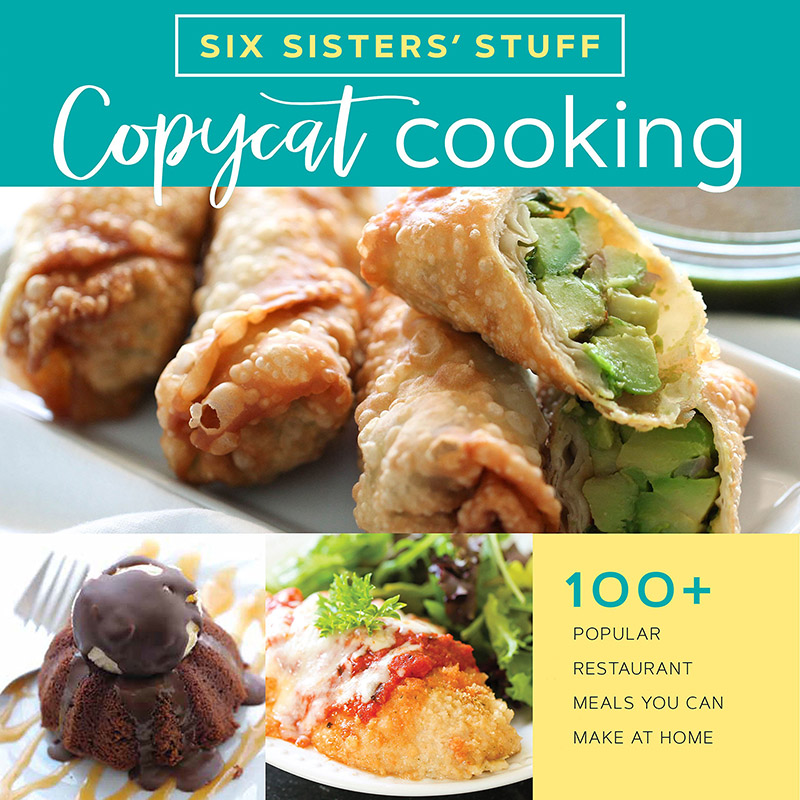 Do you love combining the creativity of restaurant meals with the ease and cost savings of home cooking? Then Copycat Cooking with Six Sisters' Stuff is for you.
If you want to save money while spending more time with your family, and avoid the debates over where you're going to dinner, check out Copycat Cooking with Six Sisters' Stuff. Change dining-out to dining-in for a fun and memorable experience your whole family will enjoy.
This cookbook includes copycat recipes for fan favorites like Texas Roadhouse's Cactus Blossom, Panda Express's Orange Chicken, Olive Garden's Chicken Parmesan, Disneyland\'s Monte Cristo Sandwich, Chili's Molten Hot Lava Cake, Sprinkles Red Velvet Cupcakes, and Universal Studios' Butterbeer. There's a restaurant favorite for probably every member of your family.
Copycat Cooking with Six Sisters' Stuff Review
We don't eat out a lot at our house, but we have a few favorites—and when I saw them listed in the Table of Contents for Copycat Cooking, I knew we needed to do some experimenting. First up for us was Olive Garden's Chicken Parmesan, and Panda Express Orange Chicken and their Chow Mein (because someone in our house ALWAYS orders at least one of those) are on the menu for next week.
One of the things I love about Six Sisters' Stuff is that none of their recipes is ever overly complicated. I can always count on being able to create something tasty without spending all day in the kitchen, and this cookbook is no exception. Even less-experienced cooks will be able to easily follow these recipes. One of the other things I love is that their ingredients are always readily available. While I love to experiment and try different cuisines, most days I appreciate not having to go to six different stores to find an unusual ingredient for dinner that I'm not likely to use again before it goes bad.
Our Chicken Parmesan turned out great, though my resident food critics were quick to point out one small "glitch?" in the recipe. It didn't include any Parmesan cheese. Since Parmesan cheese is a staple food at our house (and we're not talking about the kind in the can), it was a simple matter to add a ¼ cup of fresh-grated Parmesan to our bread crumbs. Other than that, we followed the recipe exactly and it was voted a keeper by the food critics. In fact, they liked in better than my usual Parmesan chicken, so it's a win for Copycat Cooking with Six Sisters' Stuff.
Update: I must confess, I have been educated about Chicken Parmesan. It is not called Chicken Parmesan because it's made with Parmesan cheese, but rather that the recipe comes from the Parmesan region of Italy. So, there you have it. It doesn't need Parmesan cheese in it. Unless, of course, you live at my house. The cheese lovers want their Parm.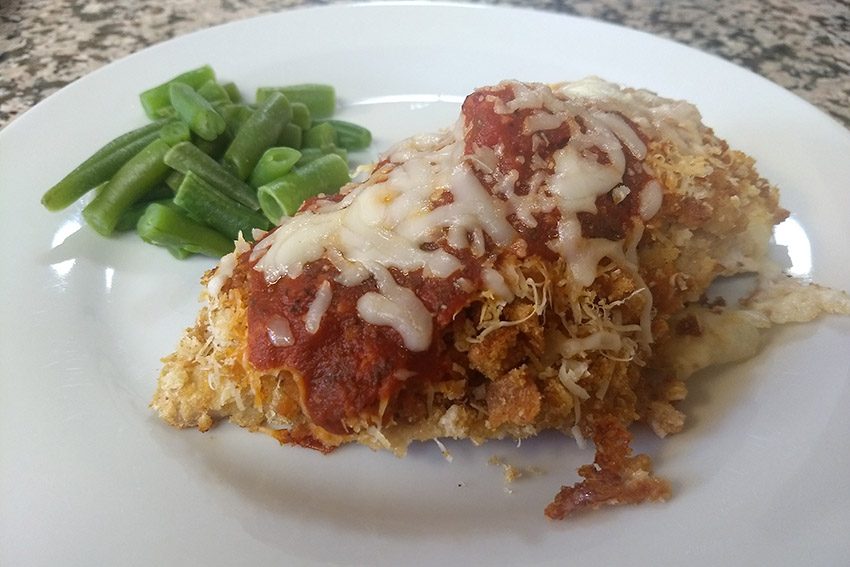 Buy the Book
This post contains affiliate links, which means I may earn some money if you click on one and make a purchase. It will not cost you any extra, and I will be grateful for your support. Read the full disclosure here.
Copycat Cooking with Six Sisters' Stuff: 100+ Restaurant Meals You Can Make at Home is available from Amazon.com.
Copycat Cooking with Six Sisters' Stuff: 100+ Restaurant Meals You Can Make at Home  is available from DeseretBook.com.
Want to check out our other Six Sisters' reviews? Click here.