In Praise of School Music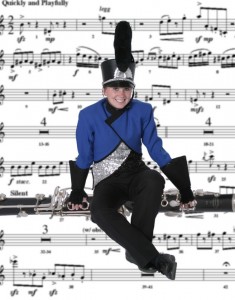 I am a band geek.  I've been a band geek since the ninth grade.  I played the flute in the Granite Hills High School band.  Most of my fondest high school memories involve band (most of the rest involve the school newspaper–probably no surprise there, but this is about music).  Most of the friends from high school with whom I still have a connection  were in the band.  My high school band teacher, Mr. Downs, probably had more of a lasting impact on me (in a good way) than just about any other teacher.
I love bands.  I love band music.  I love the concert and symphonic bands and I love the marching bands.  I love to watch them in parades and I love to watch them in field shows.  There's nothing that stirs my sense of nostalgia and gets my feet tapping quite like a marching band playing a march.
To show you just how much of a band geek I am, I am even a band mom.  When my oldest was in high school, I served on the band board.  Yep, went to every show and parade and performance, helped sell band candy and band candles, and washed cars and everything else band geeks sell to finance their addiction performances.  I've been there done that and gotten the t-shirt–literally.
So, what has prompted this little jaunt down the musical memory lane?  I got to go to a middle school band concert last night.  Not just any concert, though.  It was the Aurora Public School Middle School Honor Band Concert and, of course, one of those honor band musicians just happens to belong to me.
I'm quite blessed to be the mother of four band geeks.  Two have already made their journey through middle school and high school band and achieved full band geek status.  One has just started high school and the last, my honor band student, is in the eighth grade.
I love that my children love music at least as much as I do.  Their dad doesn't play an instrument, but he does sing, a talent I do not possess.  The two younger ones enjoy singing and participated in the elementary school choir, but they are all still mostly instrumental musicians.  But no orchestra instruments here.  Other than the piano, which they all play at least a little bit, if you can't march with it, you probably won't find it at our house.  So far, I have kids who've played flute, clarinet, bass clarinet, trombone, trumpet, harp, marimba, glockenspiel and recorder.  I have one who has two band classes (meaning two instruments) and who is already dropping broad hints that her life won't be complete without a piccolo (thank goodness her band director had one to loan out this year) and has been making lots of noise about playing a violin.
The really amazing part is that, other than two years of piano lessons for the oldest, none of my children has been able to reap the benefits of private music lessons, save a little help from mom on the flute and piano.  I can't play any of the other instruments.  All of this wonderful musical instruction has come courtesy of public school music teachers.  We have had many over the years, beginning with my band director, Mr. Downs, and I cannot say enough good things about any of them.  I am so grateful for their passion and dedication and influence on my children.  I don't really remember #1's fifth grade music teacher who came once a week to give music instruction, but after that we had Mr. Fitch and then Mr. Bell and Mr. Schmidt and Mr. Dubbs and Mr. Harper and Miss Danner and now Ms. Walsh.  My kids have loved them all and I am certain they have all made a lasting impression.  I'm pretty sure music teacher is the coolest teaching gig on the planet.
They say to teach is to touch the future.  Well, I know my childrens'  futures have definitely been touched by these teachers.  Every day after school there is ALWAYS a conversation that begins with "Ms. Walsh says. . .  ." #4 currently tells me she's going to be a music teacher.  It wouldn't surprise me.  She has some pretty amazing musical abilities.  She once played a harp solo in the school music program in third grade.  I didn't even know she could play the harp, but she conspired with her music teacher for it to be a surprise.  It was.  She came home from school later that year and told me she was playing a piano solo in the school talent show.  She's never had piano lessons, but she had a music teacher who taught her that no goal was out of reach.
My music teacher taught me a lot, too, and only some of it had anything to do with music.  I still remember well one discussion we had after I didn't do well on a challenge.  I started it out by saying something about my not being very good and he told me that I would never play any better than I believed I could.  I remember him telling me that if I didn't believe I had the ability, I never would, and that I needed to believe it because I did have the ability.  It's a lesson I've had reinforced time and again in so many areas of my life.
Some of my high school band friends have grown up to become band teachers themselves.  I think it's so cool that they're continuing the legacy.  Band teachers work hard.  They definitely do what they do because they love music and they love kids–at least all the ones I've ever met have.  Like all teachers, they spend a lot of time outside the classroom and outside regular school hours instilling and encouraging a love of music in their students.  And because it's one of the few classes where a student might have the same teacher for not only more than one class per day, but also over and over again every year, music teachers often develop a strong bond with those students, becoming guides and mentors whose influence is felt long after graduation.
I'm looking forward to the next four years of marching band and concert band, practices and football games and basketball games and field shows and parades and wondering where all my free time and money and peace and quiet went.
How about you? What are your thoughts about music? Please share them with me in the comment section below.
And if you enjoyed this post, please use the buttons below to share it with your network.