How to Make Your Own Fabulous & Fun Family Portraits
Everybody wants great and fun family portraits. But going to a photography studio or hiring pro isn't always an option.
And there's no shame in that. You can make fabulous and fun family portraits yourself. Here are some of my top tips for making your own great portraits. I know they work because not only have I used them with my clients, I've used them to photograph my own family.
Follow these tips and you can make your own fabulous and fun family portraits too.
Inspire Yourself
Before you head out with the camera, scout the web for inspiration and ideas for posing, clothing and backdrops. Check out the websites of your favorite portrait photographers, do an internet search for family portraits (and if you want them in a certain place, like outdoors, add that search term), and check out Pinterest. Having an idea of what you want will help you keep your session on track.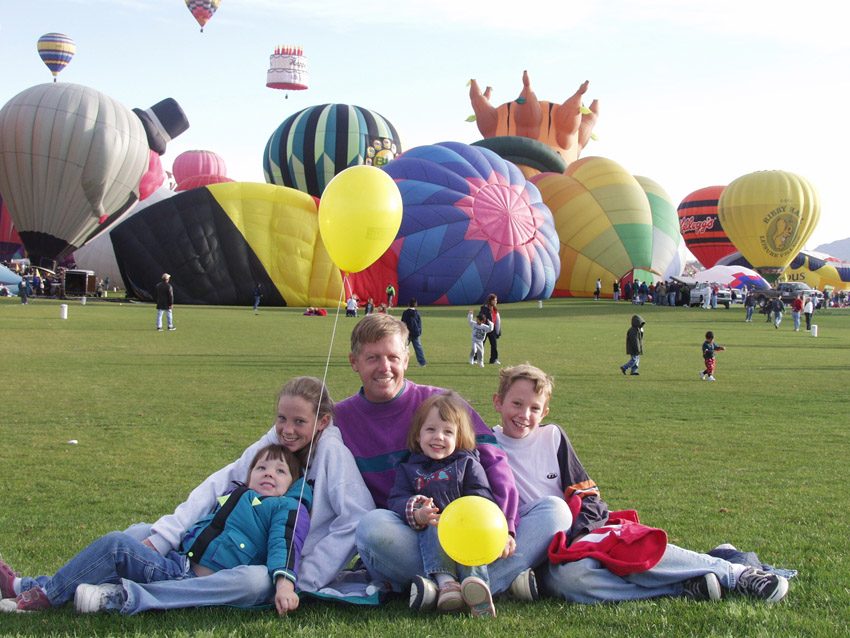 Plan Ahead
The key to a great portrait is a plan. Take some time before the big day to plan out your portrait session. You don't need to plan every minute. And you shouldn't expect it will go exactly according to plan. But planning ahead will definitely make it all go more smoothly. Some of the things to plan ahead of time are:
Where and when you want to make your portraits
Who you want to include in your portraits
A helper for your session (more on that later)
Some of the different groupings you want to get (mom & dad, just the kids, etc.)
Clothing—what is everyone going to wear? Do you want them to match or just coordinate? Choosing and laying out clothes ahead of time will avoid last-minute stress and meltdowns.
Good light makes good portraits
Lighting can make or break your portrait. As a rule if you are making portraits outdoors, the early morning or late afternoon/early evening (starting about an hour before sunset) is the nicest time to make portraits. You can make good portraits during the rest of the day as well. If you need to make mid-day portraits, choose your location carefully. Find a shady place where your family won't be looking into the sun with squinty faces and harsh shadows.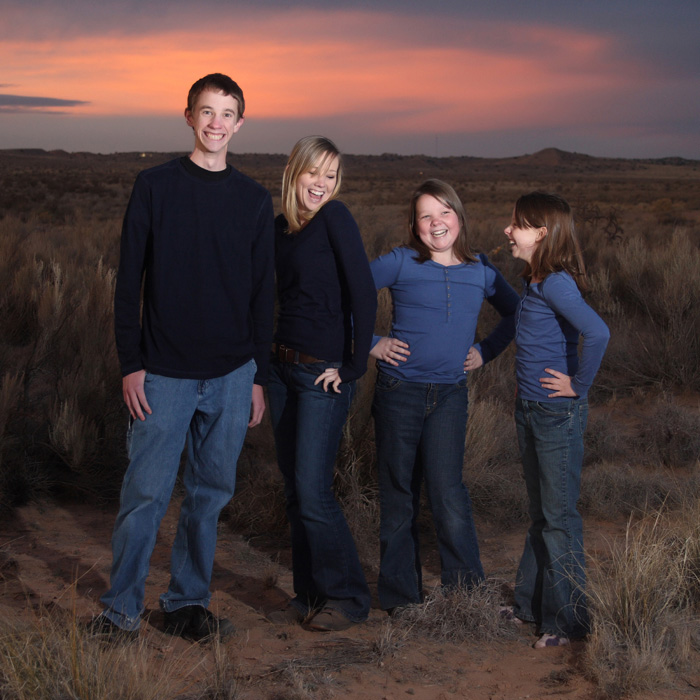 Make the Most Important Portraits First
If the key purpose of this session is a photograph of all of you together for a holiday card or a print above the fireplace, take those pictures first. Save other groupings for after you've gotten your main pictures. This way, if your littles have a meltdown and decide they're done with portraits, you'll still get your most important photos.
Ask a friend to help
Sometimes family portraits work best if you bring along reinforcements.  At the very least, bringing along a friend who can actually push the shutter button for you so you don't have to set the timer and run to get into the picture can make the whole experience much more relaxed. If you want to include the family pets in your portrait, you definitely need a pet wrangler in case Fido decides he's not going to cooperate. An extra pair of hands and eyes to help keep everyone in the right place and looking in the right direction will definitely increase the likelihood of great portraits.
Keep it simple
If you're new to this—and/or if you have small children—keep things simple. The simpler your session, the more likely it is to be successful. Skip the fancy props or complicated poses. The more complicated you make the session, the less fun it will be and the quicker your family is going to check out and decide they're done. Remember to keep the focus on a fun family portrait session and you'll be much more likely to end up with the fabulous family portraits you want.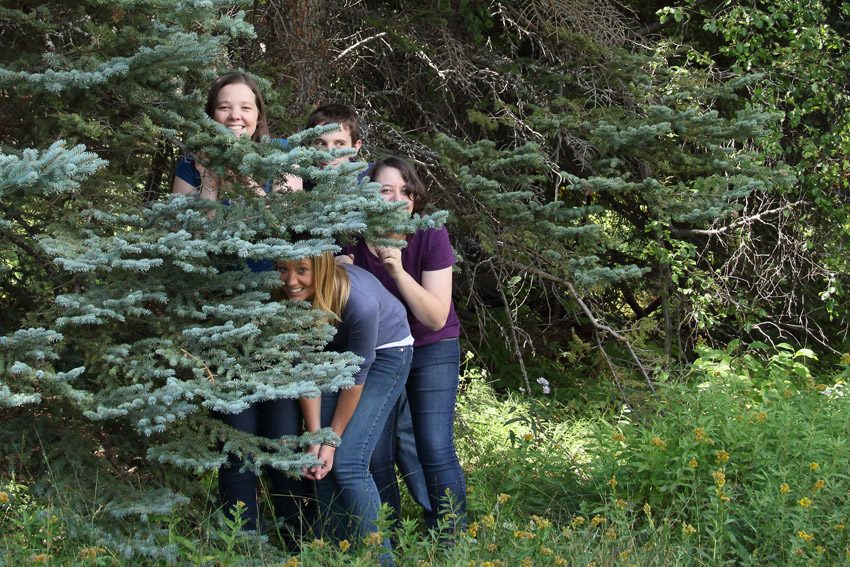 Manage Your Expectations
Be realistic. You've looked at dozens of "perfect" portraits on the internet. They were made by professionals and are the best of a portrait session where they may have taken 10 or 15 or 100 different images and picked that one portrait to share.  You aren't going to get "perfect" portraits.
You can get great portraits, but remember you're dealing with your kids, who may or may not be having the best day, who may or may not want their portraits made and who may or may not want to cooperate.
Don't focus on perfect or even on "just right." Focus on making this experience fun and enjoyable, and on capturing their personalities at this moment in your family. And remember, bribery is not a bad thing when it comes to a portrait session.
I can't promise you perfect portraits—perfect is so boring anyway—but with these tips, you can get fabulous and fun family portraits while making fun family memories.
And don't forget to come back and let me know how your DIY portrait session went.