Living Scriptures Provides Family-Friendly Quality Streaming
Living Scriptures is a family-friendly streaming platform with more than 3000 video and audio titles to enjoy on your TV, computer, or mobile device.
Isn't Living Scriptures for Children?
When I was first invited to participate in the Living Scriptures spotlight tour, my inclination was to pass. After all, I knew them as the company who made animated scripture videos for children, and my "baby" is 22. We're kind of past the animated scripture story phase at our house.
But I decided to go ahead and take a look. And I'm glad I did. They did start out as a company that produced animated stories from the scriptures, as well as audio recordings. My children watched them and enjoyed them when they were small.
Now, in the 21st century, Living Scriptures is a streaming service for the whole family. They offer "Unlimited clean inspiring shows for all." They offer more than 3000 titles, all faith-promoting quality media.
A few titles have been edited for profanity or sexual content. I watched one of these, Noble–a bio pic about the life of Christina Noble–and couldn't tell where it had been edited. And it was an excellent movie I would have missed if it were not for this service.
When browsing the library, the movies come with ratings, and any that are better suited for teens and older are indicated, so you won't get any unpleasant surprises while watching.
The service not only includes animated scripture stories from the Old and New Testaments, the Book of Mormon, but also a large selection of popular preschool series, and the animated Hero Classics series.
They offer the largest selection of Latter-day Saint movies anywhere as well as, Come, Follow Me videos, and many other popular Christian titles. One of my personal favorites is The Chosen, an excellent and currently popular series about the life of Christ.
Try Living Scriptures For Yourself
Living Scriptures is a great addition to your family streaming library. You can stream through your computer, Roku, Chromecast, fireTV, and on Android, Apple, and Kindle Fire devices.
Right now, you can take advantage of a 30-day free trial, so you can experience this new streaming service. Click here now for your free Living Scriptures trial.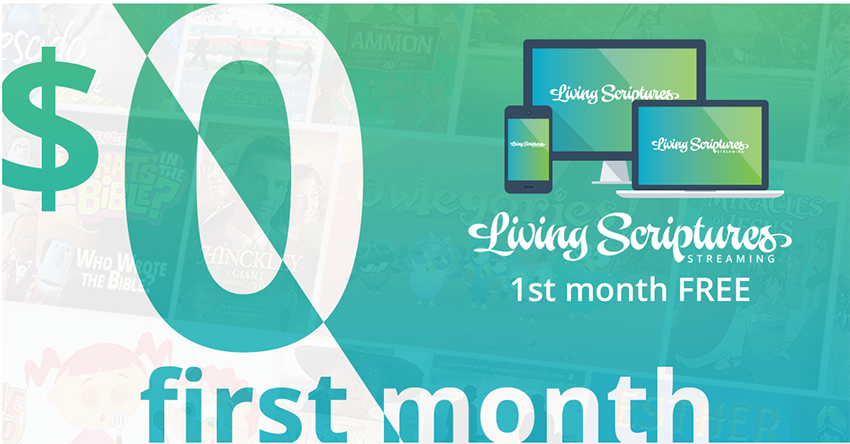 The giveaway has ended.