The Mark of a Giant –Book Review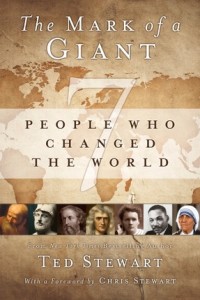 Every once in a very great while someone comes along whose life has a profound impact on the course of history. We don't always realize it at the time, but looking back at their life and their work, we can see in retrospect the influence they have had.  The Mark of a Giant: 7 People who Changed the World profiles the lives of seven of those people.
While I had heard of nearly all of "giants" profiled in Ted Stewart's book, I was only strongly familiar with the story of Marie Curie, one of my childhood heroes. I have been an avid reader of biographies since childhood. I love reading about people, about their lives, their challenges, their failures and their accomplishments. But even in this reading, I learned much more about the esteemed Madame Curie than was contained in the books of my childhood. For the record, I found her even more amazing than I had remembered. She's still my favorite.
The other giants profiled by Ted Stewart are Abraham of Ur, Pericles, Paul the Apostle (there was so much I didn't know about him), Sir Isaac Newton, Dr. Martin Luther King, Jr., and Mother Teresa. It is a very eclectic mix of people. Going in, I expected some sort of common theme between them all, yet the only one I found was that each did have a profound impact on history and on society.
Their contributions ranged from politics to science to religion. One of the things I most enjoyed is that these are not the people you usually see profiled as those who impacted the world. I am sure that there are others who could have been included, but perhaps someday there will be another volume.
One of the things I really liked was that each profile started off with some background on the time and society in which each subject lived, giving insight into the conditions and external challenges each faced in their time and station in life. This was followed by a brief but substantial biography. Following that is an in-depth discussion of their life's work and contributions to society. Each chapter ends with a summation of their contributions to the world. Footnotes and references are included for each chapter.
These people were not perfect, nor were they somehow superior to others of their time. Like most of us, they had struggles, they had challenges, they had weaknesses. Mr. Stewart neither dwells upon nor glosses over the less-than-perfect aspects of their character or lives, something that is so often absent in biographies of notable figures. His honest and straightforward portrayal of their lives, including those flaws, made them more relatable and human. After reading about them, I felt like I knew them as fellow human beings whom I would like to meet and not as distant gods-on-mount-Olympus. They could all serve as role models.
Interestingly, I found myself a little sad at the end of each chapter; I wanted more. This book is a great jumping-off point for further study of any of these interesting and amazing people. It has definitely earned a spot on the recommended reading shelf for my high school students (and even for middle schoolers, if I still had any).
For me, it also has inspired me again to do a little more, be a little better and be mindful of the impact I can have on the world. I know I may not change the course of history or change the world, but I can change the course of my history and change my little corner of the world for the better.
The book is written in a clear and easy-to-read style. I admit I was expecting it to read more like a textbook, but I found it a much more comfortable read than most of my college texts. If you are a reader who likes to be inspired and uplifted by the accomplishments of others, this book belongs on your to-read list.
I would love to know, who would you include on your list of people who changed the world–and why? Please share your thoughts and comments below.
Buy the Book
This post contains affiliate links, which means I may earn some money if you click on one and make a purchase. It will not cost you any extra, and I will be grateful for your support. Read the full disclosure here.
The Mark of a Giant is available from Amazon.com.