Learn the Story of the Titanic and the Carpathia in "A Brilliant Night of Stars and Ice" #BookReview
A Brilliant Night of Stars and Ice Summary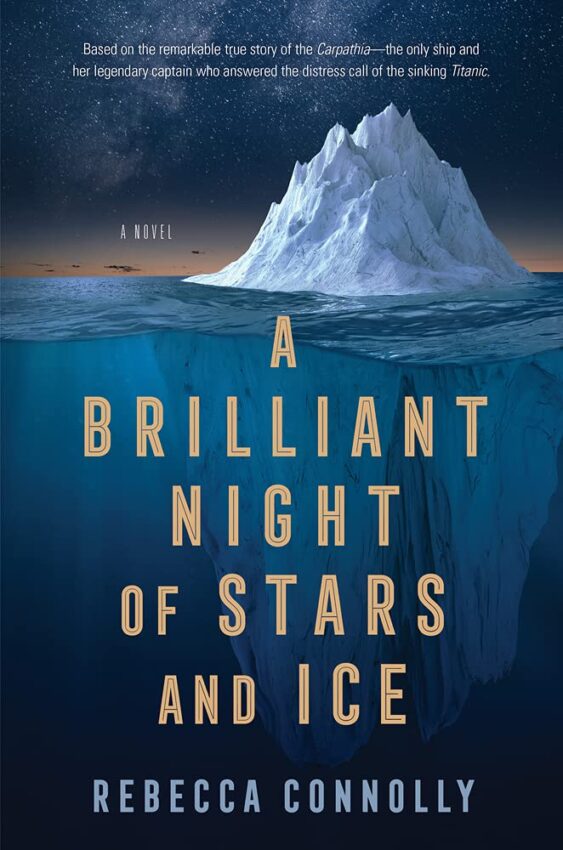 Shortly after midnight on April 15, 1912, a distress signal from the RMS Titanic, awakens the captain of the ship Carpathia. The Titanic has struck an iceberg on its maiden voyage and is in grave distress. Though information is scarce, Captain Rostron leaps into action, determined to answer the call for help. But the Carpathia is more than four hours away, and there are more questions than answers. Will his ship hold together when he pushes it to never-before-tested speeds? With unusually high iceberg activity in the area, can he avoid striking an iceberg? And with the freezing temperatures, will there be any survivors by the time the Carpathia arrives?
Kate Connolly is excited to join her sister in America and proud to be traveling on the grand Titanic. As a third-class passenger, she is among the last to receive instruction and help after the Titanic hits an iceberg. Despite the chaos of abandoning ship, Kate reaches the upper decks and manages to board a lifeboat, though after seeing the Titanic sink into the abyss and hearing the cries of distress and despair from hundreds of passengers still in the frigid Atlantic waters, she wonders if any rescue is even possible.
Told in alternating chapters from the points of view of both Captain Rostron on the Carpathia and Kate Connolly on the Titanic, this historical novel is a compelling, heart-pounding account of two eyewitnesses to an epic disaster. Rostron's heroic and compassionate leadership, his methodical preparations for rescue, and his grit and determination to act honorably and selflessly to save lives and care for the survivors, sets the course for this moving and awe-inspiring story.
A Brilliant Night of Stars and Ice Review
The first thing I can say about this book is I wasn't too far into it before I forgot it was fiction. I realize that Captain Rostron was a well-documented historical figure, and that the story is based on real people, but Rebecca Connolly did a wonderful job of giving life to names from a passenger list.
Like the author, I thought I knew the story of the Titanic. But its story is so much more than I knew. I did know a ship rescued some of the survivors, but I had never heard the story of the Carpathia. Or the possible story of the Californian.
Each chapter begins with a quote from interviews and writings about this most well known of maritime tragedies. One that particularly stuck with me as I read was this one by Carpathia passenger Frank Blackmarr:
"The saddest moment of all, after the boat loads had been landed on the deck, was to see the poor widows and sons and daughters whose family relations had been broken, standing at the rail, looking into the distance with hands outstretched trying in hope to see their loved ones. There were numerous sick persons on board, but the illness was not so such physical as it was mental agony."
Many parts of this story touched me. Four of my great-grandparents came from Ireland as Kate Connolly did. Having a great love for my Irish roots, I have studied their stories as much as I could. While they predate the Titanic by nearly 20 years, their stories are similar. They left their families behind as young adults and traveled alone, in steerage, to America to make a new life here.
So I connected with our heroine instantly.
Ms. Connolly tells her story well, and I'm sure my brain filled in whatever possible gaps existed with stories from my own history.
As for the Carpathia, she did an excellent job of conveying their race to the Titanic. I could feel the tension rising as I read each chapter of their race against time. And I did not realize until after I'd read it how I gripped the book, almost holding my breath, as they navigated icebergs in the dark.
I felt the crew's pain at not being able to rescue more passengers.
As a fan of history, I am also a fan of well-written fictionalized accounts of historical events. I have a few favorite authors in this genre. One is Heather B. Moore, whose books I have reviewed previously. Rebecca Connolly now joins that list. I hope this will not be her last foray into this genre.
I recommend this for all fans of history, historical fiction, and fictionalized historical accounts. And especially for anyone who has had ancestors who came to this country by ship. It will give you a feel for their journeys. The content is suitable for all ages, but probably best for middle grades and up, especially to read together and discuss.
About the Author
Rebecca Connolly is the author of more than two dozen novels. She calls herself a Midwest girl, having lived in Ohio and Indiana. She's always been a bookworm, and her grandma would send her books almost every month so she would never run out. Book Fairs were her carnival, and libraries are her happy place. She has been creating stories since childhood, and there are home videos to prove it! She received a master's degree from West Virginia University, spends every spare moment away from her day job absorbed in her writing, and is a hot cocoa addict. Learn more about Rebecca Connolly at https://www.rebeccaconnolly.com/.
This post contains affiliate links, which means I may earn some money if you click on one and make a purchase. It will not cost you any extra, and I will be grateful for your support. Read the full disclosure here.
Buy the Book
A Brilliant Night of Stars and Ice is available from Amazon.com
A Brilliant Night of Stars and Ice is available from DeseretBook.com