Making Christ the Center of Your Home
For a Christian family, there are not many goals greater in this life than to have a Christ-centered home, one where He is the center of family life. It's not always an easy thing to do; there are many outside influences competing for our time and attention. But it just got a little easier with the publication of Emily Belle Freeman's new book, The Christ-Centered Home: Inviting Jesus In.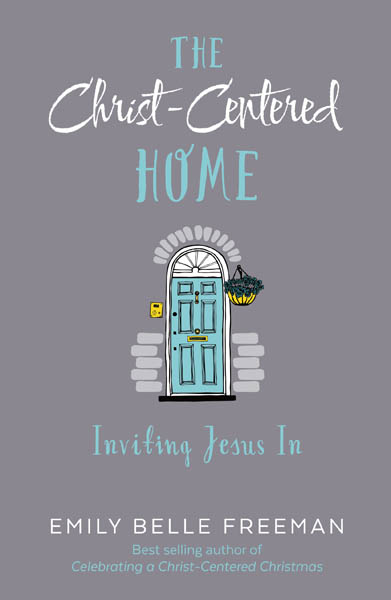 The Christ-Centered Home is a year-long resource for recommitting your home to Christ, and a guidebook for fortifying your family against the buffeting winds of uncertainty in today's society.
The book is divided into 12 chapters, each focusing on Jesus' time visiting 12 different households in the scriptures. Each visit is analyzed and principles we can apply in our own homes taught and reinforced. I focused on the second chapter, "A Household of Faith" with the subheading "Expect Miracles." Looking through the book, it's something I need to do more of in my life right now. I've re-read the chapter a couple of times and feel like there is still so much more there for me. One of the things that drew me in was the initial references to bread and its many scriptural meanings. Not just because I love bread, which I do, but because the symbolism of bread speaks to me also.
The story in this chapter is of a Gentile woman who has a daughter in need of healing and her visit to Jesus to seek healing for her daughter. And it talks of faith and having enough, and I often feel like I need to exercise my faith more, not just hoping for miracles but learning to expect them.
These chapters aren't just spiritual reading and teaching though. They come with reinforcing family activities, so this book is ideally suited for family gospel teaching and learning. There are some thought questions—with room to write your thoughts and answers in the book, if you're so inclined. There are reinforcing activities and even a delicious recipe—that relates to the chapter—at the end of each lesson.
While a creative parent could use this book for families of any age, it seems ideally suited for children of about age 8 and up. It also works just as easily for a solo learner or for couples.
Some of the other chapters cover "A Household of Prayer," "A Household of Scripture" and "A Household of Grace." Written for Christians of all faiths, you can find The Christ-Centered Home: Inviting Jesus In by Emily Belle Freeman wherever Christian books or sold,
Buy the Book
This post contains affiliate links, which means I may earn some money if you click on one and make a purchase. It will not cost you any extra, and I will be grateful for your support. Read the full disclosure here.
Buy The Christ-Centered Home: Inviting Jesus In on Amazon.com
Buy The Christ-Centered Home: Inviting Jesus In on DeseretBook.com