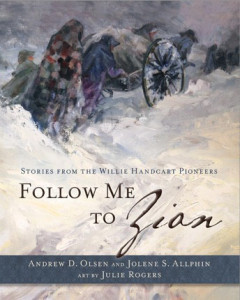 The stories of pioneers are the stories of America. When you are a member of the Church of Jesus Christ of Latter-day Saints, they are the story of your faith. And there are no stories more poignant and heart-rending than the stories of the Martin and Willie handcart companies who crossed the plains to Salt Lake City in late summer and autumn of 1857.
Leaving late in the season and encountering early severe winter storms, coupled with just plain bad luck turned what was expected to be a challenging journey into a life-and-death struggle. Follow Me to Zion recounts the heartbreaking stories of 20 of the families in the Willie handcart company.
In our relatively physically comfortable lives, it is hard to imagine feeling compelled to make the sacrifices of these early Latter-day Saints. Most of the Willie company members emigrated from Europe, primarily Scandinavia and the British Isles to gather with their fellow saints in America. Some of them left behind prosperous lives; others scraped and saved and sacrificed for years to make the journey.
The stories are personal accounts, taken both from trip records and from journals and later recollections made as part of family and personal histories. For me, one of the most touching and heart-rending stories was that of Bodil Mortensen and the Jens & Elsie Nielson Family.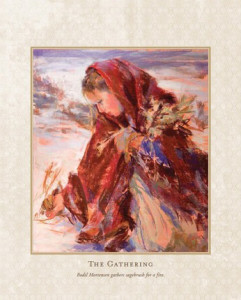 Bodil was a child of 10, entrusted to the Nielson family to go to America and join her 14-year-old sister who had immigrated the year before. The Nielsons had a five-year-old son, Niels as well. The trip was hard and Bodil and Niels, like most other children of their age, walked nearly all of the 1000 miles. During a blizzard that hit as their food supplies ran out, and during a particularly arduous section over an area called Rocky Ridge, both Niels and Bodil perished in the cold. Following their deaths, Jens continued to grow weaker until he could no longer walk, and he told his wife Elsie to leave him and go on. But Elsie was not prepared to lose her husband as well as her son, and she told him , "Ride. I can't leave you. I can pull the cart." And she put Jens in their handcart and pulled him along the trail. They both survived the children and lived 50 more years following their trek.
But I cannot imagine the pain of having lost not only their child, but the daughter of their friends—and being Bodil's mother, believing she would be reunited with her daughter only to immigrate the next year and learn she had not survived the journey.
One of the aspects of the book I enjoyed most, and that I have not found in many other histories, were accounts of their lives following their arrival in the Salt Lake Valley. And at the end of each chapter, a brief reflection by one of their descendants makes these people and their stories even more real—and emphasizes how much we are formed by our history and our families.
While none of my ancestors crossed the plains with a handcart, I am still inspired and lifted up by the shared history of our faith. While I have long heard stories of the pioneers and their sacrifices, Follow Me to Zion brought these stories to life for me in a way no Sunday School lesson has. The timing of this book could not have been better; next summer, I will have the opportunity to participate with my teen daughters and the youth of our church in recreating a portion of this pioneer trek, including the climb to Rocky Ridge. Now that I have learned these stories, I will definitely be sharing them with my daughters and their classmates to help them prepare and understand their heritage as well.
For any student of 19th-century American history, whether Mormon or not, this volume is a compelling and well-researched account of one of the most touching stories of the Pioneer Movement. It would be a welcome addition to any family library. This volume is well written and well-researched, with extensive notes documenting sources for history buffs, historians and anyone who just wants to know more. The layout illustrations and typography are also beautiful. I must admit, as much as I enjoy reading any good book, reading books that are not only well-written, but also beautiful enhances my experience even more.
Buy the Book
This post contains affiliate links, which means I may earn some money if you click on one and make a purchase. It will not cost you any extra, and I will be grateful for your support. Read the full disclosure here.
Follow Me to Zion, by Andrew D. Olsen and Jolene S. Allphin, is available at Amazon.com
Follow Me to Zion, by Andrew D. Olsen and Jolene S. Allphin, is available at DeseretBook.com
A copy of this book was provided to me for review and my opinions are always just mine.