Enjoy "The Dread Penny Society's" Complete Penny Dreadful Collection
Publisher's Summary
This beautiful, cloth-covered hardcover collector's anthology compiles all the penny dreadful short stories from Sarah M. Eden's five-book Victorian romance series. Included in this edition are three new, never-before-released stories.
Each short story is written in the style of the Victorian fiction that became so popular during that time period. From ghost stories to adventures to mysteries, Sarah weaves these gothic tales among her romantic storylines, making it the perfect way to celebrate the Dread Penny Society series (The Lady and the Highwayman, The Gentleman and the Thief, The Merchant and the Rogue, The Bachelor and the Bride, and The Queen and the Knave).
The Dread Penny Society Review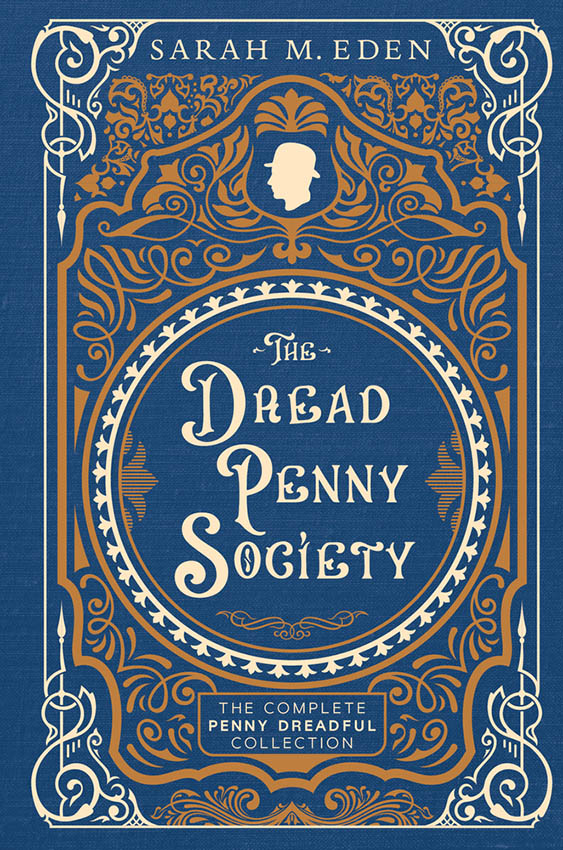 What fun! All Sarah M. Eden's Penny Dreadful stories—plus three new ones—all in one place. If you have followed her Penny Dreadful series, you know she wrote these serialized stories in the style so popular in the Victorian era. And you may know she interspersed the chapters of each serial throughout her Proper Romance Victorian mystery series. This book gives you the opportunity to read each one as its own story, instead of making your way through her novels.
Not only has she done a stellar job on the original mystery/romance series, but the Penny Dreadfuls are quirky, engaging, and entertaining enough that I enjoyed reading them complete as the short stories that they are. I may or may not admit to having flipped ahead in the original books to see what was happening in the Penny Dreadfuls.
These would even be fun to read aloud whether for children or adults. Some of them could even be fairly easily adapted into short plays. Admittedly, I'm not a playwright but I find her writing style here to be so visual that it was easy to picture the stories as I read.
I recommend this book for any Sarah M. Eden fan.
This post contains affiliate links, which means I may earn some money if you click on one and make a purchase. It will not cost you any extra, and I will be grateful for your support. Read the full disclosure here.
Buy The Book
About the Author
Sarah M. Eden is a USA Today best-selling author of witty and fun historical romances. She has won many awards for her writing, as well as a following of book lovers.
Combining her obsession with history and her affinity for tender love stories, Sarah loves crafting deep characters and heartfelt romances set against rich historical backdrops. She holds a bachelor's degree in research and happily spends hours perusing the reference shelves of her local library. Visit Sarah at https://www.sarahmeden.com/
You can find all of my Dread Penny Society reviews here.
And you can find all my Sarah Eden reviews here.
I received a copy of this book in exchange for my honest review and opinion.