Discover America: From Sea to Shining Sea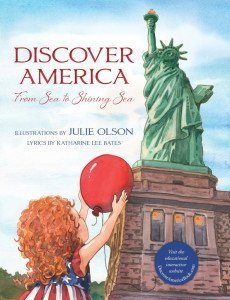 Discover America: From Sea to Shining Sea is a delightful picture book that celebrates my favorite song. Illustrator Julie Olson has created a series of lovely whimsical watercolors that trace the journey of a little red balloon across America the Beautiful, accompanied by the lyrics of Katharine Lee Bates' iconic song.
"America the Beautiful" and I have a long history together. I have even made the trek of Pike's Peak numerous time to enjoy the trip and view that inspired the song (if it's not on your to-do list, it should be).
Ms. Olson's little red balloon travels the USA "from sea to shining sea" beginning at a place on the Pacific Ocean near and dear to my heart, then across the Nevada Desert, through my beloved Rocky Mountains, and on around the Great Plains and the Midwest, finally completing its journey at The Statue of Liberty.
In addition to enjoying the inspiring illustrations (my husband's initial assessment of the book), Ms. Olson has also created a website where children (and their parents) can send their own balloon on a virtual journey across America and track its progress. There are also coloring pages and lesson plans for primary and intermediate grades. You can meet the author (via video) and can even arrange for her to come and visit your school.
I must confess that I would love to see more journeys of this little red balloon illustrated by the talented Julie Olson.
Discover America: From Sea to Shining Sea would make a wonderful gift for the children in your life—or for the adults as well.
Buy the Book
This post contains affiliate links, which means I may earn some money if you click on one and make a purchase. It will not cost you any extra, and I will be grateful for your support. Read the full disclosure here.
Buy Discover America: From Sea to Shining Sea at Amazon.com here.
You can purchase Discover America: From Sea to Shining Sea at DeseretBook.com here.
A copy of this book was provided to me for review and my opinions are always just mine.