"This is Jesus" Helps You Know Jesus–Book Review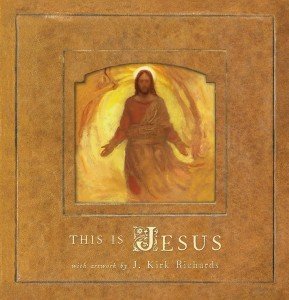 Easter is just around the corner. Easter is perhaps the holiest holiday in all of Christendom. As we prepare to celebrate the crucifixion and resurrection of Jesus Christ, there is much competition from the Easter Bunny and commercial enterprises that seem to want to make Easter a second Christmas in the spending department.
I am always on the lookout for reminders that redirect our attention back to where it should be focused at this time of year. When my children were small we had a wonderful picture book that told the story of Easter and Christ in simple terms with lovely illustrations. Somewhere in one of many moves and their growing up it got tattered and worn and finally just disappeared.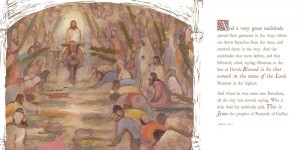 Now I have a replacement for that book. This is Jesus with artwork by J. Kirk Richards is a beautifully illustrated storybook of the last days of the life of Christ, his crucifixion and resurrection. The twist is that the story is told entirely through scripture. Each of the beautiful paintings depicts an event from the last days of His life, accompanied by a passage of scripture that tells the story.
The impressionistic paintings are beautiful and unique, and the layout and arrangement of the scripture passages complements them beautifully. It is clear in reading this book that the artist clearly knows Jesus.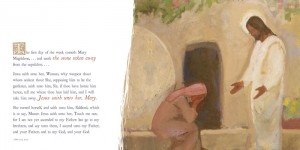 This is a perfect book for storytelling. The scripture passages can open the door for further explanation and sharing. Not only will I be sharing this with my teens this Easter (because they still love when Mom & Dad read to them) but one I will be keeping for many years. I can see this as a wonderful book for parents, grandparents and teachers to share with the younger ones. It would be a beautiful gift for believers of any age.
This is Jesus is available in a beautiful large (11 x 11) hardcover edition from Deseret Book and also at Amazon.
---
About the Artist:  The award-winning artwork of J. Kirk Richards has been featured in galleries across the United States and in various exhibits, publications, and documentary films. His work is highly sought after by collectors (eleven of the seventeen original paintings for this book sold within 24 hours). He has studied with many notable artists, including an apprenticeship with Swiss-born symbolist Patrick Devonas. Kirk and his family reside in Woodland Hills, Utah.
A copy of this book was provided to me for review and my opinions are always just mine.