Beautiful LDS Temple Photography to Inspire the Heart and Mind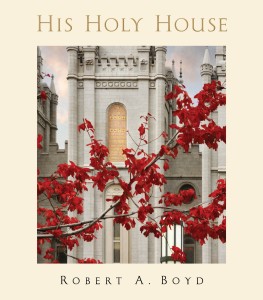 I don't usually get all gushy over books but when it's a beautiful coffee table book of one of my favorite photographic subjects. . . well, all I can say is Wow. His Holy House by photographer Robert A. Boyd, is a beautiful photographic tribute featuring superb images of nearly 60 temples of the Church of Jesus Christ of Latter-day Saints.
Temples are an essential component of our Mormon faith. To us, they are the holiest places on earth, and the inscription found on every LDS Temple, "The House of the Lord," is not merely a metaphor. Crafted from the finest materials and designed by the best architects, they are earthly symbols of our eternal beliefs.
Robert Boyd's LDS Temple Photography truly does justice to these holiest of edifices. Photographed in all seasons from many angles, some images are more panoramic in nature, while some capture beautiful architectural details, including stained-glass windows, doors and the iconic Angel Moroni, herald of the restoration.
While I call this a photo essay, the words are actually few and are all taken from scripture. The emphasis is on the photography here. This is definitely a book where a picture is worth 1000 words—and then some. I would share with you some of my favorite images, but I cannot decide which views I like the best. I was also very pleased to see that this is one of the few books that I have had where the covers are as beautiful without the dust jacket as with it. I must admit, too, as a photographer, this book makes we want to get out and visit these temples again to look at them through fresh eyes, to find new views and new angles that I have not studied before.
I have visited many of these temples, but viewing them through the eyes of Robert Boyd, I am seeing some of the again for the first time. I am not much of a coffee-table-book person, but this one will be staying out. I cannot help but stop and pick it up every time I pass by. Not only is the photography beautiful, but the layout and design of the pages, as well as the carefully chosen typography come together to create a book that is indeed coffee-table worthy.
Just sitting with the book and leafing through its pages brings a feeling of peace and serenity—and makes me want to be in the temple. His Holy House would make a lovely gift for anyone you know who loves to attend the temple—or who has a goal of doing so. And it would make a wonderful addition to your own personal library as well, whether you choose it for the significance of its subjects or the beauty of its artwork.
His Holy House by Robert A. Boyd is published by Deseret Book and is available on their website by clicking here.
A copy of this book was provided to me for review (lucky, lucky me!) and my opinions are always just mine.