Consider The Blessings: Book Review
Consider the Blessings Summary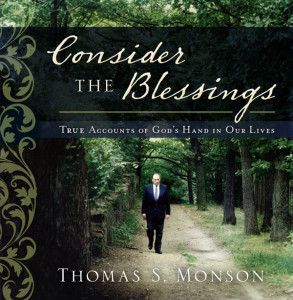 Thomas S. Monson was called to be an apostle in The Church of Jesus Christ of Latter-day Saints when I was just a wee little thing. He's actually been an apostle longer than I have been a church member.
One of the things that has always stood out most to be about President Monson is his stories. He has always been a story teller and nearly all his stories have been drawn from experiences in his own life. That makes them even more compelling and meaningful.
Consider the Blessings: True Accounts of God's Hand in Our Lives is a beautifully designed volume that will make a lovely gift or addition to your family library.
Consider the Blessings Review
In honor of the 50th anniversary of President Monson's call to be an apostle, Deseret Book has released a collection of 50 of President Monson's most beloved stories.  Some are stories I have heard many times and some are stories I have not heard in many years.
One of the common themes that runs throughout this collection is that of service. One of my favorites was the story called "a turning point" about a young woman with cancer and how her Young Women class went above and beyond to include her in a class hike up Timpanogos. Numerous other stories recount simple acts of kindness and compassion. President Monson's life has been focused on service since he was a young boy as evidenced by these and other stories he has shared over the years.
Another common theme in both these stories and President Monson's life is faith, faith both in living the gospel and faith to accomplish the Lord's purposes. "This is the Day we Begin to Build" is a story I first heard not too long ago and was pleased to read again in this book. It is the story of a tiny branch of the church who wanted to have their own church building. President Monson told them they would have to have several hundred members before it would be possible to have a building. And so the branch president and his family set out to share the gospel with their city.
There are 48 more stories for you to read and share in this beautifully designed gift volume. Whether it occupies the center of your living-room table or becomes a well-used resource for lessons and talks, Consider the Blessings should definitely make your gospel library wish list.
Buy the Book
This post contains affiliate links, which means I may earn some money if you click on one and make a purchase. It will not cost you any extra, and I will be grateful for your support. Read the full disclosure here.
Consider the Blessings: True Accounts of God's Hand in Our Lives is available at Amazon.com
Consider the Blessings: True Accounts of God's Hand in Our Lives is available through Deseret.com.
A copy of this book was provided to me for review and my opinions are always just mine.